Apply for Admission
Flexible classes, resources and a thriving campus wait at Johnson County Community College. Your tomorrow starts here.
---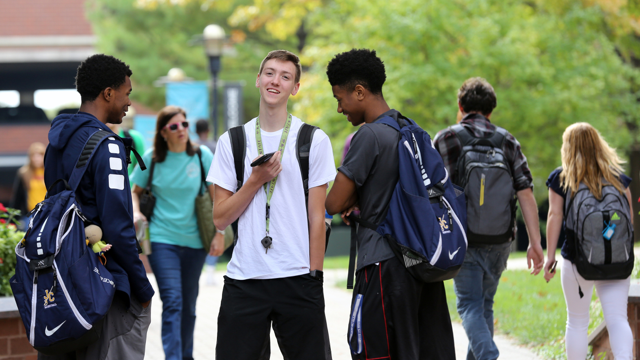 Whether you want to earn an associate degree, work toward a certification, get a head-start on your four-year degree or enhance your career, JCCC can set your tomorrow into motion.
With flexible online and short-term options, our classes are designed to fit your individual needs. So even if you are employed full- or part-time, you can work toward achieving your educational goals.
Take the first step: Apply
Ready to start earning college credit? Complete our free, three-step application process:
1. Create a Dynamic Forms account for the applicant.

Please use a personal email (Yahoo, Gmail, Hotmail, etc.) when creating your account. High school firewalls are very restrictive and will likely block the activation email from being received.
Take note of your username and password — you'll need both to access your application.
2.  Verify your Dynamic Forms account.
Dynamic Forms will send a verification email to the address you provided with the subject line "Activate your account." After clicking on the verification email, your Dynamic Forms account will be set up.
Helpful hint: Check your email on the same device you registered on. If you don't see the verification email, review your junk folder.

3.  Log in to complete the application.
The verification email from Dynamic Forms includes a link to continue to the application. Follow this link or click the "Start an Application" button again and use your verified username and password to log in and access the JCCC application. That's it!
Save your application and return later
Worried you won't have time to complete the application once you start? Not sure what details you need? No problem. You can start your application today and pause it whenever you need to. Simply log in to the Dynamic Forms portal and pick up where you left off.
Applied to JCCC in the past?
If you have earned college credit from JCCC or taken a credit class anytime during the last four semesters, you don't need to reapply, even if you took a semester off.
---
Continuing Education opportunities
Interested in developing new skills? Advancing your career? Preparing to work in a new industry? JCCC offers many Continuing Education (CE) classes. You don't earn traditional credits toward a degree, but you can receive continuing education units (CEUs), certifications or licensure within various professional education programs. There's no application process; simply register for the classes that meet your needs.