Honors Student Spurs Change Nationally
October 6, 2022
Project reveals gaps in how visually impaired people can do research.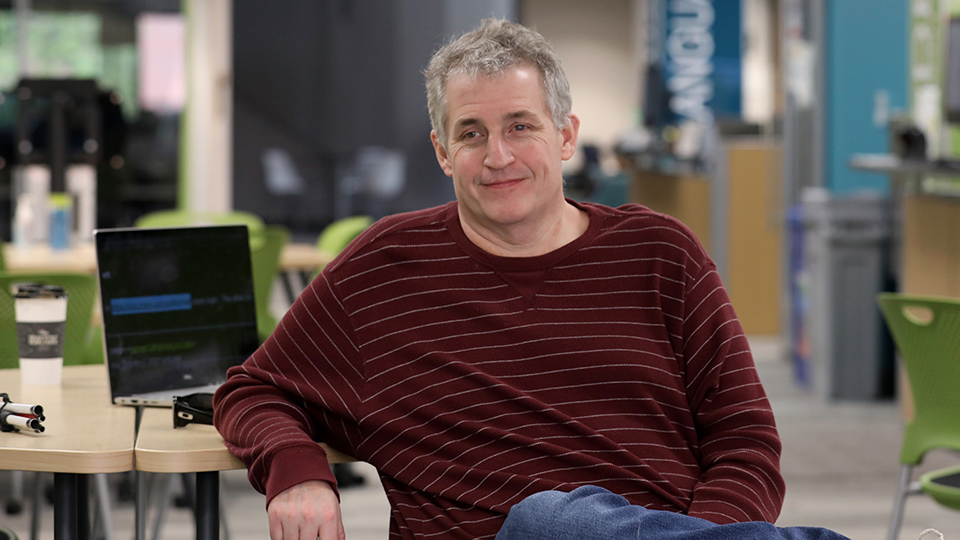 Because of one student's initiative in the JCCC Honors Program, libraries and archives across the country are taking a new look at how they do business.
When Robert Songer started his honors contract project, his goal was to review how well the Americans with Disabilities Act (ADA) was being implemented 32 years after becoming law. What Robert, who is visually impaired, found instead was that he couldn't access many of the research materials in archives across the country.
Research takes a turn
Robert reached out to several archival institutions, including the Dole Institute of Politics at the University of Kansas, five presidential libraries, Library of Congress and the National Archives and Records Administration (NARA) in Washington, D.C.
He received a wide range of responses about their accessibility procedures. "Essentially, there's no national policy on archive accessibility for people who are blind," Robert says.
Optical Character Recognition (OCR), which helps people with visual impairments read text, is not provided by any archive but must be brought in by the user. Unfortunately, portable OCR versions are not always accurate.
Robert also discovered that even with available adaptive technology, without an assistant, the process would take much longer to complete.  
Wake-up call for archives
Robert's request has some of the archives taking note. After receiving Robert's inquiry, the Dole Institute contacted him immediately to learn more about his findings. Because of his report, they are now discounting digital scanning for people with visual disabilities.
NARA requested his report, which they say confirms a governmental report addressing the same concerns. They've been corresponding with him and looking into what changes they can put into place.
Honors – a steppingstone to impact
An honors contract is a one-credit course that allows more in-depth study. In Robert's case, his public policy course inspired him to take on the additional challenge of an honors contract and assess the progress of the ADA.
"This all started in the Academic Achievement Center," Robert says. Throughout his project, he worked with three JCCC tutors, a library specialist, his faculty mentor and Honors Program staff.
Anne Dotter, Assistant Professor and Honors Director, says of the program, "We want to support academically motivated students like Robert to further personalize their learning and help them achieve whatever goals they have beyond JCCC."
According to his mentor, Political Science Associate Professor Andrea Vieux, "When a student does a hands-on contract project – like Robert has – it becomes personal. That's when they really learn about the impact they can have on public policy."
Robert, who is earning an associate degree after years in the workforce, now has a glimpse of the impact he can have. After graduating, he plans to help people who've lost their vision be more independent by modifying their technology.
Become an honors student
Enhance your educational experience at JCCC by
joining the Honors Program
. Visit COM 201, call 913-469-2434 or email
honors@jccc.edu
.