All-Electric Car Wrap Inspired by Carpet in 'The Shining'
September 16, 2022
Olathe East High School Design Academy winner to sharpen skills at JCCC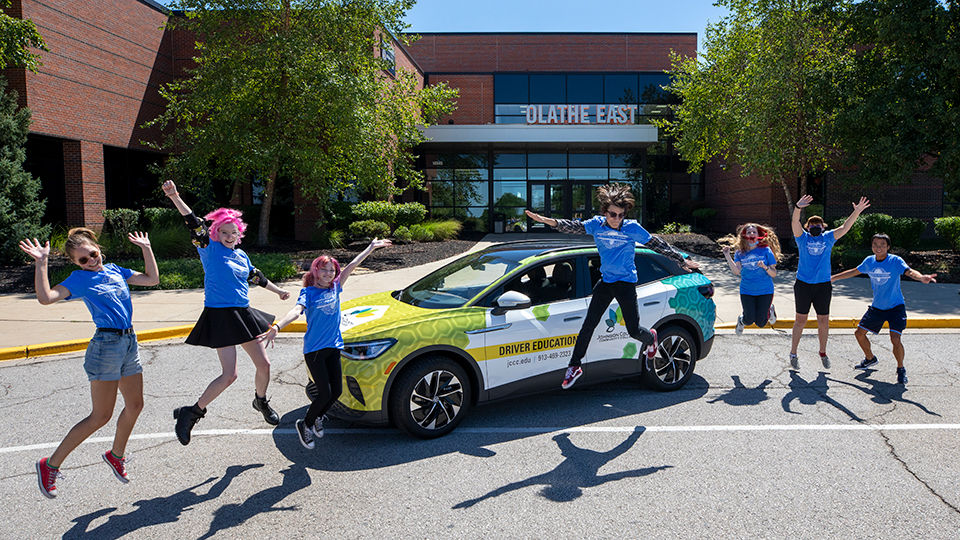 The first all-electric car used for driver training at JCCC was wrapped using an original design by Devin Wahaus, senior at Olathe East High School.
Devin won a contest pitched in his Junior Design and Development course in Olathe East's Design Academy. The decked-out 2022 Volkswagen ID.4 sports an ombré grid that was inspired by carpet seen in the 1980 movie "The Shining." Devin is drawn to patterns from the 1970s and '80s and used them in his digital art and renderings.
"The pattern I used looks a bit like roads and roundabouts to me," he said. "The angles make it satisfying to the brain."
Driving an electric vehicle promotes planet-saving awareness to students in JCCC's Driver Education program.
"New drivers are exposed to electric vehicles, which in turn influences household buying decisions for their families," said Josh Smith, Program Director for Continuing Education Business Solutions at JCCC.
Electric cars are welcome on campus and can be charged at Evergy-sponsored ChargePoint Network Stations on campus.
Cruising into a 3D art and animation career via JCCC
Winning the design contest drove Devin in the direction of JCCC's 3D art courses and its Animation program. He plans to enroll at JCCC and earn an associate degree. He's participated in Olathe East's Design Academy for three years. The design project taught Devin and his classmates how to stay within the guidelines of JCCC's branding, and they used Adobe Illustrator and Photoshop to complete the work. Devin is looking forward to learning more design techniques at JCCC.
"I learned how reality differs from template 2D to 3D in making this car wrap," Devin said. "I'm looking forward to getting into more technical processes at JCCC."
Robin Schuberth, instructor at Olathe East's Design Academy, said Devin will be ready for new challenges as he continues his education at JCCC.
"Devin is really a creative person and this project has given him a taste of what it's like to have a real client-designer relationship," she said.
Enroll in Driver Education
Take the first steps to get behind the wheel with JCCC's Driver Education courses. JCCC also offers defensive driving courses that go beyond basic driver education.