Get Assistance at the Student Basic Needs Center
September 19, 2022
Housing, childcare, transportation and food assistance can help you achieve your goals.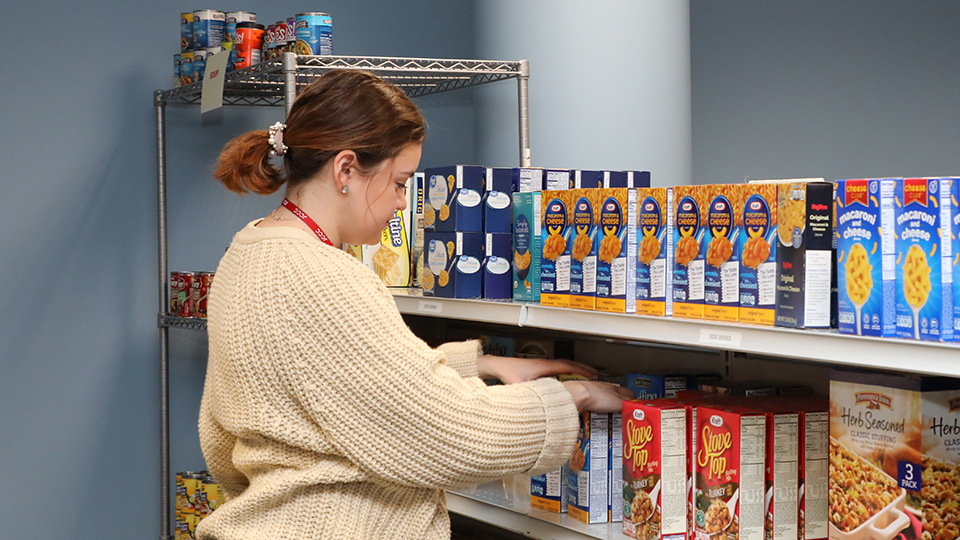 Life can be challenging. If your personal life is interfering with your academic success, talk with an employee in the JCCC Student Basic Needs Center (SBNC) in COM 319.
Whether it's making sure you have nutritious food, finding inexpensive and reliable transportation or securing safe and affordable housing or childcare, the SBNC tailors its services to meet your needs.
'It's okay to ask for help'
Carissa O'Dell has worked in the SBNC for two years. She knows what it's like to be embarrassed about asking for help. "It's okay to ask for help," she tells fellow students. "We all need it sometimes. I did."
Food and personal care needs
O'Dell's welcoming presence puts you at ease to shop for free, nutritious food and personal care items in the Cav Cupboard. Use your JCCC ID to get hygiene items and non-perishable and refrigerated food, as well as school supplies.
Transportation help
If you need affordable transportation to and from campus, here are several free or low-cost options:
Microtransit is an app-based, on-demand service that takes you from your home to campus for free with your JCCC ID card. (Without a card, rides range from $3 to $5.) Get the app on Google Play or in the Apple store to learn more.
"It's okay to ask for help. We all need it sometimes." Carissa O'Dell, SBNC employee and ambassador
Housing and childcare information
The SBNC can provide advice or resources on how to find safe and affordable housing and recommend agencies who provide lists of housing for which you may qualify. They also can assist you with what questions to ask and information to look for when researching housing and landlords.
Finding affordable and quality childcare can be a stumbling block for students. In much the same way the SBNC provides information about housing agencies, they can supply information about childcare providers, including the on-campus Hiersteiner Child Development Center for children ages 1 through 6.
SBNC's coordinator, Steve Franklin, says, "Food insecurity is a widespread issue on college campuses, but it's often just the beginning. We work hard to meet the needs of students so they can succeed, graduate and pursue their dreams."
Student Basic Needs Center, COM 319
When opened, the SBNC was the first of its kind among colleges in the Kansas City area. According to Franklin, "When students have challenges in their personal life, they can be distracted from focusing on school. We help put their mind at ease so they can concentrate on learning."
When life gets challenging, talk with an employee in the Student Basic Needs Center in COM 319 or by calling 913-469-8500, ext. 4718.