Helping you eat healthy!
Choosing nutritious foods made simple. Browse our resources to better understand the foods you eat.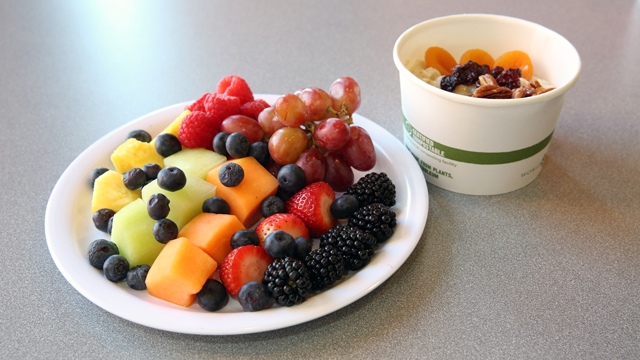 Eight foods included in food allergy labeling account for an estimated 90 percent of all allergic reactions.
These eight foods are:
Milk
Eggs
Peanuts
Tree nuts (such as almonds, cashews, walnuts)
Fish (such as bass, cod, flounder)
Shellfish (such as crab, lobster, shrimp)
Soy
Wheat
Johnson County Community College is committed to providing a safe and pleasant dining experience for our customers. We understand that our customers know best. They understand their individual food allergy and are best able to determine what they should eat or avoid.
However, the ingredients and nutritional content of food items served at various campus locations may vary. In addition, manufacturers may change their product formulation or consistency of ingredients without our knowledge and the availability of products can fluctuate. We will make every effort to identify ingredients but we cannot assure for these contingencies.
Please note that is ultimately YOUR responsibility to determine whether to question the ingredients or consume selected foods. JCCC Dining Services cannot guarantee the safety of students with life-threatening allergies.