Participating in on campus sustainability efforts is simple.
Recycle your used materials.
Charge your electric vehicle at one of our charging stations.
Or reduce single use containers by participating in Dollar Drink Club.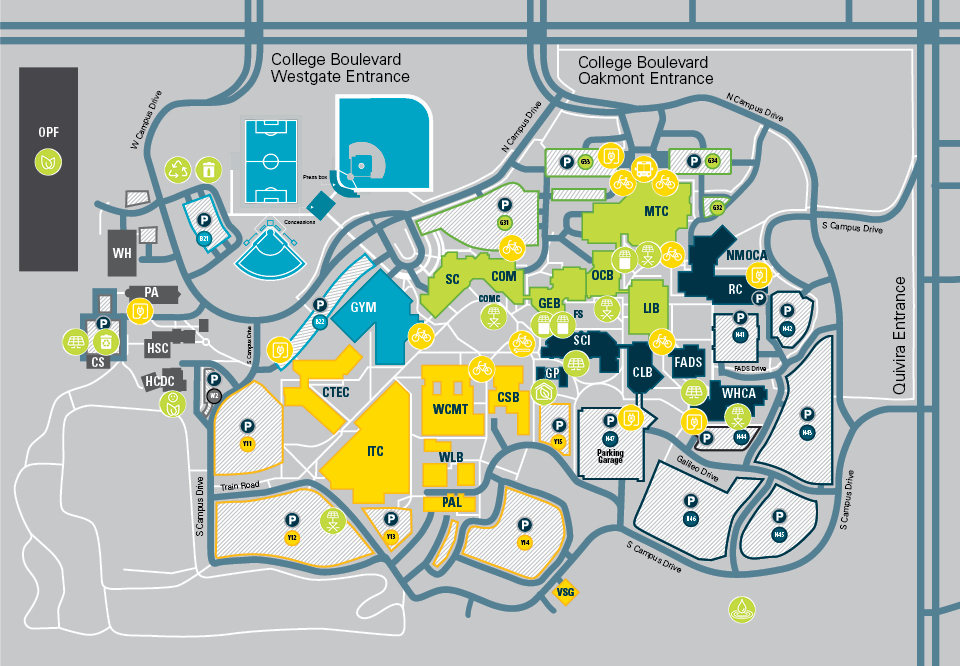 Map Icons for Sustainability Projects on the JCCC Campus

Bike Racks

Solar Powered Compactors

Bike Repair Station

Ripple Glass Recycling

Bus Stop

Recycling Center

Recharging Station

In-vessel Composter

Farm Fields

Solar Powered Recharging

Children's Garden

Solar Panels

Galileo's Pavilion

Quad Storm Water Projects
JCCC currently has eight bicycle rack locations throughout campus.
Shower and locker facilities are available to bicycle commuters in the GYM building free of charge to all current JCCC students, staff and faculty.
What started as a seven-month trial study in 2017 evolved into a full-force campus effort to mitigate the number of bird collisions with campus buildings. Results from the study found our glass windows and walkways were overly reflective and transparent. This caused birds to mistake reflections for open space between actual tree branches, resulting in an unfortunate collision mid-flight.
To combat this issue, the College decided to use bird smart glass. Research shows that dot or grid patterns are highly effective in preventing bird collisions by breaking up reflections to create a visual barrier. As of fall 2020, all windows had been treated, resulting in no recorded strikes in spring 2021.
Learn more about our bird collision study in our 2019 follow up report.
From electronics, glass, cardboard and more, recycling on campus takes the guesswork out of materials sorting. Our student interns are behind the scenes sorting, recycling and finding new homes for the myriad of products.
Launched in 2011, composting on campus is done through our Center for Sustainability.
Each day, an average of 400 pounds of food waste is collected in bins by Dining Services and transported to our 6-cubic-yard in-vessel composter. There, it is mixed with reclaimed sawdust from JCCC woodworking projects and local mills and churned by an auger before being left to break down and cure. Then, the compost is sent to the Open Petal Farm for distribution on its 2.5 acres. As a result, our students, visitors and staff enjoy the fresh, seasonal produce provided to Dining Services.
Check out our composting system data for current composting results.
Grab a soda between classes and skip the waste! Buy a Dollar Drink Club sticker for $20 at any Dining Services location and fill up any drip coffee or soda for $1, plus take 15% off any specialty drink or smoothie.
Electric Vehicle Charging Stations are free to JCCC students, faculty, staff and visitors.
Refer to the Sustainability Map above for Electric Vehicle Charging Station locations.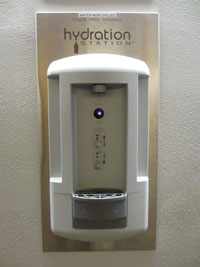 The Student Sustainability Committee appropriated a portion of the Sustainability Initiative Fund in 2010 for the purchase and installation of the first four Hydration Stations for the JCCC Campus.
These stations allow students, staff and faculty to refill reusable water bottles with filtered water, reducing the amount of plastic water bottles that are used on campus.
Water Hydration Stations on Campus

ATB
south end of 1st floor
CLB
1st floor restroom area and
2nd floor restroom area
COM
Java Jazz
GEB
1st floor near the president's office and
2nd floor near the circle staircase
GYM
1st floor near the open gym and
basement, near locker rooms
ITC
BNSF restroom area and
Room 114
LIB
1st floor hallway
MTC
2nd floor classroom area
OCB
1st floor restroom area
Police Academy
1st floor restroom area
Regnier Center
1st floor restroom area
SC
near the Student Activities Welcome Desk in the 1st floor hallway
Part of our pledge to the American College & University Presidents Climate Commitment (ACUPCC) includes designing buildings that are certified Silver under the Leadership in Energy and Environmental Design (LEED) rating system. Developed by the United States Green Building Council, LEED is the most widely used green building rating system in the world.
To date, the College has constructed one Platinum, one Gold and one Silver-certified LEED building.
Galileo's Pavilion Certified LEED Platinum
Galileo's Pavilion, an inspired learning space, was designed and constructed by students enrolled in Studio 804, a fifth-year, graduate-level design studio offered by the University of Kansas School of Architecture & Design.
Because Galileo's Pavilion was built with sustainability top-of-mind, its various features work together to create a green masterpiece. Rainwater is collected from the roof, diverted to an underground 1,700-gallon cistern and filtered. The water is used to irrigate the living walls, composed of approximately 10 different tropical plant species, as well as supply the flush-valve toilets and urinal. This helps reduce potable water demands and stormwater runoff.
Learn more about this environmentally friendly building.
Olathe Health Education Center (OHEC) Certified LEED Gold
The flagship of OHEC's sustainable practices is in the ground-source heat pump. The system uses 48 wells dug underneath the parking lot which heat the building in the winter and cool it in the summer.
The building also uses a good deal of daylight. It was oriented on the site to capture as much daylight as possible. Motion sensors and light detectors throughout handle light efficiency when daylight is absent. Additionally, the building uses low Volatile Organic Compounds (VOC) paints and sealants, recycled building materials, low flow water fixtures and includes showers for those that bike to work.
This building is located off the main campus. Learn more about the classrooms and learning opportunities.
Wylie Hospitality and Culinary Academy (WHCA) Certified LEED Silver
The 36,000-square-foot building houses seven kitchens: five culinary labs, an innovation kitchen and a demonstration kitchen in a culinary theater. This building was awarded a Silver LEED rating for points in sustainable site, water efficiency, energy and atmosphere, materials and resources, indoor environmental quality, innovation and regional priorities.
Learn more about what is offered in the building.
JCCC's Campus Farm provides both a hands-on educational experience for the Sustainable Agriculture program and delivers locally grown, chemical-free produce to JCCC's Dining Services and Culinary programs.
In addition to the educational opportunities for Sustainable Agriculture and Culinary students, faculty from a wide range of disciplines have integrated some of the farm's practices into their own curricula.
Farm to Table
Since 2010, the Sustainable Agriculture program has been selling fresh, seasonal produce to JCCC's Dining Services. We continue to increase the level of what is served at the College with the development of an internship program to harvest, clean and prepare the food for dining rooms across campus.
Children's Garden
The Hiersteiner Child Development Center (HCDC) Children's Garden was established by Associate Professor of Hospitality Management David A. Smith in 2007. "Farmer Dave," as he was known to the children ages 2½ to 6, oversaw a farm-to-table experience for them each week, a practice which continues today.
Every week is different. Children watch seeds being planted, produce harvested and then made into fresh, healthy foods such as minestrone soup and pizza with fresh produce toppings. In learning about where food comes from, the children also discover that vegetables are fun and tasty, adopting healthy eating habits as they grow.
In fall 2021, JCCC signed a 10-year contract to join Renewables Direct. This is the program name for the Direct Renewable Participation Service (DRPS) Tariff approved by the Kansas Corporation Commission (KCC) in July 2018. The program allows commercial and industrial customers to offset some or all of their energy usage through a renewable resource, providing large customers a path toward their sustainability goals with renewable energy.
JCCC is expecting to save between $10K-$30K annually. This partnership will also lead to our overall Co2 emissions dropping by 90-95% since baseline years of 2008-2009.
Our sculpture classes produce public art highlighting sustainability-related concerns while reusing campus materials to produce wonderful pieces of art. Take a walk around our campus and see what our students have been creating!

Powerswitch, JCCC's efforts to conserve energy and rely further on renewable energy, has saved almost $3 million in utility costs.
What we did:
Upgrades to more efficient lighting
Improved scheduling and controls
Retro commissioning (in progress), or tuning a building for optimal efficiency
Upgrades to heating, ventilation and air conditioning (HVAC)
243kW of photovoltaic solar power throughout campus
The Electrical Technology program's hands-on experience at our Solar Learning Lab
What the results say:
Electric usage has dropped -37% since 2008.
There is a 3.7% decrease average every year since 2008.
We expect an additional avoidance of $2,997,307 over the next 3 years based on 2008 baseline campus-wide usage figures.
Learn more about our efforts by browsing our energy conservation data.
JCCC completed its first stormwater management project in the southeast quadrant of campus in August 2010. Water flowing off campus surfaces is now a cleaner contribution to the area watersheds.
A combination of the wetland, 50,000 native plants habitats for animals and beneficial microbes make this environment ideal for hands-on learning. Students test the quality of water as it goes through the entire system, and an interpretive sign describes the process to the public.
To arrange a tour of the JCCC Stormwater Management Project, email or call 913-469-8500, ext. 2883.
As part of our campus initiatives to support sustainability and remove barriers to education, JCCC has partnered with RideKC to offer U-Pass.
If you're a JCCC student, faculty or staff member, you can ride free on any KC Metro area bus route. No sign up required. Simply swipe your JCCC ID at the fare box.
With U-Pass you can also travel to:
Downtown Kansas City
Country Club Plaza
KU-Edwards
Oak Park Mall
Rosana Square