Automotive Careers: More Than Working on Cars
November 6, 2023
Automotive industry offers women a variety of options after JCCC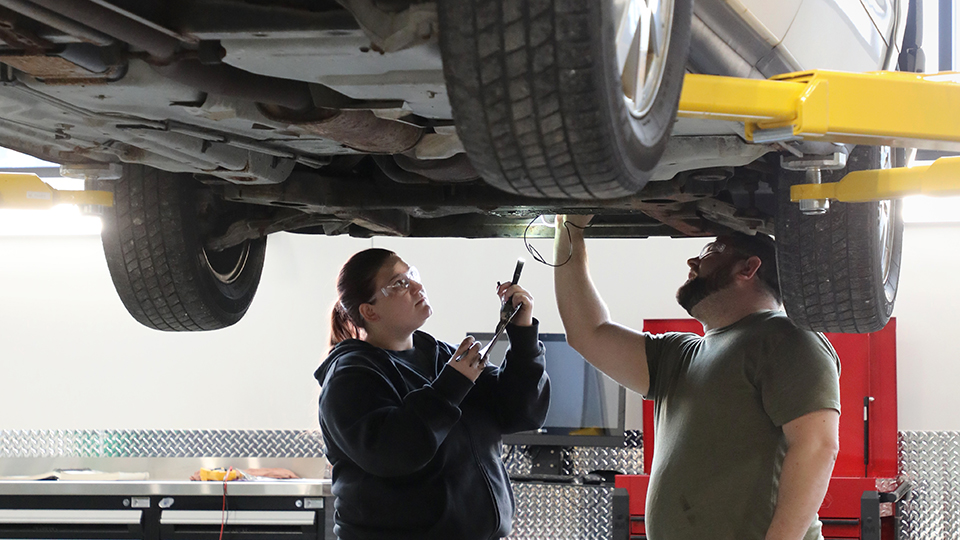 Less than 25% of employees in the automotive industry are women. Yet, opportunities for women to build careers in the industry have never been greater. JCCC and regional automotive partners are working to get that message out.
Whether you grew up around cars, like JCCC graduate Mariah Islas, or developed an interest later in life like JCCC student Naomi Kraemer, there is a place for you. Islas, who now recruits employees for Baxter Automotive, says women often think there's not a role for them if they don't want to be a mechanic. There are many avenues for women to succeed in the automotive industry – from marketing to accounting, legal support to human resources.
"I grew up in the back of an auto parts store," Islas says. "A career in automotive wasn't something I even considered. It was a man's world. But I love cars so I left my previous career to go work around something I love."
Driving success for women
Through partnerships with companies like Baxter, women students at JCCC are able to connect with other women in the automotive industry, learn about career opportunities and gain expertise from industry professionals.
"You don't have to live and breathe cars to be successful in this field." ~ Naomi Kraemer, JCCC automotive technology student
Naomi, who is getting an Associate of Applied Science degree in Automotive Technology and works as an apprentice technician at Subaru of Olathe, says, "Automotive can seem daunting, but JCCC is a great place to get started. Not only has it saved me money, but I'm earning a degree while getting hands-on experience."
Islas agrees about JCCC. "The professors care about students and want the best for them. The college has lots of partnerships with businesses and really emphasizes experiential learning. JCCC provides you with everything you need to succeed."
Start your career at JCCC
Earn your automotive certificate or degree from JCCC. You'll learn on the same top-of-the-line equipment and technology that technicians use in the field, plus you'll get hands-on training on more than 30 different vehicles.
Small class sizes, low tuition rates and helpful resources like FREE tutoring and a support team to guide you make JCCC a top choice for an exciting future.