College Wasn't for Her, but JCCC Won Her Over
May 11, 2023
Small class sizes, affordable tuition and professors who care prepared Abby Obertop for the future.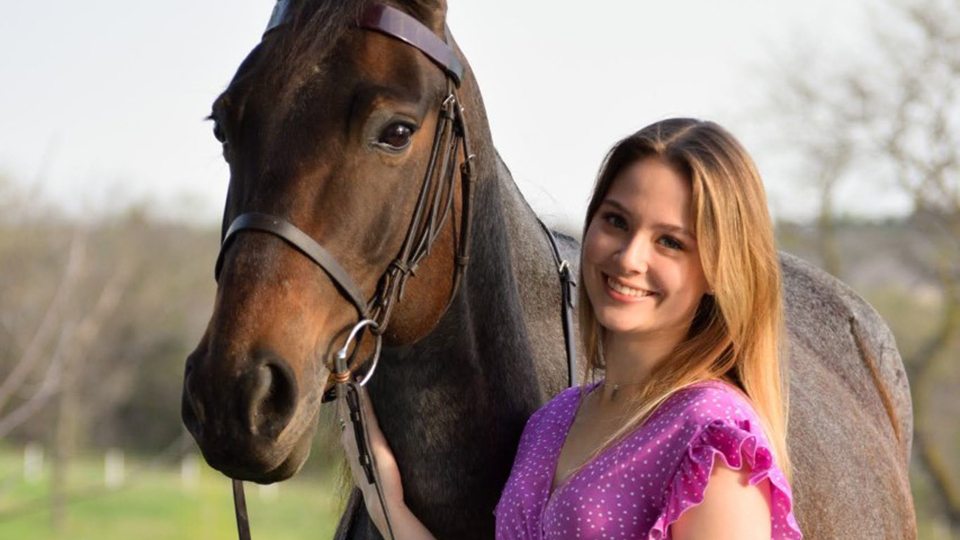 Abby Obertop didn't think college was for her. She wasn't interested in the expense or big, impersonal classes. But JCCC's close commute and the ability to take her prerequisites in smaller classes at an affordable price seemed like a good fit.
Small class sizes and personalized attention from professors
"My idea of college wasn't very exciting. But JCCC has made me more excited to go to class and do my work." Abby Obertop
"I had one idea of how school was," Abby says. "I didn't love high school, so I wasn't sure about college." But she was impressed with JCCC's campus, and once she started classes, she saw how her teachers cared about students and wanted them to succeed.
In preparation for a veterinary technology (vet tech) associate degree at an area college, Abby took two semesters of JCCC classes, including zoology, chemistry, microbiology, interpersonal communications and composition.
"High school chemistry was tough, and I didn't enjoy it," says Abby. "But my chemistry professor at JCCC made it a lot more enjoyable. I finally understand it!"
She says her course load hasn't been easy, but the professors explained the content well and have taught in a way that helped her learn. "They're always willing to answer questions. And there's a lot of resources for you besides the professors. I now have a different – much more positive – view of college."
Fun campus, friendly students
Abby has also enjoyed life on the JCCC campus. "The students are really friendly," she says. "I've been able to get to know people. It's a nice environment."
In addition to her class load, Abby interned at the horse barn where she's ridden since she was 14. Her job was to get the horses ready for riding lessons, help with lessons and take care of the horses. In high school, Abby competed nationally as a rider and was a Missouri state champion. She was glad to be able to continue working with horses while taking her classes.
Abby's experience at JCCC has her thinking about possibly getting a bachelor's degree in vet tech. "We'll see," she says. "I'm taking one step at a time. JCCC was a great place to get started."
Unsure whether college is right for you?
Consider JCCC's low tuition rates—with no additional fees. Our flexible courses fit your schedule, allowing you to learn in person or online. You'll also benefit from helpful resources like FREE tutoring and a support team to guide you.
You just might discover that you belong at JCCC.