JCCC values a diverse student body. It is an open-door institution which allows any student to attend.
---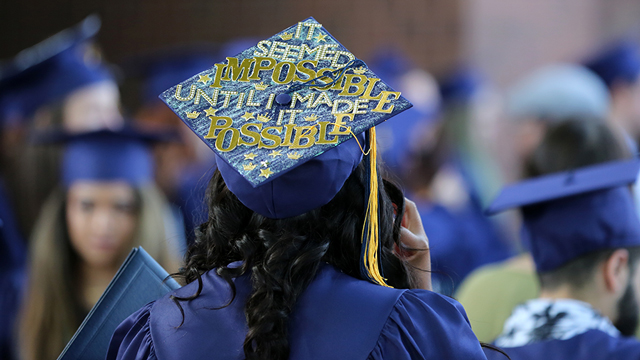 "Everywhere immigrants have enriched and strengthened the fabric of American life." - John F. Kennedy
How to Become a JCCC Student
In just three easy steps you can become a Cavalier!
---
High School Students - College Now
If you're in high school, you can take advantage of College Now to jump-start your college education.
The College Now program provides high school students the opportunity to earn college credits through concurrent enrollment while completing high school requirements.
Undocumented or DACA high school students pay out-of-state tuition.
See our tuition page for the most current rates.
JCCC has a limited amount of grant funds available for College Now students. To be considered, you must enroll and submit the grant application before the semester enrollment deadline. If awarded, the grant typically covers one class at the Johnson County resident tuition rate. See your high school counselor for more details and to apply.
If you will be attending JCCC after graduating from high school, you can apply for JCCC scholarships.
First-year students who have participated in either College Now or Quick Step courses, or a combination, can apply for the Central Bank of the Midwest High School Partner Scholarship.
To qualify, submit the online Scholarship Application.
Requirements:
High school diploma or equivalent
2.0 GPA or higher
Be enrolled in a minimum of 12 credit hours each semester at JCCC
This is a nonrenewable one-year scholarship opportunity.
You are encouraged to complete the Scholarship Application and the Free Application for Federal Student Aid (FAFSA) for the upcoming aid year by the priority deadline. Having the FAFSA on file opens more scholarship opportunities.
High school courses in your field of study may be applied toward a JCCC associate degree. The Early College Partnerships & Outreach program can help link your career-related classes from high school to the same or similar program at JCCC.
The Kansas State Senate passed Excel in CTE (formerly known as SB 155) in May 2012. This bill authorizes JCCC to waive the cost of tuition for high school students who meet JCCC Kansas residency requirements for enrollment in any tiered career technical course. Textbook, program fees and any other additional fees may apply.
To identify a course that qualifies for Excel in CTE:
Go to the Credit Class Schedule search.
Select a term (e.g., Credit Spring 2021).
Use the "Advanced Search" link.
Click in the "Attributes" field and choose "SB 155 Excel in CTE." Read more about Excel in CTE from the Kansas Board of Regents.
---
Information for Undocumented/DACA students (non-high school)
Ready to take the next step in your education? Here's some information about costs and how to get financial assistance.
---
JCCC Resources
We have a lot of resources to help you succeed - from free tutoring to assistance in meeting basic needs. 
The mission of the Student Basic Needs Center is to provide information and resources to combat hardships that adversely affect the ability of JCCC students to complete academic, professional and personal development objectives.
If you are experiencing food or housing insecurity, or other hardships, stop by COM 023 and visit with our helpful staff. If you know someone who needs a hand up, tell them about our services or come with them for support.
The Student Success Center is in the Student Center building, 2nd floor. Staff is ready to answer all your enrollment and college-related questions. You will be directed to a person who can help. Don't be shy, we're happy to answer any questions you may have!
---
External Resources
Here are some community resources which offer a variety services for you.
NOTE: JCCC has no connection with these outside resources. Their availability and services may change at any time. 
---
Frequently Asked Questions
Looking for answers? Here some of the most common questions people ask. 
Yes, JCCC is a public institution and status is not considered part of admission. You are welcome here! JCCC is committed to education and to those in our community, regardless of status.  
JCCC asks about your status to calculate your tuition rate (the cost to enroll). For no other reason will anyone need to know, nor should they ask about your status. JCCC does not share your status document with anyone.  
JCCC does not share student information unless legally required to do so. JCCC will not willingly give out your information unless required by law.  
Yes, if you hold a valid employment authorization document (EAD), also called a work permit.
This question should be asked and reviewed with a qualified immigration attorney. It is generally not recommended that DACA or undocumented students travel. There may be a possibility to travel with advance parole, but this is highly complex and individualized.
In general, no. The very limited exception is related to your need for financial aid and calculation of your tuition rate.
What is DACA?
The DACA program was established in 2012 by President Barack Obama and allows undocumented individuals who entered the U.S. as minors to receive a renewable two-year period of deferred action, or protection from deportation. Undocumented students at JCCC may hold DACA status.
Undocumented:
An undocumented immigrant is a person who is not a U.S. citizen or permanent resident of the United States, who does not hold a current visa to reside in the U.S. and has not been approved for legal residency.
DACA or DACAmented: 
A person who continues to be undocumented but qualifies for Deferred Action for Childhood Arrivals (DACA). DACA provides temporary relief from deportation. Recipients are issued a Social Security number and work authorization in increments of 2-3 years. The DACA recipient's immigration status does not change and is not a pathway to citizenship (uLead Network, n.d.).
DACAmented:
This term is used by undocumented individuals who have been granted DACA. DACAmented (similar to DREAMer) is sometimes used as a way to navigate away from the negative connotations given to terms such as undocumented immigrant, non-U.S. citizen and so forth.
Mixed status:
An undocumented student's household may include family members, especially younger siblings, who are U.S. citizens. The entire family unit may not be undocumented.
HB 2145:
Kansas' in-state resident tuition (ISRT) policy in which eligible students must submit documentation that reflects three or more years of attendance at an accredited Kansas high school and graduation from an accredited Kansas high school or GED issued by Kansas (HB 2145, 2004).
Undocually:
The lifelong commitment to unlearn and relearn how to engage with marginalized individuals, i.e., the undocumented community.
Undocufriendly:
This term is used to refer to schools that have systems and practices in place that work with and for undocumented students. For example, a school that is inviting and public about their support for undocumented students and invests resources in its students by providing scholarships and programs is an undocufriendly school.
---
As a DACA holder, you can finish your education, work, get a driver's license and a Social Security number. This helps build personal credit history. You may also be allowed to enter and exit the United States.
The U.S. federal government grants DACA status on a case-by-case basis. DACA is not a pathway toward residency or citizenship.  
Undocumented individuals entered the United States with a valid visa or status, but their immigration status expired

They have applied for but were denied authorization to enter or remain in the United States

They have not applied to obtain legal status that would permit them to remain in the United States
Undocumented people living in the U.S. must follow the application process and eligibility as stated by the United States Citizenship and Immigration Services (USCIS) [PDF}.
Were under age 31 as of June 15, 2012
Came to the U.S. before 16th birthday
Have resided in the U.S. since June 15, 2007
Were physically present in the U.S. on Jun 15, 2012,at the time of requesting deferred action from U.S. Citizenship and Immigration Services
Had no lawful status on June 15, 2012
Are currently in school, have graduated or obtained certification of high school or GED or are honorably discharged veteran of the U.S. Armed Forces or Coast Guard
Have not been convicted of a felony, significant misdemeanor or three or more misdemeanors
Are at least 15 or older, unless involved in a removal proceeding or have a final removal or voluntary departure order
If DACA is granted, it may take four to eight months to receive a work authorization document (Employment Authorization Card/EAD). To best understand the DACA process, eligibility and benefits we recommend you work with an immigration attorney.
DREAM stands for Development, Relief, and Education for Alien Minors. The DREAM act was bipartisan legislation proposed in 2001 to grant conditional residence to undocumented individuals who met established requirements. DREAMer is commonly used to describe undocumented individuals who are in the United States.