Follow us down memory lane as we celebrate 10 years of serving our veteran and military students.
2010
Navajo Code Talkers
Navajo Code Talker Sam Sandoval visited the College during Veterans Week to share stories about his experiences in WWII. He was one of 418 young Navajo men who volunteered for the U.S. Marine Corps and developed the indecipherable code using their Navajo language.  Their unbreakable code played a pivotal role in saving countless lives and hastening the war's end.
---
2011
Tuskegee Airmen
(Polsky Practical Enrichment Series Event)
Honoring the History and Service of the Tuskegee Airmen. Guest speakers from the Heart of America Chapter of the Tuskegee Airmen Inc. shared the history of the significance, dedicated service and courage of the famed Tuskegee Airmen fighter pilots who fought in the aerial war over North Africa and Europe and flew more than 15,000 sorties and completed more than 1500 missions.
National Remembrance Roll Call
As a part of a nationwide college campus event, JCCC Veterans Club coordinated the reading of the 6,200+ casualties of Operation Enduring Freedom, and Operation Iraqi Freedom. Students, staff and faculty participated in the reading of names throughout the day in the COM Plaza.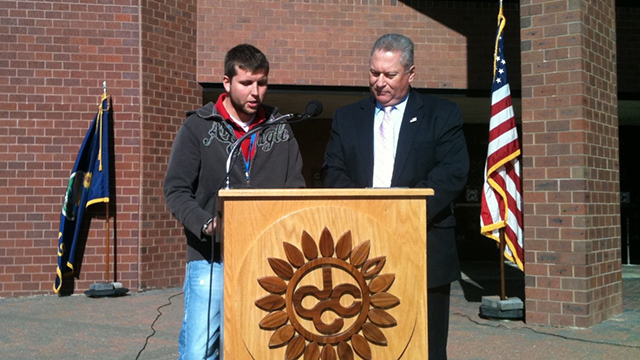 ---
2012
Premier of "Heart of a Warrior," documentary about Navajo Code Talkers
This JCCC written and produced film documents the life story of Navajo Code Talker Samuel Sandoval from his childhood on the reservation and experience in the mission school system to his heroic contributions to World War II.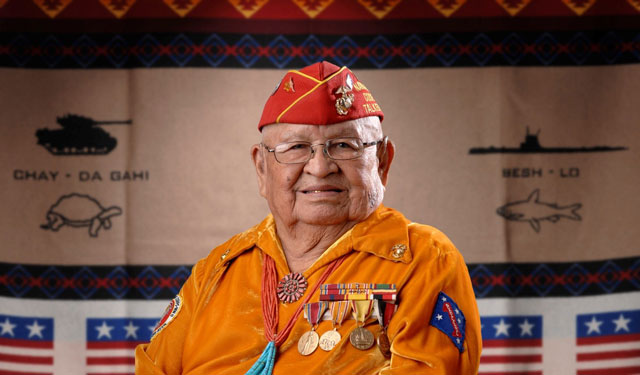 Veterans Speak Panel
The Veterans Speak Panel, a group of student veterans representing various branches of the military, share their experiences with students and the campus community.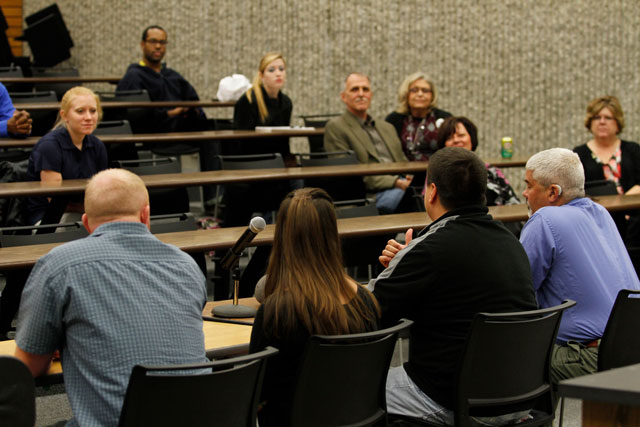 ---
2013
"Beyond Glory" with Stephen Lang
In partnership with JCCC's Performing Arts Series, Stephen Lang's performance featured the stories of eight Medal of Honor recipients in his one-man show adapted from Larry Smith's bestselling book, "Beyond Glory."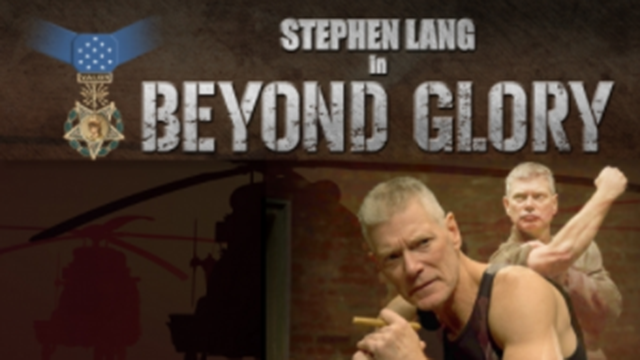 Veterans Week Panel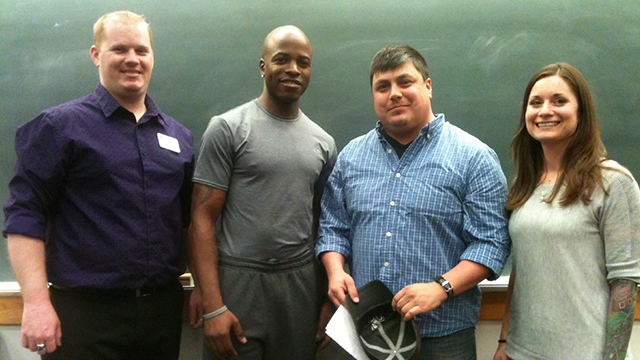 ---
2014
Combat Arts: My Experience Making Art with Combat Veterans, by Elizabeth Washburn
(Polsky Practical Personal Enrichment Series Event)
Artist Elizabeth Washburn worked with JCCC student veterans over the course of 3 days to create a mural that speaks to their military experience. The mural was presented at this event and now hangs in the hallway of the third floor of the Commons Building. She also spoke about founding Combat Arts San Diego to veterans access to the arts as a means of self-expression and healing.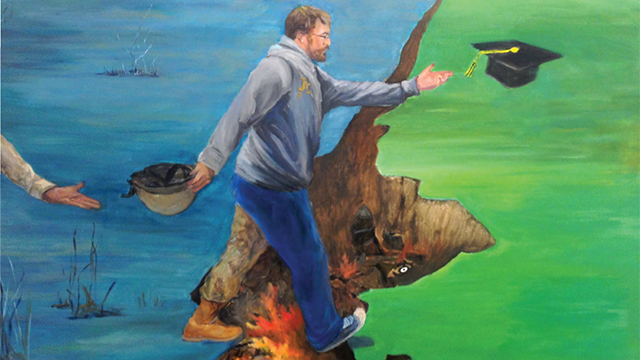 Student Veterans cut Ribbon on their New Center
The grand opening of the JCCC Veteran and Military Student Resource Center kicked off Veterans Week 2014.  Located in COM 305, the Center is a one-stop shop for veteran and military-affiliated student services, peer advising and a student lounge.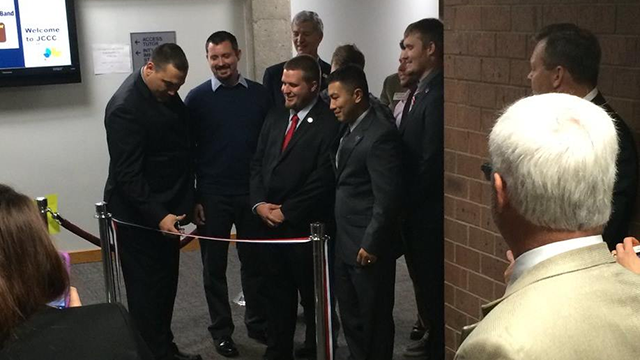 ---
2015
Darden Smith and Songwriting With Soldiers
(Polsky Practical Personal Enrichment Series Event)
Smith conducted songwriting workshops with veteran students at JCCC who became his songwriting partners. They collaborated on songs about their experiences, combat and the return home.
#22PUSHUPS
Active Minds and the Veterans Club teamed up to raise awareness about the veteran suicide epidemic by participating in #22PUSHUPS, a veteran suicide awareness event.
---
2016
Women in the Military with Wilma L. Vaught, Brigadier General, USAF, Retired
Air Force Brig. Gen. Wilma Vaught spoke about her time in service and how she became the first woman to deploy with an Air Force bomber unit and hold the rank of brigadier general from the comptroller field.
Dialogues in Transition Roundtable
JCCC became a campus partner in Peer Advisors for Veterans Education (PAVE) in 2016. The PAVE peer advisors held a roundtable discussion with other student vets on experiences of transition and reintegration from military to college.
2017
Student Veterans Engage the Campus Community
Student vets provided opportunities for the campus community to learn more about veteran and military culture in events hosted by the Center for Student Involvement and the Collaboration Center and through KC Camo Day.
---
2018
Vietnam-Era Veterans Oral History Project: A Panel Discussion
(Polsky Practical Personal Enrichment Series Event)
In 2018, JCCC's Kansas Studies Institute and Veteran Services received a grant from Kansas Humanities for documenting oral histories of Vietnam Era veterans. Our first oral history project focused on the oral histories of JCCC employee veterans David Svajda, Robert Robins and Larry Stanfield. Our Veterans Week event featured the three Vietnam-Era vets and a moderator discussing their experiences of military service.
---
2019
In Their Own Words … Kansas Veterans' Oral Histories
(Polsky Practical Personal Enrichment Series Event)
The Kansas Studies Institute and Veteran Services continued their partnership to document local veteran oral histories in 2019. This year Vietnam and WWII veterans shared their military experiences in Hudson Auditorium. Veterans Tim Barnhart and Carl Snyder took part in a panel discussion with moderator Scott Weaver.