Scholarship funds provide valuable assistance to JCCC student veterans.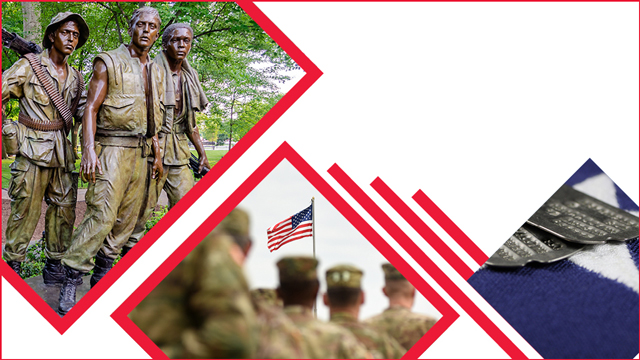 Remembering the legacy of our military veterans
Veterans and their families serve and sacrifice. They are our family, friends, mentors, business leaders, security personnel, teachers, certified professionals as well as present serving families. Years of military training and their GI Bill can make great things possible.
Veterans return from service with many practical and educational skills and benefits. However, costs to cover education for building a new career or upgrading skills can be daunting. You can help with this transition.
Make a tax-deductible gift to the Pay It Forward Student Veteran Scholarship to honor a living or deceased family member or loved one from past wars or conflicts. All the while, you'll be encouraging and thanking current Student Veterans by supporting their success.
JCCC is committed to Veterans who will continue as vibrant leaders. Our campus currently has nearly 600 Student Veterans enrolled in classes. According to Student Veterans of America, 2 million Veterans were expected to use the Post-9/11 GI Bill by 2020.
Any donation will go a long way in helping JCCC Student Veterans. When you donate $500 or more to the Pay It Forward scholarship, you will be given the opportunity to present the scholarship recipient with a certificate that recognizes the Veteran your donation honors. These presentations will occur at special Student Veteran receptions throughout the academic year.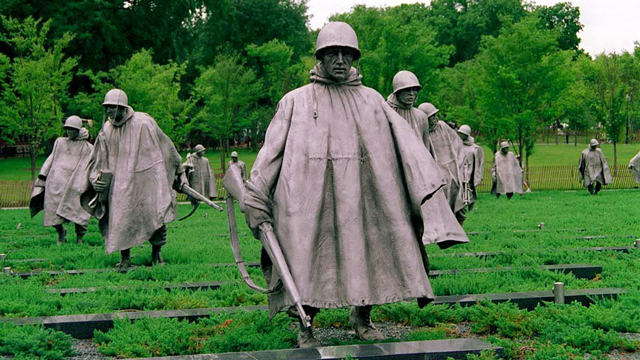 New scholarship ensures "Forgotten War" is always remembered
Between 1950 and 1953, members of the U.S. military joined allies in protecting the Korean Peninsula from communist regimes. First dubbed a "forgotten war" by U.S. News & World Report in 1951, the Korean War is often not talked about nor thought about despite its positive, enduring impact on people with ties to South Korea.
Many local Korean-Americans, including one anonymous donor, want to change that. The JCCC Honoring Korean War Veterans/Helping JCCC Student Veterans scholarship is one way. As its name suggests, the scholarship's purpose is twofold — to pay homage to Korean War veterans and to financially assist JCCC students with educational expenses.
Honoring Korean War Veterans
About 70 years ago, Korean War veterans answered the call to defend freedom and democracy half a world away. More than a million Americans served in the three-year conflict. Nearly 40,000 lost their lives and thousands more suffered injuries or were prisoners of war. On July 27, 1953, the United States, the People's Republic of China, North Korea and South Korea agreed to an armistice and the fighting stopped.
 Since then, Americans honored those who valiantly served to help another country live in freedom with memorials across the country. The inscription on the dedication stone at the Korean War Veterans Memorial in Washington, D.C., as well as on the wall at the Korean War Veterans Memorial in Overland Park pays tribute to those who served: "Our Nation honors her sons and daughters who answered the call to defend a country they never knew and a people they never met."
On July 26, 2021, the United States officially established the long-overdue Korean War Armistice Day to honor, remember and pay tribute to these heroes. This new JCCC scholarship does the same thing – shows gratitude, recognition and remembrance for sacrifices made to ensure South Korea enjoys freedoms today.
Helping JCCC Student Veterans
This scholarship, and those it honors, will not be forgotten by the nature of its perpetuity. It is designed to assist Veteran- and Military-affiliated JCCC students with educational expenses. JCCC is proud to support the more than 600 Student Veterans enrolled in classes through scholarships and other resources.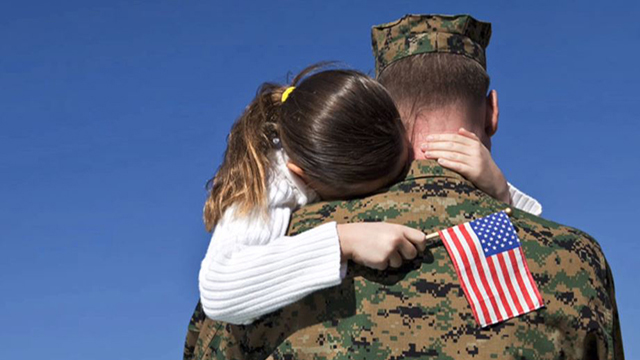 New Educational Assistance for Dependents of Deceased or 100% Disabled Veterans
With a mission to honor, support and empower veterans, the Heart of America Patriot Foundation (HOAPF) envisions a nation where dependents of 100% disabled and deceased veterans can attain a debt-free college education. That is why HOAPF recently created the JCCC HOAPF Dependents Educational Assistance (DEA) Program, a scholarship that focuses on addressing an unmet need of veterans and their dependents.
Al Gorthy, Captain, U.S. Navy retired, and HOAPF President, explained that Chapter 33 of the GI Bill covered most expenses veterans incur while pursuing a collegiate education. The same is true, he added, for college education expenses for dependents of service members who die in the line of duty. The Fry Scholarship under Chapter 33 of the GI Bill covers those expenses.
"Dependents of deceased or 100% disabled veterans, however, do not receive the same level of support," Gorthy said. "They qualify for the Dependents Educational Assistance (DEA) Program and receive only a stipend that helps cover student living expenses. It does not cover tuition, books and fees, leaving DEA-qualified students in need of other sources of funding for these costs.
According to Kena Zumalt, Program Director of Veteran and Military Student Services at JCCC, there are about 50 DEA-qualified students at JCCC.
"Thanks to the HOAPF scholarship, our Chapter 35 DEA dependent students will have more resources to support them as they pursue their education at JCCC," Zumalt said. "This is important as financial need is one of the biggest causes of students stepping away from college and then returning when they can afford it."
With its vision and mission in mind, HOAPF and the JCCC Foundation entered into a multi-year agreement to establish and fund the HOAPF DEA Program scholarship. The scholarship, for low-to-middle income DEA-qualified students, provides an opportunity for these deserving students to stay in school and graduate with minimum debt. JCCC Foundation agrees to work to secure matching donations for the annual HOAPF gift.