Each quarter the KOPS Advisory Committee gathers important safety facts to share with the JCCC community.
Stay Safe This Fall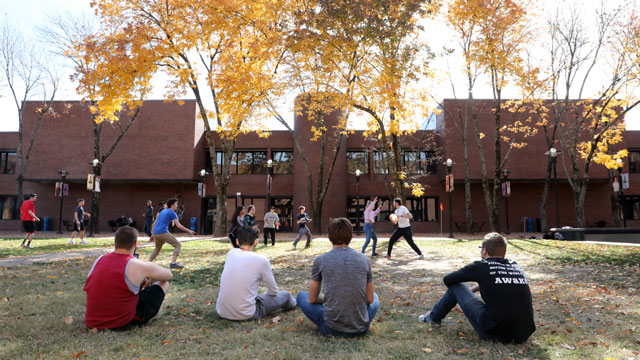 Keeping Our People Safe Is Always a Top Priority
Maintaining a safe environment for our students, faculty, staff and visitors requires forethought and preparation.
Our Police Department, Emergency Management Director and KOPS Advisory Committee all dedicate numerous hours over the course of the year to investigating, researching and evaluating many different avenues for keeping our campus and satellite locations as safe and secure as possible.
---
Flu Season : Important Facts and Tips for Prevention 
How can you tell if it's the flu or COVID-19?
With flu season right around the corner, it is important to know the difference between the flu and COVID-19, and also know what to do to minimize your chance of contracting either illness.
Although COVID-19 and influenza are different pathogens, they are both transmitted through respiratory droplets and have similar first symptoms. It is important to know that COVID-19 is more contagious than the flu and has a higher fatality rate.
Key differences between Influenza and COVID-19:
Influenza
Most infectious AFTER symptoms
Higher risk for children
Symptoms peak 2-7 days after infection
Vaccine available
COVID-19
Most infectious BEFORE symptoms
Evidence of risk for children
Symptoms peak 2-3 weeks after infection
Vaccine available
Protect Yourself
Because both illnesses are spread through droplets, wearing masks, social distancing and restricting visits outside your home will be equally, if not more, important in the upcoming months.
A helpful and preventive measure is to get your COVID-19 vaccine and flu shot!
Source: Influenza in the COVID-19 Era, Journal of the American Medical Association
September is National Preparedness Month
Disasters don't wait. Make your plan today.
Disasters can and will happen anytime and anywhere. Be prepared. Make an emergency plan today and practice it. Preparing your family for an emergency is as simple as a conversation over dinner. It's important to include your children in the disaster planning process. Review your family's emergency plan together so everyone will know what to do even if you're not available.
National Preparedness Month, observed annually in September, is the perfect time for you to review, update or create emergency preparedness plans. Here is an overview of what is covered throughout the month, but don't hesitate to implement this any time of year!
Note: Links to preparedness information are from the U.S. Government, ready.gov.
Talk to your friends and family about how you will communicate before, during and after a disaster. Make sure to update your plan based on the Centers for Disease Control and Prevention (CDC) recommendations due to the coronavirus.
Gather supplies for everyone in your home that will last for several days after a disaster. Remember to consider the unique needs of each person or pet. Update your kits and supplies based on recommendations by the CDC.
Limit the impacts that disasters have on you and your family. Know the risk of disasters in your area and check your insurance coverage. Learn how to make your home stronger in the face of storms and other common hazards, and act fast if you receive a local warning or alert.
Talk to your kids about preparing for emergencies and what to do in case you are separated. Reassure them by providing information about how they can get involved.