Pastry/Baking Course Series
Special Topics: HMGT 292 Starts Fall 2021
Are you an advanced pastry/baking student or a professional working in the industry? If so, a new series of classes has been created just for you.
This rigorous, four-semester series will refine your skills in four areas:
Artisan Breads & Viennoiserie
Occasion & Wedding Cakes
Entremets & Plated Desserts
Petit Pastry & Special Dietary Needs Baking
Each of the 16-week, face-to-face classes is designed for those who want to hone their skills and are already familiar with basic baking methodologies, ingredients, and techniques. Classes are on Fridays, 8 - 11:30 a.m.
NOTE: Some classes in the 16-week semester may run longer due to demands of production, while others may be shorter. These off-time classes will be noted in the course syllabus.
Chef instructors will use all available technologies including Canvas — JCCC's online learning management system — to provide additional information and training, rubrics, testing, weekly assessments and feedback.
Sign up for as many courses as you wish in the four-part series. No degree or certificate will be offered upon completion. Tools and equipment are included in the cost of the courses. Uniform requirements, COVID-19 procedures, and other official policies of WHCA and JCCC must be followed.
The Special Topics HMGT 292-Pastry Baking Series will begin in Fall 2021 and run until Spring 2023 (when the series will likely be repeated). Departmental approval is required.
Enroll early to save your spot! To learn more, contact Chef Damian Fraase, Lead Pastry/Baking Instructor, at dfraase@jccc.edu or 913-469-8500, ext. 3613.
---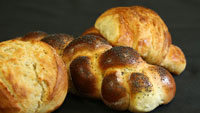 Artisan Breads & Viennoiserie HMGT 292
[Fall (1) 2021]
Credit hours: 3
Course description:
This course provides the information, tools, and instruction to gain proficiency in the preparation of a variety of artisan breads and Viennoiserie. Emphasis will be placed on learning to mix, ferment, shape, bake and store handcrafted breads and Viennoiserie products. Students will focus on traditional fermentation, as well as the science of the ingredients. Students learn assembly speed and increased their proficiency in meeting production deadlines with quality products.
---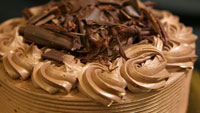 Occasion & Wedding Cakes HMGT 292
[Spring (2) 2022]
Credit hours: 3
Course description:
This course explores the foundational techniques of occasion cakes as a steppingstone to executing small, simple wedding cakes. Finally, more advanced techniques will be presented and demonstrated in modern wedding cake design and creation. Students will initially copy demonstrated occasion cakes. By the end of the course, students will design, assemble, and decorate occasion and wedding cakes based on a customer's desires.
---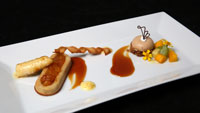 Entremets & Plated Desserts HMGT 292
[Fall (3) 2022]
Credit hours: 3
Course description:
Students will build on competencies previously learned and apply those skills into new products to create more elaborate plated desserts, cakes/tortes/entremets. Both the cakes/entremets and the dessert platings are designed to be multi-component, texturally complex, flavorful, and finished with a handcrafted modern garnish. Topics to be covered include comparison of classical and modern cake/torte/entremet products, and modern plated dessert presentations utilizing elements of modern dessert design, execution and plating.
---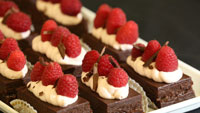 Petit Pastry & Special Dietary Baking HMGT 292
[Spring (4) 2023]
Credit hours: 3
Course description:
This course will allow each student to refine motor skills and decorative skills in pastry production. At the same time, students will develop and refine their understanding of the functions of ingredients, with the goal of making accurate and appropriate alterations to formulas to accommodate for a variety of special dietary needs. These will include gluten-free, low/no sugar, egg-free, keto, low/no fat restricted baking, among others.