The Kansas Studies Institute at JCCC promotes research and teaching on the culture, history, economics and natural environment of Kansas.
Kansas Studies Institute, founded in 2009, fulfills its mission by collaborating with individuals and entities both at JCCC and throughout Kansas to expand our understanding of the state's peoples, places, and landscape. Tai Edwards is the director.
Diversidad Conference Funding Opportunity
KSI provides funding for a limited number of JCCC faculty and staff to attend the Diversidad Conference held at JCCC Friday, Sept. 6, 2019, 8 a.m.-2:30 p.m. in RC 101. To apply for funding, you will need to describe how conference attendance will contribute to your professional development.  
Please plan to attend the entire event. If you cannot attend the entire event, please note when you can attend in the form. KSI Director Tai Edwards will notify selected attendees as soon as possible. If you have further questions, please email Tai Edwards.
Some recent projects include: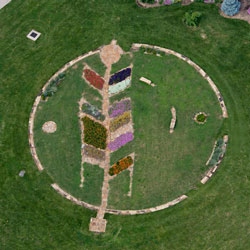 Recording oral histories. This began with Vietnam-era veterans in "Kansas Stories of the Vietnam War" – a Humanities Kansas project. KSI has continued this work, recording oral histories with veterans of any era. KSI also partnered with Special Olympics Kansas on "Celebrating Inclusion Since 1970: A Special Olympics Kansas Oral History."
Production assistance for Kansas-themed documentaries.
Hosting lectures on a variety of Kansas topics, such as depletion of the Ogallala aquifer, artistic representations of Kansas, and Quindaro Townsite preservation.
Commissioning and maintenance, including prairie burning, of Stan Herd's "earthworks" installation titled Kansa, on the southwestern side of the JCCC campus.
Traveling with students and teaching coursework on the state.
Student internships involving a range of opportunities, including researching and designing installations in celebration of JCCC's 50th anniversary; publishing peer-reviewed scholarship; and assisting in the Johnson County Trails Project that posts historic signage around the county's hiking trails.
Annual programming on Kansas Day, Jan. 29 – the date Kansas became a state.
Much of this great work can be accessed through the Kansas Studies Institute digital archive, available through JCCC's Billington Library.