Report an Emergency
---
To report an emergency: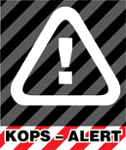 Call the JCCC Campus Police Department at ext. 4111 from any campus keypad phone or from a cell phone dial 913-469-2500, (direct line). Campus police dispatchers will promptly answer your call 24 hours a day and will notify the appropriate personnel or authorities.
Off-campus sites should dial 911 directly and notify campus police when appropriate to do so.
When you call, give your name, telephone number and location, and the nature and location of the emergency.
Don't hang up until the person answering the call ends the conversation.
If you need assistance, but there is no emergency, call ext. 4112.
All media inquiries should be directed to the Office of College Information and Publications at ext. 3120 or ext. 3425.