You Helping You
---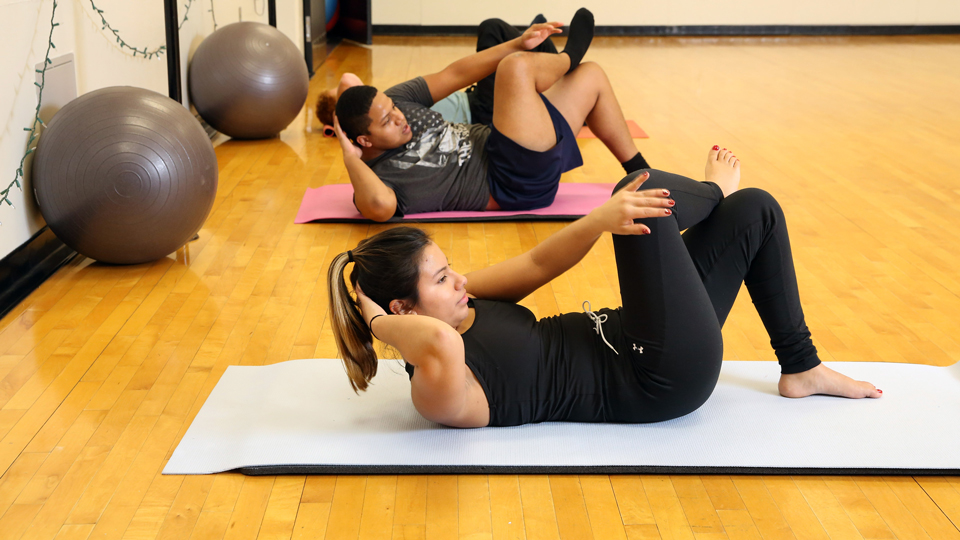 Jobs, social life and college — add in exams, reading, writing and special projects, and when do you find time to take care of you? Say it out loud: "TODAY, I will take care of me." JCCC is helping you stay healthy and happy with new student wellness programs.
Note: All programs are offered free of charge to JCCC students; participation does require a valid JCCC student ID.
Barbara Gill Lifetime Fitness Center
Starting with: FREE access to JCCC's fitness center
JCCC's Lifetime Fitness Center is open seven days a week and is located on the second floor of the GYM. It includes multiple cardio machines, weight machines, total body weight training and a specialized 20-minute total body circuit training system.
---
Group Fitness Classes
 Enjoy FREE fitness classes focused on fun, group fitness activities. Check out the current schedule.
---
Wellness Programs
Wellness Wednesdays 
College Recess, 1-1:50 p.m. (GYM Fieldhouse)
Water and healthy snacks will be served.
Mark Your Calendar 
Weight Loss Challenge, Nov. 7-Dec. 5 - You can still join in!

This FREE five-week program includes weekly weigh-ins, fitness activities, wellness classes and coaching in a low-key, low-stress setting. The group will meet from noon to 2 p.m. Wednesdays in GYM 021. Send us an email to register.
 

CavFit Weightlifting Series, Nov. 27 and 29 AND Dec. 4 and 6, 1-2 p.m., GYM 022
 
Do you want to start to lift weights or do you already  Get strong! Student Wellness Certified trainers will show you everything from basic to advanced power and weight training lifts. Focus on functional fitness with safe, proper technique. You'll have an individual goal in mind when you:


Train your muscles to work together by simulating common movements you might do at work, at home and in sports
Incorporate body weight, barbells, kettle bells, medicine balls and dumbbells
Focus on strength, endurance and core stability
Build a strong foundation to prevent injury
Push yourself to ultimate fitness!
  Try one of our high intensity workouts and become the best version of you!
Finals Week of Wellness

JCCC Student Wellness has prepared a finals week of wellness to include exam relaxation, fun, and stress relieving activities to help you achieve your academic success. 
 

Online Daily Activities - Meditation, Yoga Poses, Fitness, Breathing, Motivational Tips
On Campus Activities - Monday thru Thursday

1:30-4:30pm  Weight Training with Personal Trainers & Fitness Assessments, GYM022
 

Take Control Tuesday

11am-1pm   Silly Putty/Wellness Check In/Coloring/Bouncy Balls, Commons 1.5 level
 Win a Fitbit - Hula Hoop Contest
1:30-4:30pm   Weight Training & Fitness Assessments, GYM022
 

Wellness Wednesday

10-12am          Puppy petting & playtime                                           
1:30-4:30pm   Weight Training & Fitness Assessments, GYM022
Wellness Lectures
Attend a 45-minute Wellness Lecture to learn about important wellness subjects like sleep, assessing your fitness level and overcoming back pain. See the Fall 2018 series schedule for details.
The Healthiest Club on Campus Challenge (PDF): Join in and find out which JCCC campus club is healthiest! Clubs earn points for wellness activities. Each quarter, the club with the most wellness points wins.
---
Assessments, Personal Training and Wellness Coaching
Send us an email to schedule a 15-minute introductory session.
---
Amenities
To reserve a complimentary locker for the semester, send us an email.
Locker Rooms GYM 006 Men/ GYM 037 Women
There are one women's and one men's public locker room for students, staff and faculty use. The locker rooms include showers and restrooms as well as lockers.
Lockers
The tall lockers in each locker room (located next to four cubicle lockers) are for hourly use only. Bring your own lock and lock up your stuff during your class or activity, then empty the locker and remove your lock until the next time you need a locker. Leave the tall locker empty and ready for the next user.
All individuals are responsible for providing their own locks, and any locks left on the tall lockers will be removed daily.
Towel Service
Clean towels are available in the fitness center for use during your workout.
---
Vision and Purpose
JCCC's student wellness vision is to promote health and wellness by building a cohesive campus community for students by furthering their academic success through healthy lifestyle engagement.
For more information or if you have questions, please email Student Wellness.