Our Accreditation
Johnson County Community College is accredited by The Higher Learning Commission.
---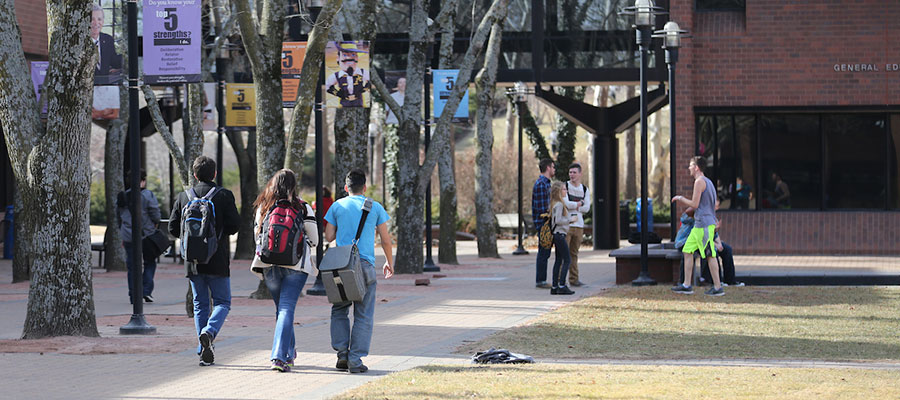 Overview
Johnson County Community College became a candidate for accreditation in the early 1970s and was granted accreditation by the Higher Learning Commission (HLC) in April 1975. HLC accredits degree-granting post-secondary educational institutions in the North Central region of the United States and conducts a full review of accreditation every eight to 10 years. JCCC is currently at the close of an eight-year cycle and our periodic evaluation is scheduled for spring of 2018, with a campus visit by the Peer Reviewers of HLC on April 30-May 2.
The AQIP Pathway is one of three options institutions have for maintaining accreditation with the Higher Learning Commission. Like the other pathways, it's focused on quality assurance and institutional improvement, but with an added emphasis on helping institutions achieve continuous quality improvement. The AQIP Pathway follows an eight-year accreditation cycle.
Seeking Public Comment
Johnson County Community College is seeking comments from the public about the college in preparation for its periodic evaluation by its regional accrediting agency.
The college will host a visit on April 30-May 2, 2018, from a team of peer reviewers representing the Higher Learning Commission. The team will review the institution's ongoing ability to meet HLC's Criteria for Accreditation. Johnson County Community College has been accredited by HLC since 1975.
Comments must be in writing and must address substantive matters related to the quality of the institution or its academic programs. Submit comments to HLC at hlcommission.org/comment or mail them to the address below.
All comments must be received by March 30, 2018.
Mailing Address:
Public Comment on Johnson County Community College
Higher Learning Commission
230 South LaSalle Street, Suite 7-500
Chicago, IL 60604-1411.
What to Expect During a Site Visit
The entire campus, faculty and staff, should be prepared for the site visit. Watch this 20-minute video to learn what to expect.
Systems Portfolio
The College's portfolio was submitted on June 1, 2017, in preparation for the upcoming site visit.
HLC Documents
Or visit the Higher Learning Commission website.
---
Did you know?
HLC has five criterion by which all institutions are evaluated:
Criterion One: Mission
The institution's mission is clear and articulated publicly; it guides the institution's operations.
Criterion Two: Integrity
Ethical and Responsible Conduct - The institution acts with integrity; its conduct is ethical and responsible.
Criterion Three: Teaching and Learning: Quality, Resources, and Support
The institution provides high quality education, wherever and however its offerings are delivered.
Criterion Four: Teaching and Learning: Evaluation and Improvement
The institution demonstrates responsibility for the quality of its educational programs, learning environments, and support services, and it evaluates their effectiveness for student learning through processes designed to promote continuous improvement.
Criterion Five: Resources, Planning, and Institutional Effectiveness
The institution's resources, structures, and processes are sufficient to fulfill its mission, improve the quality of its educational offerings, and respond to future challenges and opportunities. The institution plans for the future.
Accreditation is both a process and a status.
The process includes reviewing institutions/programs to judge their education quality – how well they serve their students and society.
The status of the institution as "accredited" is the result of the process.
Accredited Status means that students and the public can have confidence in the worth of an institution or program.

The Value of Accreditation includes:
A neutral, external party has reviewed the quality of education and found it to be satisfactory.
Confirms that the institution and programs have processes in place to meet changes within the academy and in public expectations.
Provides for eligible students to have access to federal financial aid.
Assists with transfer of credit among institutions or admission to graduate school.
Aids with entrance to a profession in fields where graduation from an accredited institution is required.
Signals prospective employers that an educational program has met widely accepted educational standards.
HLC is the largest of the six regional accreditors. For more about the College's accrediting body.The Higher Learning Commission accredits degree-granting post-secondary educational institutions in the North Central region, which includes the following 19 states:
Arizona - Missouri
Arkansas - Nebraska
Colorado - New Mexico
Illinois - North Dakota
Indiana - Ohio
Iowa - Oklahoma
Kansas - South Dakota
Michigan - West Virginia
Minnesota - Wisconsin
Wyoming
HLC will be sending a peer review site team to JCCC to reassess our compliance with accreditation standards this Spring. The site visit will take place April 30 – May 3, 2018.