Apply for Admission
Start your tomorrow today at Johnson County Community College.
---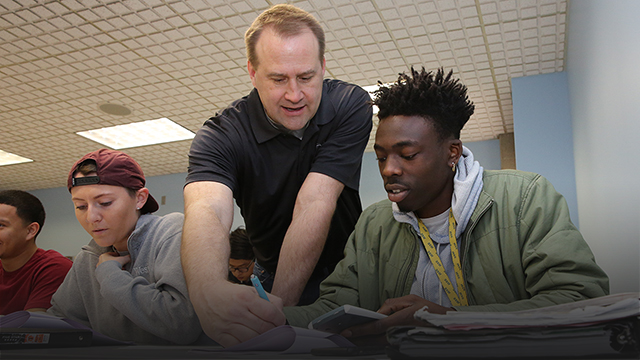 Johnson County Community College is the place where tomorrows take off. Start earning your associate degree. Work toward a certification. Get a head-start on your four-year degree. Build your skills. Enhance your career. Earn college credits to meet your goals.
With flexible campus, online and hybrid class options, our classes work with your schedule. So even if you work full- or part-time, you can still take steps toward achieving your dream.
Take the first step: Apply
Before you can begin earning college credits at JCCC, you need to complete an application. It's free and it's a relatively easy three-step process.
First, create a Dynamic Forms account.
JCCC manages its application process through a service called Dynamic Forms. When you first start an application, you'll need to create a username and password for the applicant in Dynamic Forms. Take note of your username and password — you'll need it to access the application.
Second, verify your Dynamic Forms account.
Dynamic Forms will send a verification email to the email address you provided. Be sure to use the same device to check your email and be sure to look in your junk e-mail folder. The email subject will read "Activate your account." One click on the verification email and your Dynamic Forms account is set up.
Third, log in to complete the application.
The verification email includes a link to continue to the application. Or you can click on the Start an Application button again and use your verified username and password to log in and access the JCCC application. That's it!
Save your application in progress and pick it up again
Worried that you won't have time to complete the application once you start? Not sure what details you need? No problem. You can start your application today and pause it whenever you need to. Just log in to the Dynamic Forms portal and pick up where you left off.
Applied before? Not sure if you need to reapply?
If you have earned college credit from JCCC or taken a credit class anytime during the last four semesters, you don't need to reapply, even if you skipped a semester.
---
Not looking to earn college credit?
JCCC offers many Continuing Education (CE) classes to develop your skills, advance your career, or help you prepare for a new one. You don't earn traditional credits towards a degree, but you may earn continuing education units (CEUs), certifications or licensure within various professional education programs. And there's no application process; just register for courses that meet your needs.