JCCC Proudly Salutes Veterans
At JCCC, we place high importance on showing appreciation to members of the military, both past and present. We honor them as patriots, and applaud their willingness to serve and sacrifice for the common good. There are many ways our College community expresses gratitude to our veterans.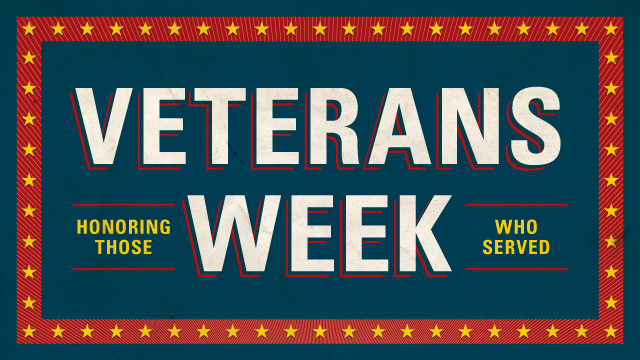 Meal Deal
Mon. Nov. 6 | 9 a.m.- 3 p.m. | Food Court
Show your VA/military ID/JCCC ID with student veteran sticker; get $7 off your meal
Veterans Resource Fair
Tue. Nov. 7 | 10 a.m.-2 p.m. | Student Center, 1st floor
'Taps' on the Hill
Wed. Nov. 8 | 11 a.m. | Commons Courtyard Hill
Thank a Vet Card Writing Project
Wed. Nov. 8 | 11 a.m.- 1 p.m.| Commons Atrium
Veteran Oral History Presentation
Thu. Nov. 9 | 11 a.m.-noon | CoLab (OCB 100)
JCSVA Trivia Night
Thu. Nov. 9 | 6-8 p.m. | Regnier Center 101
For JCCC students, faculty and staff
Veteran Honor Luncheon & Pay It Forward Scholarship Ceremony
Fri. Nov. 10 | 11 a.m.-2 p.m. | Regnier Center 101
For employee veterans and invited guests
Honor Tree
Nov. 1-30 | Student Center atrium (Student Center, 1st floor)
Tie a ribbon on the tree to honor a veteran
Events are free and open to all unless otherwise noted.
---
Pay It Forward Scholarship for Veterans
This scholarship provides financial assistance to help veterans reach their academic goals. It's a generous and practical way to say "thank you" to those who have selflessly fought for our freedoms.
Kansas Veterans Oral History Project
In 2018, JCCC's Kansas Studies Institute and Veteran Services received a grant from Kansas Humanities for documenting oral histories of Vietnam Era veterans. 
Veterans Week - 10-Year Retrospective
For the last 10 years, the JCCC Veteran and Military Student Resource Center has collaborated with campus and community partners to present many events to honor veterans and create campus awareness of veteran and military culture and accomplishments. 
We have some awesome videos and highlights of these wide-ranging events, from student veteran panels to distinguished guests to veteran oral history projects.
Taps on the Hill
Every year, JCCC sponsors "Taps on the Hill."  It's our way of honoring all those who have served our country defending our freedoms, as well as acknowledging that "while all gave some, some gave all."
This event is held at 11 a.m. on the 11th day of the 11th month on the hill just south of the Commons. The timing commemorates the Allied powers' World War I ceasefire agreement with Germany, which took effect at 11 a.m. on Nov. 11, 1918. Nov. 11 was known as Armistice Day until President Eisenhower officially changed the name to Veterans Day in 1954.
We have had the privilege of having a Native American component to Taps on the Hill with Ed Smith, Osage Nation citizen, playing a drum and singing a native veteran song.
Veteran Employee Luncheon
JCCC hosts a barbeque luncheon each year to honor its employee veterans. This time together is for vets to share their experiences and to enjoy the company and comradery of their peers.
Honor Tree
Each November a Christmas tree, some ribbon and paper stars are placed in the Student Center atrium –  and through acts of remembrance transform these simple objects into a visual tribute to all who have and are still serving. People are invited to tie a ribbon on the Honor Tree as a silent way to say thank you to many different groups that have been affected by past and present military service.