Faculty Connections Lead to New Life Plan
January 20, 2023
Alum: "JCCC provides more opportunities than you can imagine."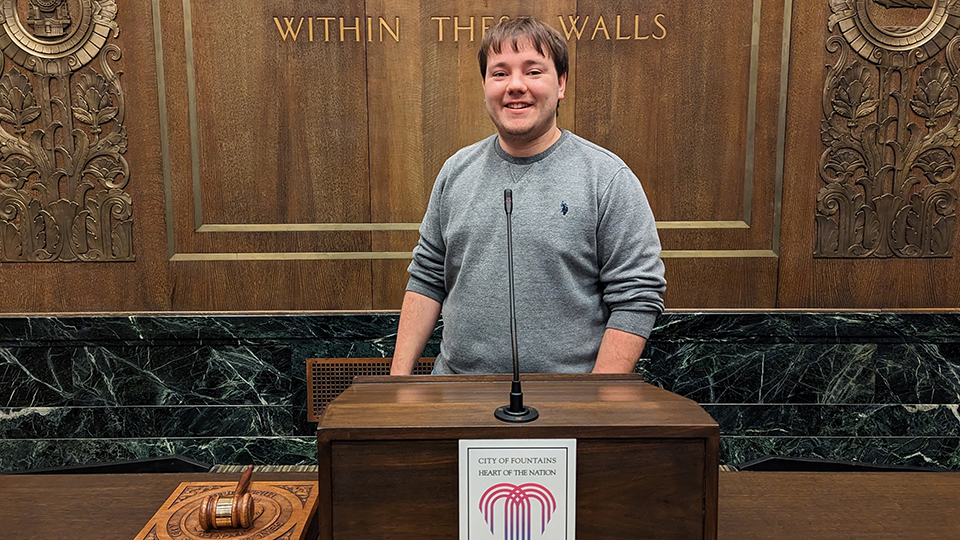 Josh Haverkamp is proof that plans don't always work out like you think they will. Sometimes they work out even better.
When Josh's first year at the University of Kansas studying biology and pre-med didn't go as planned, he became a JCCC student. He had always been interested in political science, so he made it his major.
JCCC faculty connections open doors
This new adventure at JCCC led to exciting opportunities. "I had some terrific professors who encouraged me to do more," Josh says. "Dr. Andrea Vieux's general political science classes led to an internship with the City of Overland Park. And Dr. Brian Wright inspired me to join JCCC's Model United Nations, where I won an award on my position paper at the national conference in New York City."
The next fall, Josh transferred to Kansas State University and transferred his credits back to JCCC to earn an associate degree. In May 2020, he graduated Magna Cum Laude with a bachelor's in political science and minor in communication studies. Two years later, he completed his Master of Public Administration at K-State.
As a graduate, he was awarded a teaching assistantship in the political science department and an internship with the City of Manhattan, Kansas, in their city manager's office. In June 2022, he was one of two people to receive the Cookingham-Noll Fellowship with the City of Kansas City, Missouri.
'Make a decision and go for it'
"JCCC feels like a small campus, when it's really the size of a four-year college. – Josh H., JCCC alum, Cookingham-Noll Fellow with the City of Kansas City, MO
The two-year fellowship is a salaried position in which Josh rotates between city departments and learns from previous Cookingham-Noll fellows. He hopes to continue working at the local government level, especially in the areas of emergency management or disaster preparedness.
"So much of what's happened to me the last few years goes back to the connections JCCC and its faculty have," says Josh. "Even my experience with the Model UN taught me how to be more empathetic, which is helpful for working in local government."
Josh's advice for someone deciding where to go to college? "Don't sit on your couch and wait for an opportunity," he says. "Make a decision and go for it. JCCC will provide more opportunities than you can imagine, but you have to put yourself in the situation to make it happen."
And in the midst of all of those opportunities, Josh married another JCCC graduate and had a baby girl.
Ready to make a decision about your future?
Find your opportunities among 100 degrees and certificates at JCCC. Get personalized attention with smaller class sizes, free tutoring and a support team to guide you, all at competitive tuition rates.