Community members and JCCC faculty and staff may request the use of College facilities for conferences or corporate and business events.
Event spaces in Regnier Center and Nerman Museum of Contemporary Art
The JCCC main campus includes the Capitol Federal Conference Center in the Regnier Center, the M.R. and Evelyn Hudson Auditorium in the Nerman Museum and many spacious meeting rooms to accommodate groups and corporate events of all sizes. For details, email JCCC Facilities Scheduling or call 913-469-4423.
We offer many amenities to make your event a success, including full-service catering and the latest audio-visual technology.
Other spaces and how to rent them
Host your next special event in one of JCCC's performance spaces — Yardley Hall or the Polsky Theatre — in the Midwest Trust Center.
Each year JCCC hosts a series of professional, world-renowned artists as part of the Midwest Trust Center Series events series. The theatres are also available for community rentals and, depending on your needs, JCCC can provide the support of a professional theatre, stagehands, box office and front-of-house staff. We go above and beyond most conference and convention facilities to make your event a success.*
To inquire about space availability, email Midwest Trust Center or call 913-469-4400 and leave a message. We will respond to all inquiries within two business days. Additional information and rental fees are also available on the Midwest Trust Center website.
* Midwest Trust Center rental inquiries will be considered no less than six months out for new rental clients. Weddings and weekly religious services are not permitted per College rental policies.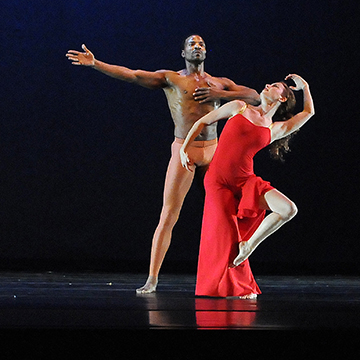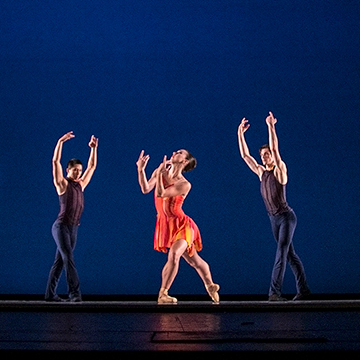 OHEC, located off campus at 21201 W. 152nd Street in Olathe, Kansas, offers comfortable spaces suitable for seminars, meetings and conferences.
The Multipurpose Room and classrooms may be the right fit for your next group or company event. For details, availability and costs, email Mike Stithem or call 913-469-2400.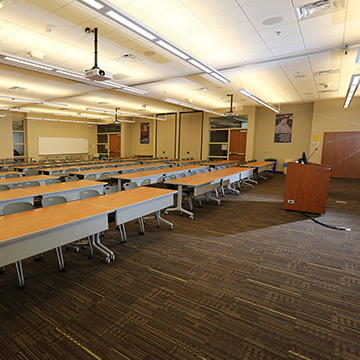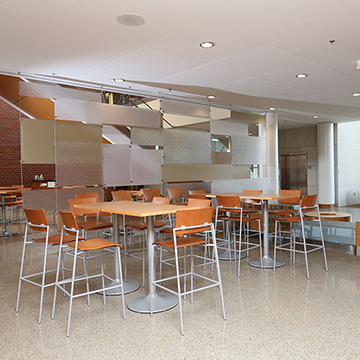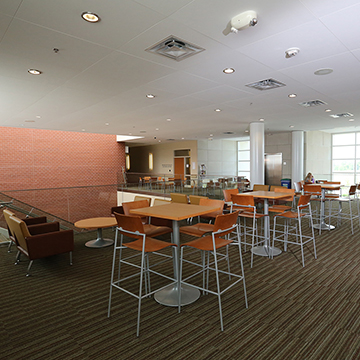 Wylie Hospitality and Culinary Academy (WHCA) rental rates
Please contact Cathy Rawlings at crawling@jccc.edu for information.
All rental requests must be made at least 30 days prior to the anticipated event date.
Room

Cost

Capacity

WHCA Atrium
$150/day with rental of any other space
$500/day for Atrium only
100
WHCA 115 (Culinary Computer Lab)
$300/Half day
$600/Full day
26
WHCA 117, 119 (Culinary Classroom)
$30 hour with 4 hour min.
26
WHCA 145 (Wysong Family Theater)
$100 hour with 4 hour min.
74
WHCA 140, 142, 144, 146 (Kitchen)
$300/Half day
$600/Full day
26
WHCA 148 (Kitchen)
$300/Half day
$600/full day
18
WHCA 150 (Regnier Dining Room)
$500 day
60
WHCA Patio
No charge with any other space
100
Athletic Facility Rentals
State-of-the-art athletic facilities are available for rent on the Johnson County Community College campus.
These spaces are ideal for sports leagues, clubs, camps, events and athletic programs.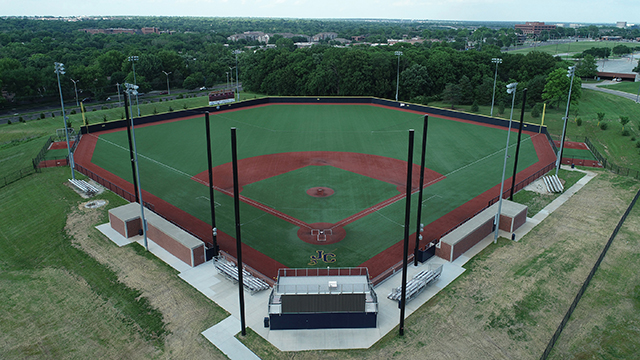 JCCC's recently renovated baseball facility includes a new playing surface, underground drainage, dugouts, backstop and fencing, and lighting that allows for night play. An AstroTurf Grass 3D60 infill system covers the entire playing surface, allowing teams to practice and compete in all weather conditions. Our 1,000-seat stadium has a press box, restroom facilities and a concession stand.
Dimensions: LF: 320', LCF: 365', CF: 400', RCF: 370', RF: 320'
Dimensions: LF: 320, LCF: 365, CF: 400, RCF: 370, RF: 320
Surface: AstroTurf GameDay Grass 3D60
Press box, seating and a Musco brand LED lighting system
Batting Cages (GYM 003E)
Need access to baseball/softball batting or pitching cages? We've got you covered. JCCC has six available.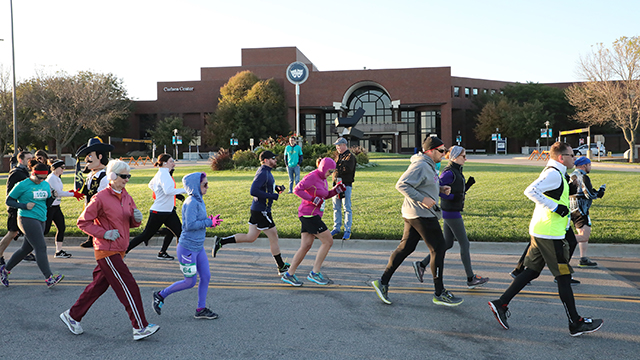 Interested in holding your road race in a clean, convenient location? With picturesque scenery and plenty of parking, you'll see why JCCC's venue is a real winner.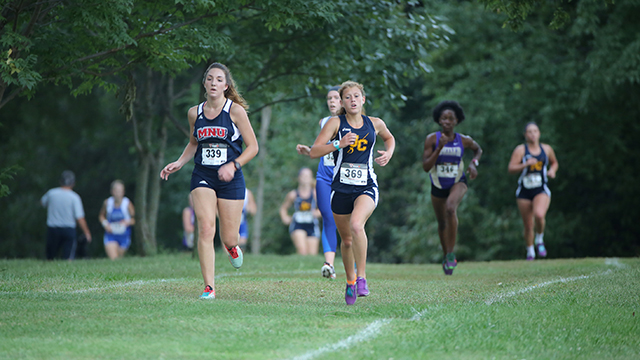 Need a place to host your meet? Look no further than JCCC's challenging and meticulously manicured course, conveniently located on our College campus.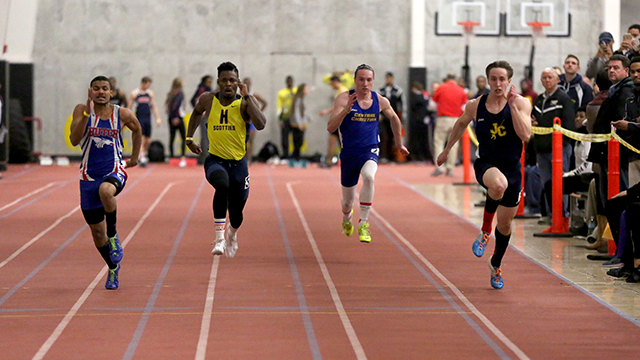 The fieldhouse covers a 43,000-square-foot area, equivalent to three basketball courts. It includes a 200-meter track, with six lanes surrounding a central area that can be configured for basketball, volleyball, badminton or tennis courts, using retractable partitions. Each end can accommodate three sets of retractable nets to create practice cages for softball and baseball batting and pitching, or for use in driving golf balls.
Indoor Courts (3) (GYM 003)
Looking for a court to rent, or maybe two or three? Look no further. We've got courts for your basketball, volleyball, tennis and/or golf ball driving needs.
Indoor Track (GYM 003A)
The indoor track has six lanes and is 200 meters in length. Eight laps in lane 1 = 1 mile. It's the perfect venue for field days and track meets, no matter what the season.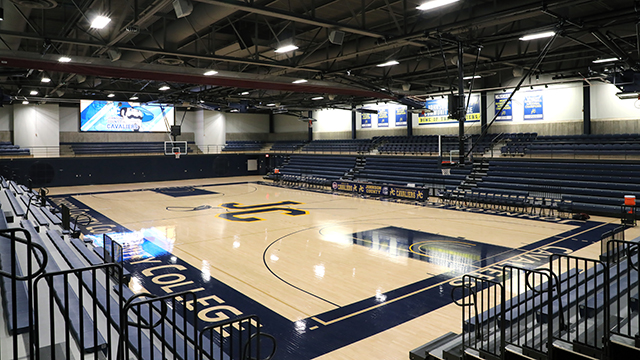 From tip-off to buzzer, or initial serve to set point, this is a great venue for league play and tournaments. Maximize fan engagement with ScoreVision video scoreboards and software. Our gym experience rivals that of any professional arena. Locker room facilities are also available.
VersaTract Telescopic System from Irwin Seating
2,100 Infinity Seat Modules in a navy color
Aisle and end front rails for safety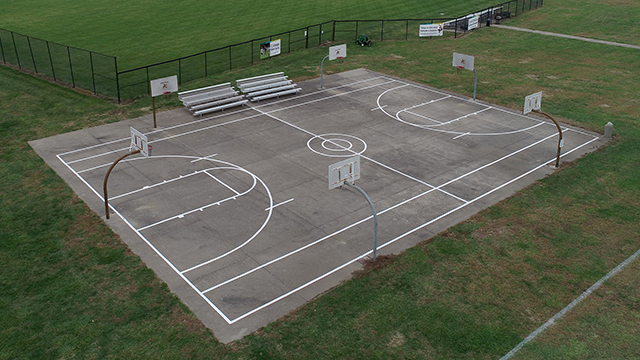 Interested in securing a place for your team to practice or compete outside? JCCC's outdoor basketball court is just the place to hoop it up.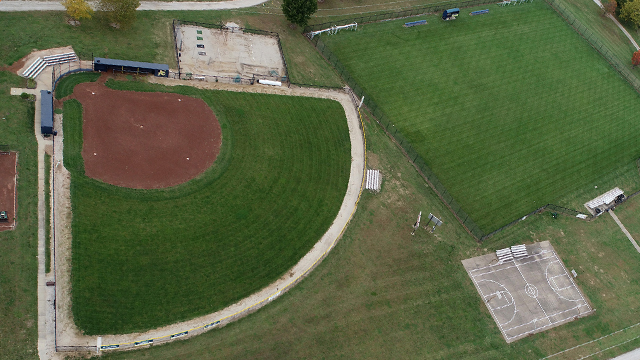 If you're searching for a practice space for your team, your search ends here. JCCC has two outdoor facilities ideal for soccer, softball and baseball teams.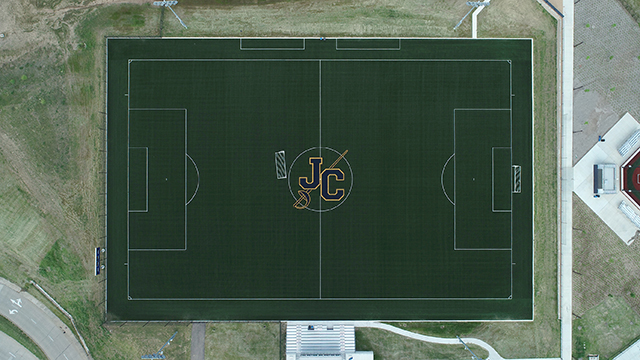 If you're searching for a practice space for your team, your search ends here. JCCC has two outdoor facilities ideal for soccer, softball and baseball teams.
Dimensions: 75 yds x 120 yds
Surface: Sportsturf
Press box, seating and a Musco brand LED lighting system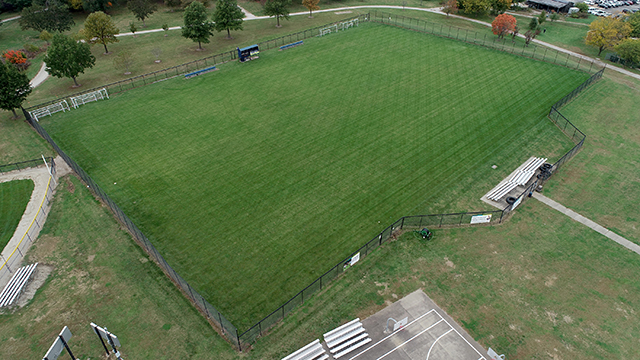 Searching for a natural grass practice field for your team? Your search ends here!
Dimensions: 70 yds x 120 yds
Surface: Natural Grass
Elevated Timing Stand and seating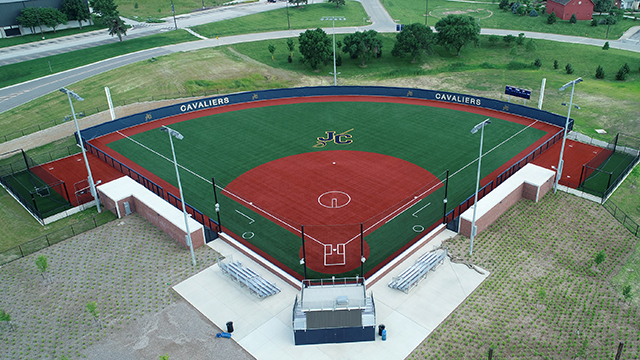 This next-level facility boasts one of the finest playing surfaces in the area and provides opportunities to practice and compete year-round. Included is a press box, covered dugouts, bullpen and batting cages. The field is equipped with an LED lighting system, allowing for play at night. There is also access to a concession stand and restrooms.
Dimensions: LF: 205, CF: 205, RF: 205
Surface: Astroturf brand "Fielder's Choice"
Press box, seating and a Musco brand LED lighting system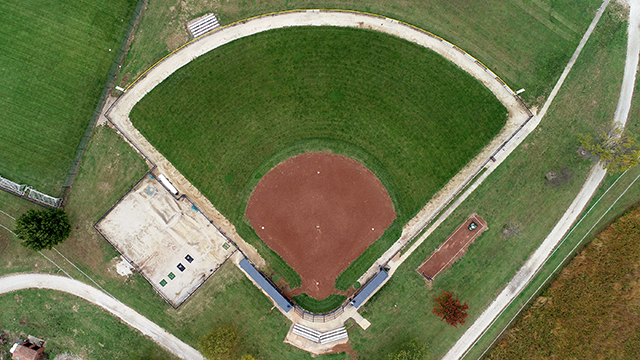 Attention coaches: we have a grass softball field available for your team's practices or games.
Dimensions: LF: 205, CF: 205, RF: 205
Surface: Natural Grass
Press box, seating
Are you looking for a natural grass field, or maybe two? JCCC has got you covered.
Dimensions: 60 yds x 90 yds
Surface: Natural Grass
All rentals will have associated labor costs, to be determined based on time, date and location of activity.
For more information or to discuss a rental, email athleticfacilityrentals@jccc.edu or call 913-469-8500, ext. 3642.
*In addition, the Facility Supervisor is required at every event, at the rate of $50 per hour.
| | | |
| --- | --- | --- |
| Location | Facility | Cost/HR* |
| GYM 003 | Indoor Single Court | $70 |
| GYM 003 | Indoor Courts (3) | $160 |
| GYM 003 | Indoor Courts (3) & Track | $200 |
| GYM 003A | Indoor Track Only (200 meters or 220 yards) | $70 |
| GYM 003E | Batting Cages (Each) | $50 |
| GYM 125 | Basketball Arena | $115 |
| GYM 125 | Volleyball Arena | $115 |
| GYM 525 | Baseball Field | $115 |
| GYM 526 | Soccer Field - Turf | $115 |
| GYM 527 | Softball Field - Grass | $75 |
| GYM 528 | Cross Country Course | $100 |
|   | Campus Road Race | $125 |
| GYM 530 | Outdoor Practice Field | $60 |
| GYM 531 | Outdoor Practice Field | $60 |
| GYM 532 | Soccer Field - Practice | $75 |
| GYM 533 | Softball Field - Turf | $115 |
| GYM 534 | Outdoor Basketball Court | $40 |