Explore opportunities. Get involved. Make memories.
Visit the Student Engagement Desk, SC 1st floor, and find a friendly face ready to be your guide to campus life and activities. Open Monday-Thursday from 8 a.m.-6 p.m. and Friday 8 a.m.-5 p.m. or call at 913-469-3807.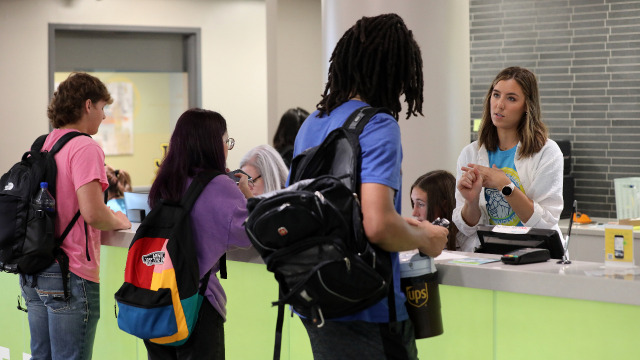 Connect with your Cavalier family—it all starts here!
Your student ID card is your ticket to on-campus connection. Get your ID card before the semester starts and take advantage of all that JCCC has to offer; available at two locations.
Talk with the Student Activities team at the Student Engagement Desk. They can help you with:
Meet other Cavaliers—check out these campus hot spots:
Cavalier spirit comes to life on campus!
Get connected, stay connected—you belong at JCCC. Check out our popular annual events where you can find friends, food and fun:
Welcome Week: First week of class each semester
Start the semester off right with events designed to get you in the school spirit.
Cav Kickoff: Second Wednesday of the fall semester
Our August introduction to life as a Cavalier! Discover ways to get involved and meet new friends.
The Finals Countdown: Week leading up to finals and stop day
Get academic support and recharge with cool experiences happening every day.
Cav Craze: First Wednesday in May
Celebrate a successful school year in May with fun activities, prizes and events.