Emergency Medical Science
JCCC's Emergency Medical Science program will prepare you to enter the workforce as an Emergency Medical Responder (EMR), an Emergency Medical Technician (EMT) or a Paramedic.
What Will I Learn in JCCC's Emergency Medical Science Program?
The Emergency Medical Science curriculum provides you with the knowledge, skills and professional behaviors to provide emergency medical care. Your time at JCCC will prepare you for the physical, mental and emotional challenges of being an Emergency Medical Services (EMS) care provider. We offer progressively intense programs that teach you the Emergency Medical Science expertise and skills you'll need to respond anytime, anywhere.
Students who complete the Associate of Applied Science degree general education requirements may choose to apply to the Paramedic program, which is a selective admissions program.
Upon completion of the Paramedic program, graduates earn their Associate of Applied Science degree in Emergency Medical Science.
Graduates of some EMS courses and programs may be eligible to take state and national certification examinations.
Why JCCC's Emergency Medical Science Program?
JCCC's Emergency Medical Science program uses scenario simulations to provide you with hands-on learning experiences. Our Emergency Medical Science classes are taught by industry professionals with extensive experience as paramedics and in emergency healthcare.
JCCC's class sizes, convenience, cost and transferability are all reasons to choose our Emergency Medical Science program.
Classes are limited to 24 students, so you can ask questions, engage in discussions and connect with classmates and professors.
Graduate first-time pass rates on state and national occupational licensure examinations are exceptionally consistent.*
JCCC is affordable. Costs are reasonable, and our campus is convenient to the Kansas City metro area.
JCCC classes are transferable to most four-year schools
Certificates and Licensing Exams
Students with the discipline and drive to successfully complete JCCC's programs earn eligibility for both state and national licensing exams, and find employment with leading agencies across the nation. Employment opportunities include agencies that provide emergency medical services, fire departments, rescue agencies, hospital specialty areas, and industry or government agencies.
History of EMS at JCCC
JCCC is a nationally recognized leader in Emergency Medical Services (EMS) education. The EMS program, which began in 1976 with EMTs, subsequently launched a Paramedic program in 1983 which was accredited in 1986. We have graduated 669 paramedics since 1983 and have issued 2,620 EMT certificates since fall of 1979. JCCC EMT alumni can be found in nearly every EMS agency in the region, and in agencies across the country.
See how successful our students are
EMR Outcomes 2022 (Kansas) (PDF) 
EMT Outcomes 2022 (Kansas) (PDF) 
Paramedic Outcomes 2022 (Kansas) (PDF)
Accreditation
The Johnson County Community College Paramedic Program is accredited by the Commission on Accreditation of Allied Health Education Programs (www.caahep.org) upon the recommendation of the Committee on Accreditation of Educational Programs for the EMS Professions (CoAEMSP).

To contact CAAHEP:
Commission on Accreditation of Allied Health Education Programs
25400 US Highway 19N, Suite 158
Clearwater, FL 33763
727-210-2350
www.caahep.org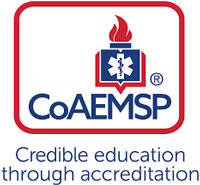 To contact CoAEMSP:
Commission on accreditation of Allied Health Education Programs (CoAEMSP)
8301 Lakeview Parkway, Suite 111-312
Rowlett, TX 75088
214-703-8445
www.coaemsp.org
According to the U.S. Bureau of Labor Statistics, the employment of paramedics and emergency medical technicians (EMTs) has a projected growth rate of 6 percent through 2029. This growth rate is higher than the average for all occupations, meaning the demand for qualified EMTs is only expected to increase.
We are one of the very few programs in the nation with a 99 percent first-attempt pass rate for National Registry of Emergency Medical Technicians certification. Our EMS graduates score exceptionally high on NREMT examinations, well above national and state averages. More than 90 percent are professionally employed shortly after graduation.
Download the Emergency Medical Science Program Outlook (PDF) for employment projections and salary information.
---
Need help with career decisions? Visit the Career Development Center.
The cost of going to college can drastically impact your ability to succeed. At Johnson County Community College, we want our students to be able to afford a program that they love. That's why we're constantly working to make tuition more affordable for you.
Here's what JCCC has to offer:
Textbook and other supply costs vary depending on your courses.
There are several things to consider when budgeting for college. Visit our Cost of Attendance page for detailed information.
Resources and Tools at JCCC
Being a student at JCCC means you have access to a range of services and resources to help you succeed. We offer professional tutoring and small, personalized class sizes. When you attend Johnson County Community College, your education truly matters.
The cost of going to school can be daunting. Fortunately, our Financial Aid office is here to help you through the process. Our counselors can help you find ways to fund your schooling, including scholarships and student loans, both of which can help to reduce the cost of your tuition every semester.
If you need help discovering what your passion will be post-graduation, our Career Development Center and Academic Counseling services are great support tools.
You can also further your education by transferring to a four-year school. JCCC is here to help make the transition to another college program easy and stress-free.