Beginning, advanced or experienced riders — we've got courses for you!
The courses
The new motorcyclist has a lot to learn beyond the important step of safely learning how to ride.
This course is designed to welcome the new rider to the hobby in an open setting that encourages questions and discussion. It will better prepare new motorcyclists for their first major purchases and their first years of motorcycle ownership. Avoid some of the pitfalls of being a new motorcyclist by learning from a seasoned rider with experience in the motorcycle industry.
Topics Covered in this Course Include:
Choosing the right protective gear
Checking and maintaining your bike
Protecting your bike and securing your gear
Personalizing your ride
Both our Basic Rider and Female-Only Basic Rider courses cover the basics of operating a motorcycle. They also help students develop safety-oriented thinking strategies. These courses include both classroom learning and experience on the range.
In the Classroom
Learn about the different types of motorcycles, their controls and how they operate. Once familiar with the basic principles of motorcycle operation, students move out to the range portion of the course.
On the Range
Instructors begin with basic skills like starting the bike and getting a feel for balance. Successful students progress from straight-line riding, turning, shifting and stopping to cornering, swerving and emergency braking.
Hands-on Riding Exercises in the Basic Rider Course (PDF)
Evaluation
The course concludes with a written and a hands-on riding skills evaluation, both of which students must pass. Instructors are with students every step of the way to help them develop confidence and comfort on the motorcycle.
Students who successfully complete the course will receive a course completion card. Kansas students will also receive a completed DE-99 form, which should waive the riding portion of your motorcycle endorsement test at the DMV.
Missouri students will need to speak with their local DMV to determine whether the completion card will be accepted in lieu of a riding skills test.
Students should send a copy of the completion card to their insurance carrier because some insurance companies give a discount for motorcycle training. (This varies based on the insurance companies — students should check with their insurance companies prior to taking the course.)
Licensing Test Waivers
Students who are residents of Kansas are given a Kansas Division of Vehicles certificate of completion upon successfully completing the Basic Rider Course and the Female-Only Basic Rider Course. Kansas students receive an MSF completion card and a DE-99 form, signed by JCCC. Although the state of Kansas driver's license examiners reserve the right to test any applicant, generally the completed DE-99 serves to waive further written or skill testing when pursuing a motorcycle license.
The Experienced-rider course is an intermediate course designed to help riders develop new skills and confidence on their personal motorcycles. Emphasis is placed on tight space maneuvers, balance, cornering, braking and emergency maneuvers. This course is beneficial for new and experienced riders alike or anyone who wants to gain confidence on their personal motorcycle.

Students must provide their own helmet and motorcycle, proof of insurance, valid motorcycle registration and motorcycle endorsement on their driver's license. All motorcycles must be street-legal. It is recommended students have at least 1,000 miles of motorcycle riding experience.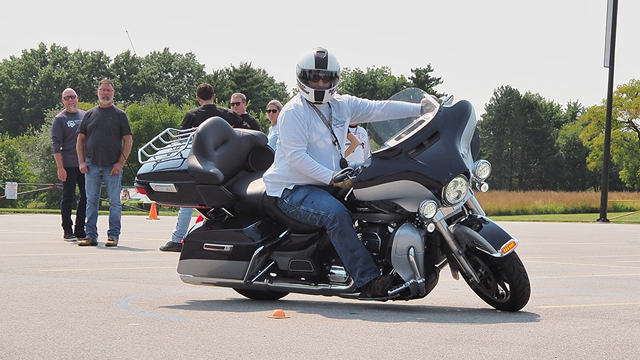 This one-day course complements your basic skills and helps with personal risk assessment. It includes a fast-paced classroom segment with several fun interactive activities to improve perception and hazard awareness. Range exercises enhance both basic operating skills and crash-avoidance skills. Improving your braking and cornering finesse is emphasized through the teaching of skills such as body posture and curves and brake assisted steering (trail braking). The course is beneficial for riders on any type of street motorcycle.
You must provide your own motorcycle, proof of insurance, valid motorcycle registration and motorcycle endorsement on their driver's license. All motorcycles must pass instructor visual safety inspection. It is recommended you have at least 1,000 miles of motorcycle riding experience. The Advanced Rider Course (ARC) is equivalent to the Military Sport Bike Rider Course. Please confirm with your commanding officer or ground safety office if taking this course to meet a military motorcycle training requirement.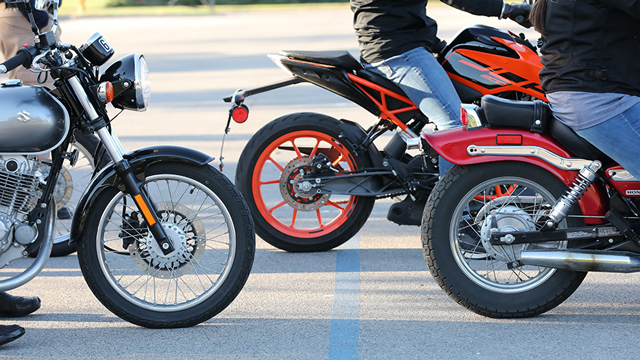 This course is designed to give participants the knowledge and confidence to perform basic motorcycle maintenance and troubleshooting with the goal of improving rider safety and satisfaction. Students will learn how the different motorcycle systems function along with how to perform visual inspections, make adjustments and perform routine maintenance tasks. Current area motorcycle mechanic fees are approximately $90-$120 per hour. Learn to perform basic maintenance now and save money for years to come.
This course will discuss all major motorcycle components including fuel systems, drivelines, suspension, ignition and more.
Ready to choose your course?
In-person courses may not be available in all subjects.
Adjust filters in our online catalog to find Live Online and Online courses.
Eligibility and required forms
The motorcycle rider courses are open to students 15 years of age or older who have a valid driver's license or learner's permit.
For students younger than 18, both the student and a parent must complete and sign the required forms at the start of the first class.
IMPORTANT!
Students will be dismissed from the course if they present a danger to their safety or the safety of others during any exercise or evaluation in the course.
Students must have no medical conditions or mental or physical limitations that would affect their learning or their safety, or the learning and safety of others.
Students must not have used or be under the influence of alcohol, prescription or non-prescription drugs or any other substance that could impair their performance in the course.
 Basic Rider and Female-Only Basic Rider courses
Prerequisite Skills: Proficiency in riding and balancing on a two-wheeled bicycle. This is a physically active class; students must be in condition to handle a motorcycle and have balance and coordination.
On the first night of class, students will be asked to inform instructors of health conditions, medications or other circumstances that could jeopardize their own or others' health and safety.
Students must be present and active for all class sessions. Classes will meet regardless of inclement weather. No refunds will be given to students who do not successfully complete the program.
All participants will complete the Motorcycle Safety Course Waiver & Indemnification and the DE-99 Certificate forms in class.
Course participants will complete paperwork the first day of class will receive a DE-99 certificate of completion card in the mail approximately one week after completing the course.
Due to Covid-19 and the limited number of on-campus employees, certificates of completion cannot be picked-up in person.
Motorcycle Training supplies for all riding courses
Motorcycle helmet - DOT-approved and must be 3/4 to full
Long-sleeve shirt or jacket
Full-fingered gloves, leather preferred
Eye protection
Long, durable pants that allow no exposed skin, non-baggy, no flares or tassels, no jeggings or yoga pants
Boots or shoes that cover the ankle
Rain gear
Pencil/pen and highlighter
Food/beverages for breaks and lunch. Vending machines are available
Proper riding attire will be discussed in the first course. Basic Rider and Female-Only Basic Rider students do not need to wear riding items to the Friday night classroom-only session.