JCCC's motorcycle training course prepares you to properly and safely handle a motorcycle. Are you ready to ride?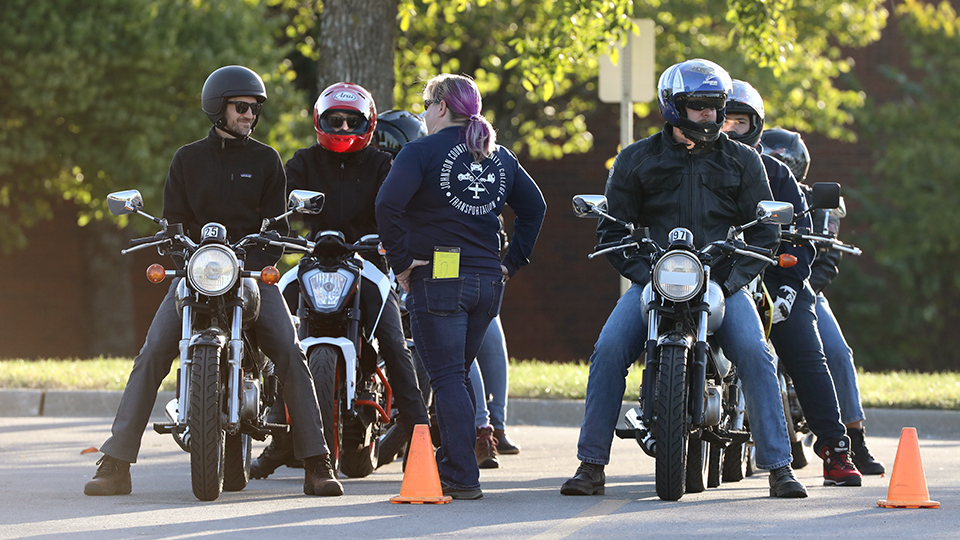 Interested in attending motorcycle school? JCCC's Motorcycle Training courses teach novice riders the basic skills necessary to operate a motorcycle safely, and allow experienced riders to refresh and refine their techniques.
Why choose JCCC Continuing Education Motorcycle Training?
Relevant content and excellent instructors create high-quality courses, plus:
Weekend course times; get your motorcycle endorsement in one weekend

A variety of motorcycles (250cc and under) are provided in the Basic Rider Course and Female-Only Basic Rider Course

Train on a controlled off-street environment
MSF-certified rider coaches
Individualized Rider Coach feedback during training
No motorcycle required for Basic Rider course
Request a replacement motorcycle/driver education certificate of completion.
Submit request
Ride smart from the start!
This video, created by JCCC marketing student Isaiah Reasby, gives you a good feel for the range experience.
JCCC's motorcycle training takes place on a closed range on the main JCCC campus. Riders have the chance to practice starts, stops, turns and other key motorcycle maneuvers in the safety of an exclusive, closed training range. 
Ready to choose your course?
In-person courses may not be available in all subjects.
Adjust filters in our online catalog to find Live Online and Online courses.