The Kansas Studies Institute at JCCC promotes research and teaching on the culture, history, economics and natural environment of Kansas.
Kansas Studies Institute, founded in 2009, fulfills its mission by collaborating with individuals and entities both at JCCC and throughout Kansas to expand our understanding of the state's peoples, places, and landscape. Tai Edwards is the director.
Follow us on Instagram: @kansasstudiesinstitute
See the Sun from 'the Sun'!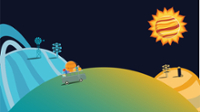 Learn about the solar system with students and faculty who have been working on the Kansas Cosmos project for over a year. Telescopes will be set up for viewing on campus, weather permitting.
With this project, distances between planets are just a drive across our state. On the Kansas Cosmos scale, Pluto is in Goodland, Kansas, and the Sun is in Overland Park, at Johnson County Community College. We'll be viewing the actual Sun (and more) from one location on the Kansas Cosmos scale. Learn more about this project below.
Thu. Oct. 21 | 4-5 p.m. | Outside JCCC Baseball Stadium
The event is free and open to the public. Facial coverings are required.
---
Wyandot in Kansas: The Past as Prologue to Redlining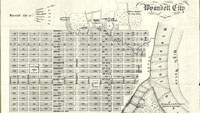 JCCC's Kansas Studies Institute invites you to learn about the forced relocation of Wyandot people to Kansas. See how their experience served as a prologue to other forms of segregation and discrimination, such as redlining. 
Listen to a conversation between adopted Wyandot Nation of Kansas archivist John Nichols and Kansas Studies Institute Director Tai Edwards, moderated by Anne Lacey, Kansas Collection Librarian at the Kansas City Kansas Public Library.
Tue. Nov. 16 | 6:30 p.m. | Zoom
This event is free and open to the public. RSVP to receive a Zoom link. 
Kansas Cosmos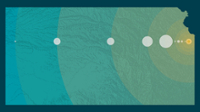 KSI is coordinating a multi-disciplinary project where students are creating a to-scale version of the solar system that maps over the state of Kansas. Imagine driving on I-70 across the state and having this app tell you where you are in the solar system, when you reach the orbit of each planet/object, and the relative size and other interesting facts about each object. In 2020 students began designing, coding, researching, writing, and building the application. We soft-launched the app/website on Kansas Day, Jan. 29, 2021, and will continue building and updating it throughout the spring semester. Read about our progress or visit kansascosmos.org.
---
Robinson Park project
Kansas Studies Institute is a collaborator on the Interchange grant project "Between the Rock and a Hard Place." This project is working with the community to reimagine Robinson Park in Lawrence, Kansas. The park is named for the state's first governor, Lawrence town founder, and Haskell Institute superintendent (a federal boarding school for Indigenous children). The park is also home to the "Big Red Rock" which is a glacial erratic pushed down to the Kansas River in the last ice age. This rock was/is sacred to the Kanza people though no mention of the Kanza people or the rock's history is included in the park.
Other recent projects include: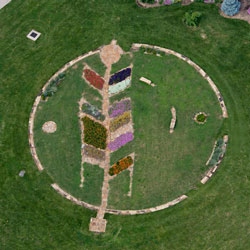 Tai Edwards shared a Big Idea on the Humanities Kansas website: How Should We Honor Someone's Military Service?
Recording oral histories. This began with Vietnam-era veterans in "Kansas Stories of the Vietnam War" – a Humanities Kansas project. KSI has continued this work, recording oral histories with veterans of any era. KSI also partnered with Special Olympics Kansas on "Celebrating Inclusion Since 1970: A Special Olympics Kansas Oral History."
Production assistance for Kansas-themed documentaries.
Hosting lectures on a variety of Kansas topics, such as depletion of the Ogallala aquifer, artistic representations of Kansas, and Quindaro Townsite preservation.
Commissioning and maintenance, including prairie burning, of Stan Herd's "earthworks" installation titled Kansa, on the southwestern side of the JCCC campus.
Traveling with students and teaching coursework on the state.
Student internships involving a range of opportunities, including researching and designing installations in celebration of JCCC's 50th anniversary; publishing peer-reviewed scholarship; and assisting in the Johnson County Trails Project that posts historic signage around the county's hiking trails.
Annual programming on Kansas Day, Jan. 29 – the date Kansas became a state.
Much of this great work can be accessed through the Kansas Studies Institute digital archive, available through JCCC's Billington Library and on the Kansas Studies Institute playlist on JCCC's YouTube channel.