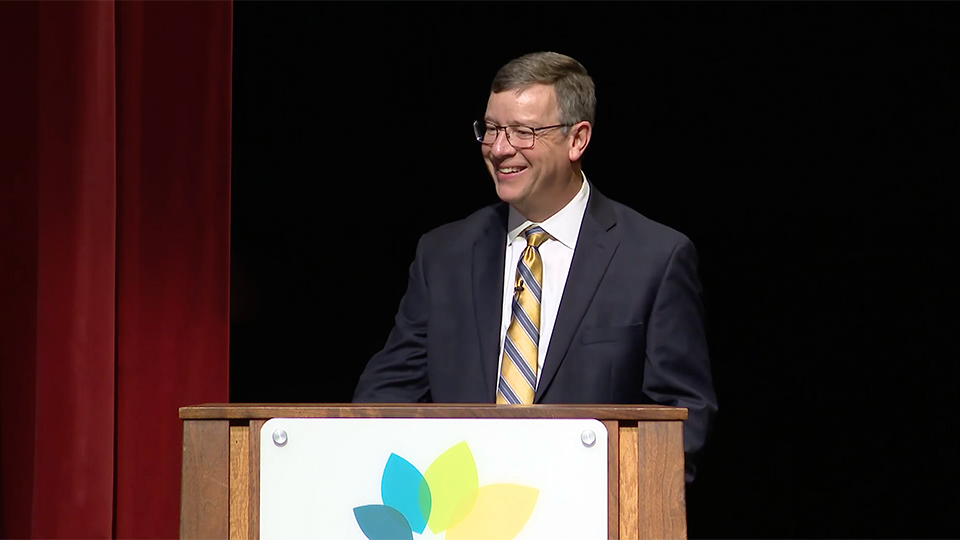 Dr. Andrew (Andy) W. Bowne
Dr. Andrew (Andy) W. Bowne is the sixth president of Johnson County Community College.
Dr. Bowne (rhymes with town) joins JCCC on July 1, 2020, having served as senior vice president and chief operating officer of the entire Indiana community college system that includes 18 colleges statewide. His prior leadership positions include serving as chancellor of Ivy Tech in Muncie, Indiana, and Associate Vice President for College Advancement/Executive Director of the Grand Rapids Community College Foundation.
Dr. Bowne was unanimously approved by the JCCC Board of Trustees in the board's regular meeting on March 19. Trustee Dr. Jerry Cook, trustee, led the 11-member JCCC Presidential Search Committee in the process to select a new president. Search committee members included two representatives from the JCCC faculty and staff – which included one JCCC alumnus, one member of the JCCC Cabinet, the student senate president, Trustees Jerry Cook and Nancy Ingram, two JCCC Foundation members, and an area Unified School District superintendent.
Education
Bowne earned both his doctor of education and master's degrees from Western Michigan University with concentrations in Human Resource Development. His bachelor's degree, also from WMU, is in Geography/Urban & Regional Planning.
Experience
Dr. Bowne brings notable experience to JCCC, including:
Fostering an institutional culture dedicated to the success of every student
An understanding of the importance of diversity, welcoming and engagement
A willingness to emphasize workforce training as well as partnerships with K-12 schools for lifelong learning
A proven ability to work with community stakeholders to ensure the college is meeting community needs and expectations
A background of successful fundraising and promoting public-private partnerships
A focus on the value of everyone in the campus community, including students, faculty and administration.