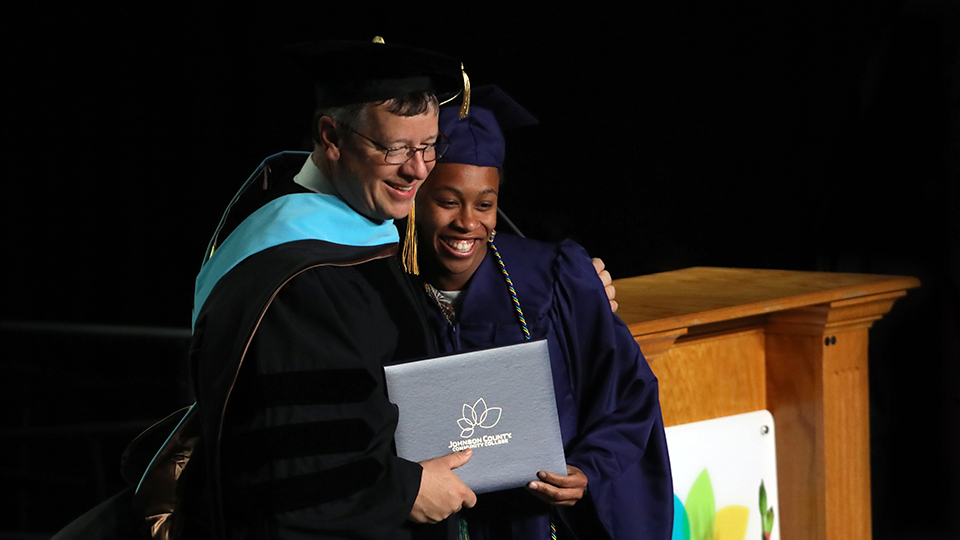 Dr. Andrew (Andy) W. Bowne
Dr. Andrew (Andy) Bowne is the sixth president of Johnson County Community College.
Dr. Bowne (rhymes with town) joined JCCC in July 2020. He immediately spearheaded JCCC's 2021-25 Strategic Plan ensuring a shared and inclusive voice to advance the institutional mission and establish the College's vision.
Student, Employee and Community Focus
Dr. Bowne is confident that JCCC's faculty and staff lead the way, together, meeting the needs of students, employers, and the community. His focus when working with teams across campus includes implementing strategies to improve outcomes and close equity gaps for all students. Dr. Bowne is committed to seeing our students complete certificates and degrees, transfer to other colleges or universities to earn a bachelor's degree, and/or advance in their careers. This ultimately reflects upon the success of a learning experience at JCCC.  
Dr. Bowne believes exemplary personal connections are essential to fostering strong partnerships. As a higher education leader in Kansas and the Kansas City Metro region, JCCC strives to increase access to the highest quality instruction and support services, resulting in a better life for the students and graduates. Dr. Bowne and the members of his leadership team continue to build community relationships to meet workforce needs in Johnson County.
Community Involvement
Dr. Bowne's personal and educational leadership is valued. He currently serves these local and national boards and organizations:
JCCC Foundation Board Member & Secretary
Blue Valley Special Olympics Volunteer
Johnson County Public Health Leadership Council
KU Edwards Campus, Advisory Board Member
Olathe Chamber of Commerce Board of Directors
Overland Park Rotary Club Member
Overland Park Regional Medical Center Board of Trustees
United Community Services of Johnson County Council of Advisors
League for Innovation in the Community College Board of Directors
Doctorate in Community College Leadership Program, Ferris State University Board of Directors
Honors
Dr. Bowne is one of 26 leaders selected for the 2022-2023 class of the Aspen New Presidents Fellowship. This class of fellows represents the diversity of our nation's most promising community college leaders. Their work includes learning from field-leading research, building partnerships while analyzing student outcomes, and setting a bold vision for equitable student outcomes while in college and after graduation.
Phi Theta Kappa Honor Society presented Dr. Bowne with a 2021 Paragon Award for New Presidents. This award acknowledges new college presidents for their outstanding support of student success. With more than 500 college presidents nationwide eligible to receive the award, he was one of 22 presidents honored.
Prior to JCCC
Dr. Bowne served as senior vice president and chief operating officer of the entire Indiana community college system that includes 18 colleges statewide. His prior leadership positions include serving as chancellor of Ivy Tech in Muncie, Indiana, and Associate Vice President for College Advancement/Executive Director of the Grand Rapids Community College Foundation.
Having more than 12 years of adjunct faculty teaching experience at the undergraduate and graduate levels, Dr. Bowne is a committed student advocate. He is often seen on campus engaging with students, attending performances and athletic events, or participating in student leadership development programs.
Education
Dr. Bowne earned both his doctor of education and master's degrees from Western Michigan University with concentrations in Human Resource Development. His bachelor's degree, also from WMU, is in Geography/Urban & Regional Planning. He completed the Aspen Presidential Rising Presidents Fellowship for Community College Excellence in 2018.