Print Costs, Payments and Refunds
Students, faculty and staff can use PaperCut to track, manage and pay for pages printed on devices around campus.
---
Print quotas and costs
Students: There is no cost for first 100 pages printed during any term (fall, spring or summer). When you reach the 100-page limit, additional printing is $.10 per black-and-white single-sided page and $.20 for a standard color page.

JCCC faculty and staff: Faculty and staff may print an unlimited number of pages to campus printers. Printers in academic areas and in the library will require you to log in with your JCCC credentials prior to processing a print request.

Campus guests: No printing services available. 
Term Dates - PaperCut quotas are added each term on the day after the payment deadline. Any unused free prints from previous terms will be carried forward.
Unused Additional Cash or Credit Card Amounts - Any unused funds in your PaperCut account will remain in your student account until you graduate or leave the College. No refunds are granted.
Add credit to your account using a credit or debit card
Log in to PaperCut using your MyJCCC username and password.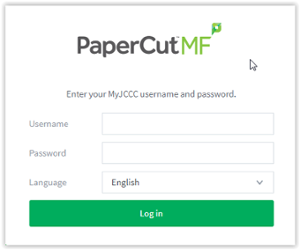 Select "Add Credit" from the menu and select the amount to add.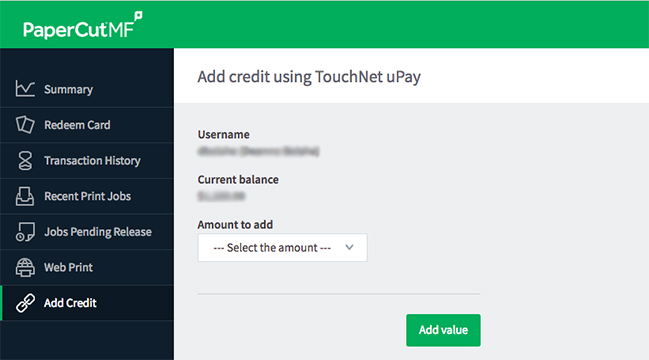 Click "Add Value. You'll be taken to the JCCC Marketplace to make the purchase.

Confirm the amount, then click "Continue."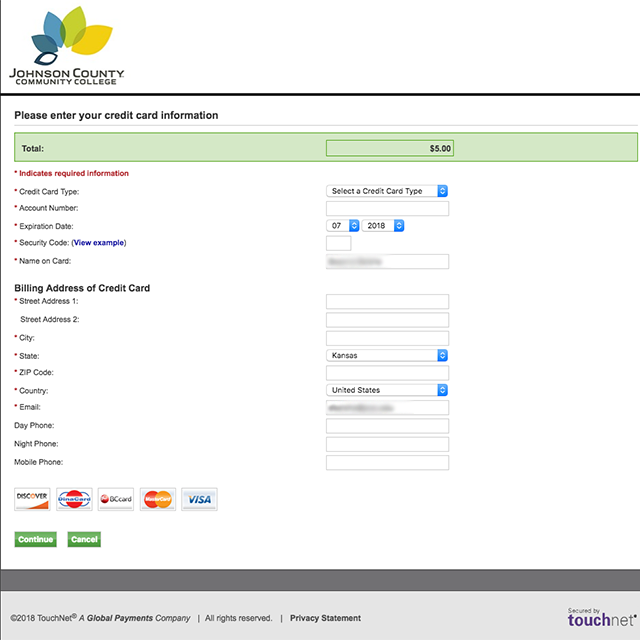 Complete the payment form and click "Continue" to complete the transaction.
Then return to your PaperCut account to confirm the appropriate amount was added to your available balance.
Add credit to your account using a prepaid print card
You may purchase a prepaid print card at the vending machine located on the first floor of the Billington Library.
To use the card, log in to PaperCut using your MyJCCC username and password.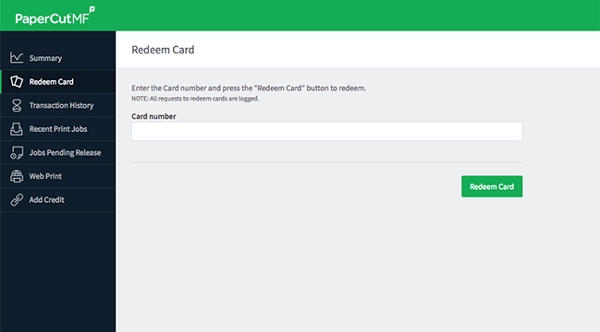 Select "Redeem Card" from the menu and provide the number found on your prepaid card. Click "Redeem Card" and the total amount of the prepaid card will be credited to your account.
Refunds for errors
Refunds are given only after a reported error is evaluated and determined to be related to the status of the printer (poor toner quality, wrinkled paper, etc.). Refunds are not given for user error (duplicate printing, selecting wrong printer, etc.).
Any requests for refunds should be directed to a member of the library staff or to a lab supervisor immediately after a printing issue happens. JCCC staff will assess the issue and determine whether a refund is warranted.
Refunds are given in the form of a credit to your PaperCut account. There are no cash refunds.
The quota added to the student PaperCut account each term is non-refundable.
There are no refunds for unused balances. Unused cash or credit card funds will remain in a student's account until graduation or separation from the College.
How to Login to PaperCut
The following instructions will help determine how you will need to access PaperCut for printing fees on campus.