Printers on Campus
Looking for a place to print out that paper or assignment? Printers are available!
Be sure you have access to these rooms to retrieve your documents. You have access during posted hours as long as class is not in session. 
COM Lower Level-Cav Central

LIB 101*
LIB 102 (color and b/w)
LIB 103
LIB 105
LIB 106
LIB 107
LIB 201* †
OCB 132*†
---
RC 335*†
LIB 227 (color and b/w)
---
*multi-function printer including color printing, copying and scanning
†flatbed scanner
---
PaperCut Instructions
After you have selected print, you will be prompted to login with your MyJCCC login and password.
You will be prompted to verify the number of pages that you are requesting to print in a dialog box.
Select "OK" or "Cancel" to proceed.
When you've reached your quota, you can purchase additional quantities using a pre-paid print card or by adding additional funds to your Paper Cut account using a personal credit or debit card.
Laptop User
To print over the wireless network using your own computer, see Wireless Printing Your Document Using PaperCut.
Log in to PaperCut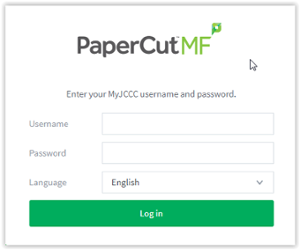 Upon log in, you will see your Account Summary

Transaction History
Transaction history shows your balance history in detail, including how, when and why your balance was affected.
The "Filter" lets you drill down to find information you may be looking for, including older transactions, specific transaction types, etc. Set your filter parameters and select "Apply Filter" to see the filtered results. Click "Clear" to clear all filter parameters and see your entire transaction history.

Recent Print Jobs
See the cost of your print jobs and find a particular job. The "Filter" lets you easily drill down to find specific jobs or other information you may be looking for.

Jobs Pending Release
This page allows you to view and cancel individual jobs. You can see the cost of the job before printing.

When you're finished, be sure to logout to protect your personal information.
How to Login to PaperCut
The following instructions will help determine how you will need to access PaperCut for printing fees on campus.