The Writing Center is a free student support center created to assist writers with reviewing, refreshing and upgrading their writing skills.
---
The Writing Center is offering online tutoring during the campus closure. Visit the
Online Writing Lab
to make an appointment.
Tutorials - Receive individualized feedback about your writing.
Tutors and Faculty – Get organization and development tips for your essays from trained tutors. Faculty are available for feedback.
Assessment Quizzes – Determine your grammar knowledge and work to build skills at your own pace. 
Software - Diagnose your writing, improve speech and pronunciation, and increase your grammar knowledge with specialized software.
Handouts - Access more than 100 guides and references addressing parts of speech, mechanics, syntax, and assignment models such as précis and bibliographies.
Other Services – Take advantage of online writing tutors, a grammar hotline and Writing Center courses to help improve your skills. Note: You must make an appointment for an online tutoring session at least 24 hours in advance of your desired day and time.
You should leave each tutoring session with a greater understanding of how to improve your writing.
Benefits
Improved teaching and learning
Nonstressful services at any stage of the writing process
Draft feedback, so crucial to the writing process
Audience other than teacher or class
Community of writers/models of good writing
Writing resources such as books, software and reference handouts
A Grammar Hotline
Computer access
Assessment and evaluation of writing skills
Credit and non-credit writing courses
If you have any questions or concerns, please contact us.
Hare & Bell Annual Academic Writing Contest
JCCC students with writing talent could put some cash in their pockets and get recognition! The Hare & Bell writing contest has resumed for academic paper submissions by current JCCC students. Monetary prizes for 1st, 2nd and 3rd place winners will be awarded.
Submissions must be academic writings only but can be from any academic discipline. The submission deadline is Feb. 15, 2020, with awards of $500, $300, and $100 given to winners at the end of the semester. All submissions and questions can be sent to Kathryn Byrne with Hare&Bell2020 and writer's last name in the subject line.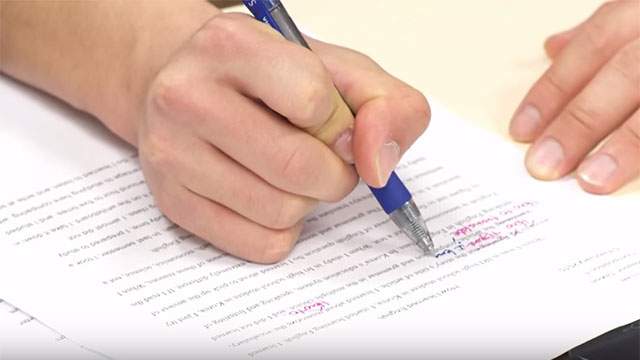 About the Writing Center