April 12, 2022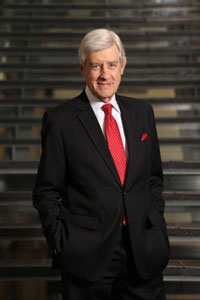 OVERLAND PARK, Kan. — The Johnson County Community College Foundation has named Steven D. Wilkinson as its Johnson Countian of the Year for 2022. Wilkinson, a retired healthcare executive and longtime community volunteer, is passionate about making a difference in people's lives.
"On both a professional and personal level, Steve Wilkinson's drive to serve others in ways that positively impact their lives is inspirational," said Andy Bowne, JCCC president. "With his demonstrated commitment, leadership and dedication to our community, we look forward to honoring him at the 36th annual Some Enchanted Evening scholarship gala in November."
For more than 30 years, Wilkinson led hospitals and healthcare organizations across Kansas. He began his career in healthcare as executive vice president of St. Catherine Hospital in Garden City, Kansas, in 1983 and was later named president and CEO. He held that position until he moved to Kansas City in 1996 to be regional executive of the American Hospital Association, responsible for AHA policy and legislative affairs representation in Missouri, Kansas and Nebraska.
Wilkinson is most widely known for his more than 18-year tenure as chief executive officer of Menorah Medical Center. He joined shortly after the hospital moved to a new facility in Overland Park, and he went on to lead later expansions at the full-service, acute-care hospital.
Wilkinson's duties at Menorah Medical overlapped other responsibilities within the Health Midwest organization during that time (and before Menorah became part of HCA Midwest Health). He was president and CEO of Health Midwest-Johnson County for four years, responsible for overall management of both Menorah Medical and Overland Park Regional Medical Center. He joined Health Midwest in 1997 as senior vice president responsible for management oversight of Menorah Medical Center, Visiting Nurse Association, VNA Plus and Kansas City Hospice.
Wilkinson retired in 2015 but was persuaded a few years later to serve a short stint as Kansas City area president and CEO of Prime Healthcare in 2018. He was responsible for overall operations of Prime Healthcare's four area hospitals as well as mentoring leadership at each of the facilities.
Wilkinson did not limit his talent to hospital administration. His professional activities include being a member of the Kansas Hospital Association, where he was a member of its board of directors for more than 12 years. He served on its executive committee 10 years and was chairman of the board in 1995.  He also served on the Kansas City Metropolitan Healthcare Council for 15 years (president in 2008) and was a member of the American Hospital Association Regional Policy Board for nine years.
"Our community is stronger, and was able to persevere during recent challenges, in large part due to Steve's foundational work in healthcare," said Gerald Lee Cross Jr., chairman of the JCCC Board of Trustees. "His leadership has made a remarkable difference in the lives of Johnson Countians."
Organizations have recognized Wilkinson for his exemplary work. He was recipient of the KHA's Charles S. Billings Award, recognizing distinguished service and outstanding contributions to the healthcare of Kansans, is a Fellow of the American College of Healthcare Executives and was selected as a member of Leadership Kansas class of 1995.
Wilkinson is a current board member of Bank of Blue Valley, Johnson County Business Leadership Council and JCCC Foundation (president 2011-2013). He is a past board member of the Blue Valley Educational Foundation (president in 2010); Community Blood Center of Greater Kansas City; Overland Park Chamber of Commerce (chairman in 2005); Greater Kansas City Area Susan G. Komen Foundation (initial chairman in 1999); Kansas City Hospice, Visiting Nurse Association and VNA Plus Home Medical Equipment. He also is a past member of the University of Kansas Edwards Campus Board of Advisors.
Wilkinson and his wife, Wanda, also have been active in fundraising efforts in the community. The couple has chaired fundraising committees for the Overland Park Arts & Recreation Foundation's Stems event, Kansas State University's Wabash Cannon Ball, Kansas City Hospice, and JCCC Foundation's Some Enchanted Evening gala. They also have been members of the Catholic Charities Snow Ball committee.
"Steve's strong desire to help others is the epitome of JCCC's mission of inspiring learning to transform lives and strengthen communities," said Marshaun Butler, president of the JCCC Foundation. "His compassionate concern for others and his involvement in community causes make him the perfect honoree as Johnson Countian of the Year."
Wilkinson received a master's degree in healthcare administration from the University of Colorado and a bachelor's degree in business administration from Kansas State University. He and Wanda have two sons, a daughter-in-law and two grandsons.
Wilkinson will be honored at the JCCC Foundation's 36th annual Some Enchanted Evening gala on Nov. 12, 2022, at the Overland Park Convention Center. Some Enchanted Evening is a black-tie event that includes a gourmet dinner, entertainment and dancing. The JCCC Foundation has raised more than $13 million in support of student scholarships in the history of this gala. Tracey Osborne Oltjen and Tom Oltjen, Overland Park, are chairs for the 2022 Some Enchanted Evening gala.
Through events like Some Enchanted Evening, the JCCC Foundation has helped thousands of students pursue their dreams of a college education. Students with exceptional needs, such as single parents and displaced workers, and talented students in all areas of study benefit from Foundation scholarships.
---
Past Johnson Countians of the Year are Clay Blair, 2021; essential workers with JCCC ties, 2020; Frank H. Devocelle, 2019; Drs. David and Mary Zamierowski, 2018; Mark Gilman, 2017; Adam Hamilton, 2016; Mary Davidson Cohen, 2015; Dr. Gary Morsch, 2014; Lynn Mitchelson, 2013; Audrey Langworthy, 2012; David Wysong, 2010; Terry and Peggy Dunn, 2009; Fred Logan, 2008; Dick and Barbara Shull, 2007; Norman and Elaine Polsky, 2006; Ed Eilert, 2005; Robert D. Regnier, 2004; Walter Hiersteiner, 2003; Mary Birch, 2002; Drue Jennings, 2001; Betty Keim, 2000; Steve Rose, 1999; Charles J. Carlsen, 1998; George and Floriene Lieberman, 1997; Dick Bond, 1996; William Dunn, 1995; Adele Hall, 1994; SuEllen Fried, 1993; James P. Sunderland, 1992; Stan and Shirley Rose, 1991; John H. Robinson, 1990; Paul H. Henson, 1989; Ben Craig, 1988; and Robert H. Meneilly, 1987. In 2011, all previous Johnson Countians of the Year were honored for the 25th anniversary of Some Enchanted Evening.
###