'Spirit Totems' by Artist Doug Coffin Installed on JCCC Campus
October 13, 2021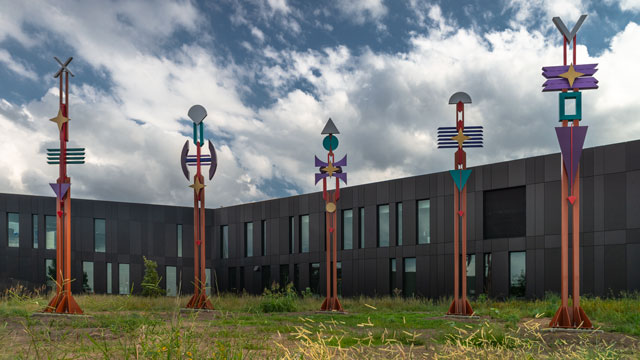 Doug Coffin, Spirit Totems, 2021, Powder coated steel, 5 @ 360" x 48" x 48", Collection Nerman Museum of Contemporary Art, Johnson County Community College, Overland Park, Kansas. Gift of Ronald C. and Phyllis E. Nolan, Louisburg, Kansas. Photo: EG Schempf
OVERLAND PARK, Kan. – Johnson County Community College is home to a new permanent installation of five 30-foot-tall, colorfully finished totems called Spirit Totems. These works of art are one of the largest outdoor sculptural displays in the Kansas City region.   
Spirit Totems sculptural artist Doug Coffin is an American Indian who was born and raised in Kansas, of Potawatomi and Creek heritage. This installation at JCCC marks the inauguration of Coffin's ambitious plan to place Spirit Totems across the country. 
Coffin grew up on the grounds of Haskell Institute, a Native American boarding school (now Haskell Indian Nations University) in Lawrence, Kansas. After serving in the United States Marine Corps and earning a BFA from the University of Kansas and an MFA from the Cranbrook Academy of Art in Michigan, Coffin moved to New Mexico, where he lives and works today.
Coffin's artwork has been included in more than 40 public collections, including the White House Sculpture Garden and the National Museum of the American Indian in Washington, D.C. His works have also been displayed internationally, including at the Grand Palais in Paris.
Spirit Totems was acquired for the Nerman Museum of Contemporary Art through the generous support of local community members and longtime art patrons Ron and Phyllis Nolan. Situated between the Hugh L. Libby Career and Technical Education Center and JCCC's Gymnasium, the installation became a prominent and permanent feature of the College's landscape on Sept. 9, 2021.
###