May 17, 2021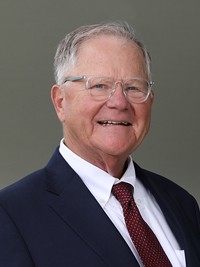 OVERLAND PARK, Kan. — The Johnson County Community College Foundation has named Clay C. Blair as its Johnson Countian of the Year for 2021. Blair, president of Clay Blair Services Corp. (including Prime Development Land Company, LLC, Lenexa) and president of the Clay Blair Family Foundation, has strong business and educational ties to the community and across Kansas.
"Clay Blair is truly a friend of education – K-12 and higher education," said Andy Bowne, JCCC president. "He exemplifies the advancement of education in Johnson County and across the state through decades of offering his service and support. His leadership of innovative and visionary initiatives has contributed, and will continue to contribute, to the success of our community. We look forward to honoring Clay at our 35th annual Some Enchanted Evening scholarship gala in November."
Blair is former Chairman of the Kansas Board of Regents, the Board that governs higher education for the State of Kansas. He served as Chairman of the Kansas Research Enhancement Building Corporation, which directed a $125 million fund for three new research facilities across the state: Hemenway Life Sciences Innovation Center at the University of Kansas Hospital in Kansas City, Kansas; National Bio and Agro-defense Facility at Kansas State University in Manhattan; and expansion of the National Institute for Aviation Research at Wichita State University in Wichita.
Furthermore, Blair served as the first chairman of the Kansas Bioscience Authority. This entity was created by the Kansas Economic Growth Act of 2004 with the intent of growing the bioscience sector into a pillar of the state's economy.
Locally, Blair's support of educational initiatives is equally strong. The University of Kansas Edwards Campus sits on land donated by Blair. The same is true for the Carolyn Ball Blair Wilderness Science Center within the Blue Valley Schools district, and Blair was instrumental in bringing leaders together for creation of the K-State Olathe campus.
He established the Clay Blair Family Foundation in 1987 and has made significant donations to educational programs in Johnson County and throughout the Kansas City metropolitan area. He supports the JCCC Foundation, Blue Valley Educational Foundation, Olathe Public Schools Foundation and St. James Academy, among other educational institutions.
In recent years, he partnered with Garmin to provide teachers in Olathe Public Schools and St. James Academy in Lenexa with Garmin fitness watches to promote health and fitness initiatives. His foundation made a similar donation to his wife's high school alma mater in Wyandotte County.
"Our community, our state and the students at our college are better thanks to Clay's passion for education," said Suze Parker, president of the JCCC Foundation. "His encouragement of others drives the JCCC mission of inspiring learning to transform lives and strengthen communities."
Besides his passion for education, Blair has an extensive record of business and entrepreneurial success. These include putting himself through college as a Lawrence bar owner (Bullwinkle's – The Bull) and being the youngest member of the ownership group of the Kansas City Kings professional basketball team. He authored a nationwide training course called "Negotiation – How to Work with People" with more than 20,000 participants. He was one of the original owners of the First Watch restaurant chain. He brought the first Target store to the Kansas City area (as part of the shopping center at 119th and Metcalf). In Johnson County, he has developed more than 15 residential subdivisions.
Blair served as a member of the Johnson County Visioning Committee and the Johnson County Charter Reform Committee and was Chairman of the Johnson County Infrastructure Advisory Committee. Currently he is serving the community on several boards, including K-State Olathe and Commerce Bank.
Blair earned a bachelor's degree from the University of Kansas (1965), a master's in business administration from Indiana University (1966) and a doctorate in higher education from the University of Kansas (1969). In his early years, he served as a college professor at Rockhurst College and Metropolitan Community College. Married to Janet for nearly 22 years, he has four children and four grandchildren.
Blair will be honored as part of at the JCCC Foundation's Some Enchanted Evening virtual celebration on Saturday, Nov. 13. The virtual event will celebrate success in raising money for scholarships and student basic needs, recognize Blair as Johnson Countian of the Year, and provide inspiration through student stories. The JCCC Foundation has raised more than $12 million in support of student scholarships in the history of this fundraising event.
"Clay's contribution to education over the years is evident in all the people who have benefited from his leadership, his vision and his willingness to help others succeed," said Greg Musil, chairman of the JCCC Board of Trustees. "At our college, in particular, hundreds of students have begun, or continued, their college education journey thanks to financial support from Clay. He helped them dream of possibilities."
Through events like Some Enchanted Evening, the JCCC Foundation has helped thousands of students pursue their dreams of a college education. Students with exceptional needs, such as single parents and displaced workers, and talented students in all areas of study benefit from Foundation scholarships.
Chris and Lindsay Gerlach, Overland Park, are chairs for the 2021 Some Enchanted Evening gala.
Past Johnson Countians of the Year are Essential workers with JCCC ties, 2020; Frank H. Devocelle, 2019; Drs. David and Mary Zamierowski, 2018; Mark Gilman, 2017; Adam Hamilton, 2016; Mary Davidson Cohen, 2015; Dr. Gary Morsch, 2014; Lynn Mitchelson, 2013; Audrey Langworthy, 2012; David Wysong, 2010; Terry and Peggy Dunn, 2009; Fred Logan, 2008; Dick and Barbara Shull, 2007; Norman and Elaine Polsky, 2006; Ed Eilert, 2005; Robert D. Regnier, 2004; Walter Hiersteiner, 2003; Mary Birch, 2002; Drue Jennings, 2001; Betty Keim, 2000; Steve Rose, 1999; Charles J. Carlsen, 1998; George and Floriene Lieberman, 1997; Dick Bond, 1996; William Dunn, 1995; Adele Hall, 1994; SuEllen Fried, 1993; James P. Sunderland, 1992; Stan and Shirley Rose, 1991; John H. Robinson, 1990; Paul H. Henson, 1989; Ben Craig, 1988; and Robert H. Meneilly, 1987. In 2011, all previous Johnson Countians of the Year were honored for the 25th anniversary of Some Enchanted Evening.
###