April 30, 2019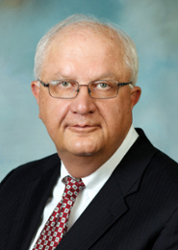 OVERLAND PARK, Kan. — Frank H. Devocelle, longtime Olathe resident, has been named the Johnson Countian of the Year for 2019 by the Johnson County Community College Foundation. Devocelle, who recently retired as President/Chief Executive Officer of Olathe Health Systems Inc., devoted nearly five decades to providing visionary leadership and a legacy of service to the local community.
"Frank Devocelle is one of the most impactful visionaries in our community because of his devotion to transformational change related to healthcare and education," said Dr. Joe Sopcich, JCCC President. "For our College specifically, Frank was instrumental in a partnership with JCCC that resulted in the opening of the Olathe Health Education Center (OHEC) in 2011 that has benefited many JCCC students."
In the 1980s, Devocelle and the Olathe Health board dreamed of an educational building that would provide training facilities for medical professionals. In 2008, Olathe Health collaborated with JCCC to build the Olathe Health Education Center. Today, the 50,000-square-foot building houses classrooms and labs for practical nursing, neurodiagnostic technology and respiratory care, as well as Johnson County Adult Education.
Devocelle embraced the local community from the moment he arrived 47 years ago right out of college as the No. 2 executive at Olathe Community Hospital. After only four years as assistant administrator, he was named President/Chief Executive Officer, a position he held until his retirement in late 2018. The transformation of Olathe Community Hospital, with 162 employees, into Olathe Health System, a regional health system that now includes 60 locations spanning four counties with nearly 2,600 employees, resulted from Devocelle's inspirational direction and visionary leadership. Corporations within Olathe Health System include Olathe Medical Center Inc., Miami County Medical Center Inc. and Olathe Health Physicians Inc., a large physician corporation with 40 locations.
The Olathe Medical Park, which includes Olathe Medical Center, has flourished thanks to Devocelle's vision. In the past four years, Olathe Medical Park has greatly expanded with a new memory care neighborhood at Cedar Lake Village; a Cardiovascular Center that has one of the most sophisticated electrophysiology labs in the region; The Birth Place, with a Level II neonatal intensive care unit; and a new Cancer Center. In 2017, Olathe Health announced a partnership with Children's Mercy Hospital to offer expanded services for children in southwest Johnson County and nearby areas; the pediatric practice will be housed in a new building at Olathe Medical Park.
Devocelle has sparked a regional passion for whole-person health, especially initiatives related to health and education. Besides the strong relationship with JCCC, Devocelle's leadership at Olathe Health paved the way for partnerships with the Olathe public school district and MidAmerica Nazarene University. In addition to the prestigious honor of being named 2019 Johnson Countian of the Year, Devocelle has received such recent honors as 2018 Olathe Chamber of Commerce Citizen of the Year (his second such recognition) and being named a "Kansas City Legend" by Ingram's Magazine in 2019. Community affiliations for Devocelle, who has chaired numerous boards during his career, include the JCCC Foundation, Olathe Area Chamber of Commerce, Olathe United Way and Olathe Rotary Club. He and his wife, Molly, have four daughters and 10 grandchildren.
"Frank Devocelle is a true servant leader for our local community, and especially our JCCC healthcare students," said Mary Birch, president of the JCCC Foundation Board of Directors. "He has been instrumental in the growth of not only Olathe but our entire region, and we are honored to recognize him at our scholarship gala this fall."
Devocelle will be honored at the JCCC Foundation's 33rd annual Some Enchanted Evening gala on Nov. 9 at the Overland Park Convention Center. Some Enchanted Evening is a black-tie event that includes a gourmet dinner, entertainment and dancing. Proceeds from the event support student scholarships at JCCC. Over the past 33 years, the Foundation has raised more than $10 million for the college's scholarship program through Some Enchanted Evening.
"As JCCC celebrates its first 50 years of quality education, it's only fitting that we honor Frank Devocelle — a man who has devoted nearly 50 years to building a community of learning, living and working that makes us proud," said Dr. Jerry Cook, chairman of the JCCC Board of Trustees.  
Through events like Some Enchanted Evening, the JCCC Foundation has helped thousands of students pursue their dreams of a college education. Students with exceptional needs, such as single parents and displaced workers, and talented students in all areas of study benefit from Foundation scholarships.
Mike and Susan Lally, Overland Park, are chairs for the 2019 Some Enchanted Evening gala.
Past Johnson Countians of the Year are Drs. David and Mary Zamierowski, 2018; Mark Gilman, 2017; Adam Hamilton, 2016; Mary Davidson Cohen, 2015; Dr. Gary Morsch, 2014; Lynn Mitchelson, 2013; Audrey Langworthy, 2012; David Wysong, 2010; Terry and Peggy Dunn, 2009; Fred Logan, 2008; Dick and Barbara Shull, 2007; Norman and Elaine Polsky, 2006; Ed Eilert, 2005; Robert D. Regnier, 2004; Walter Hiersteiner, 2003; Mary Birch, 2002; Drue Jennings, 2001; Betty Keim, 2000; Steve Rose, 1999; Charles J. Carlsen, 1998; George and Floriene Lieberman, 1997; Dick Bond, 1996; William Dunn, 1995; Adele Hall, 1994; SuEllen Fried, 1993; James P. Sunderland, 1992; Stan and Shirley Rose, 1991; John H. Robinson, 1990; Paul H. Henson, 1989; Ben Craig, 1988; and Robert H. Meneilly, 1987. In 2011, all previous Johnson Countians of the Year were honored for the 25th anniversary of Some Enchanted Evening.
###