July 8, 2018
Sculpture students win Center for Sustainability honors. Their compelling pieces generate awareness about renewable energy and prescription drug abuse.
Two talented Johnson County Community College art students have taken some sage advice – find what you love and turn it into a career.
Eman Alsadeq and Arianna Michaelson are both working toward earning degrees that pertain to using art, yet each has chosen a different bend along the road to success.  
Both students recently experienced campus fame as winners of the annual sculpture competition sponsored by the Center for Sustainability and the Fine Arts department at JCCC. Every other spring, contestants submit drawings or models of their ideas. A campus committee then chooses several to fund to completion.
As always, pieces are made from recycled metal, plastic, paper and glass. What typically might have ended up as campus waste is transformed into a work of art.
Using art as a conduit, neither artist is shy about tackling tough political and social issues.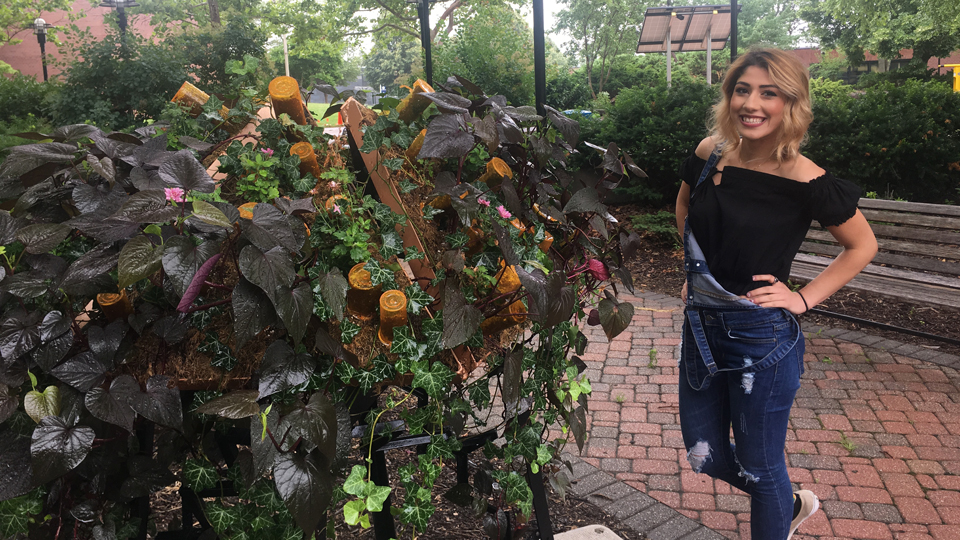 Eman Alsadeq: Art to start conversations
"Classes felt more like we were just having fun while we were still learning. My instructors made me feel like the whole art program and I were one big family."
– Eman Alsadeq
After "accidentally" enrolling in a sculpture class her first semester, Eman realized she couldn't ignore her appetite for working with her hands. She reached deeper to create "Prescription for Beauty" in her last semester. This piece of living botanical art is currently on the northwest side of campus in the Commons Courtyard. Eman's goal was to create a conversation starter for teens and especially her college-age peers about the misuse of prescription medications and the abuse of using others' prescribed drugs. She wanted to shed light on how doctors are overtly prescribing unnecessary medication.
"I also wanted to bring awareness to how overdosing and suicide have skyrocketed in the last few years," she said.
Eman started with the idea of dismantling one of Professor Mark Cowardin's angled metal sculptures that he said she could recycle. She used the metal to weld together a vertical garden and then strategically planted hardy plants and flowers.
"I knew I wanted to grow something natural and aesthetically pleasing," she said. "Then people would want to look at it and the conversation would start."
With plans to transfer to the University of Kansas to major in psychology, she wants to meld her two favorite interests – art and psychology – to become an art therapist.
"I'm curious as to why we humans behave as we do. I was told about an up-and-coming career called art therapy. How amazing, because it's two of my passions put together," she said.
As a health professional and artist, she hopes to encourage clients with mental health challenges to use art as a creative outlet to cope with past, present and future life events – good and bad. She has already learned from reading studies that people who participate in art therapy can somehow escape some of the emotional effects of illness, maintain stronger vitals, need less pain medication and get peaceful rest.
Arianna Michaelson: The energy of art

"It really felt nice to have JCCC invest in me and my future to know that my artwork means something to them and so does my continued success."
– Arianna Michaelson
For Arianna Michaelson, College Now classes were a regular part of her high school career. With quite a few credits earned, she had entertained the idea of starting college at a four-year school, but "fell in love" with the Fine Arts department at JCCC.
At age 8 she remembers telling her mom that she felt like she had to draw every day – and every day since, she has. She studied painting for 12 years. And then, Professor Mark Cowardin introduced her to sculpture.
"After all these years, I never thought another medium would be as interesting and important to me as painting, but Mark Cowardin has taught me about sculpture in a way that makes it so fun," she said. "The possibilities are endless!"
Arianna spent more than 400 hours carving chess pieces from wood previously used in JCCC academic theater sets. Her whimsical yet thought-provoking work, "Checkmate," is a statement piece that symbolizes four kinds of renewable energy:
Thermonuclear
Solar
Hydraulic
Wind energy
The only black piece on the board represents big oil and politics. It's shaped like a building that might be on Capitol Hill. It also has an aluminum casting of a woman warrior made from scraps from her classmates' metal projects. This piece can be viewed inside the south entrance of the Office and Classroom Building (OCB).
"We humans are playing games with each other and using the environment as pawns. We wield it (the environment) recklessly for our own benefit," Arianna said. "If we're going to try to generate talk about sustainability, then how we treat the environment should be No. 1."
Arianna plans to transfer to California State University, Sacramento, and major in painting. She has aspirations of building a thriving art career out West and may incorporate sculpture with painting. She believes her art "says something worthwhile" and that its concepts warrant attention.
"Without my experience at JCCC, I wouldn't be ready to move forward. I wouldn't have as many tools or been given nearly the same opportunities," she said.
Comrades in art 
Starting with raw materials and a mega supply of imagination, a classroom of strangers can turn into a melting pot of ideas and friendships.
"There's something about making art with others that brings people together," Arianna said. "We were there day in and day out and it's so exciting to be part of a creative engine like that."
She and Eman agree that consistent feedback ultimately leads to a community of learners who create better art and sharpen each other's skills.
"My art professors and classmates have left an everlasting impression on me," Eman said.
It's a beautiful day in JCCC's new Fine Arts & Design neighborhood
Whether you are on your way to becoming a proficient artist or want to investigate an art medium, our Fine Arts department has a place for you. Under construction, a new state-of-the art Fine Arts & Design Studios building will house active learning classrooms, studios and labs for the Fine Arts, Photography, Graphic Design and Art History departments. Now students will have even more opportunities to find a favorite obsession and succeed in art-centered careers. Professors and academic counselors are ready to answer your questions and set up a campus tour designed specifically for you.