For more than 36 years, Johnson County Adult Education (JCAE) has partnered with JCCC and the Johnson County Library to help educationally disadvantaged adults improve basic skills.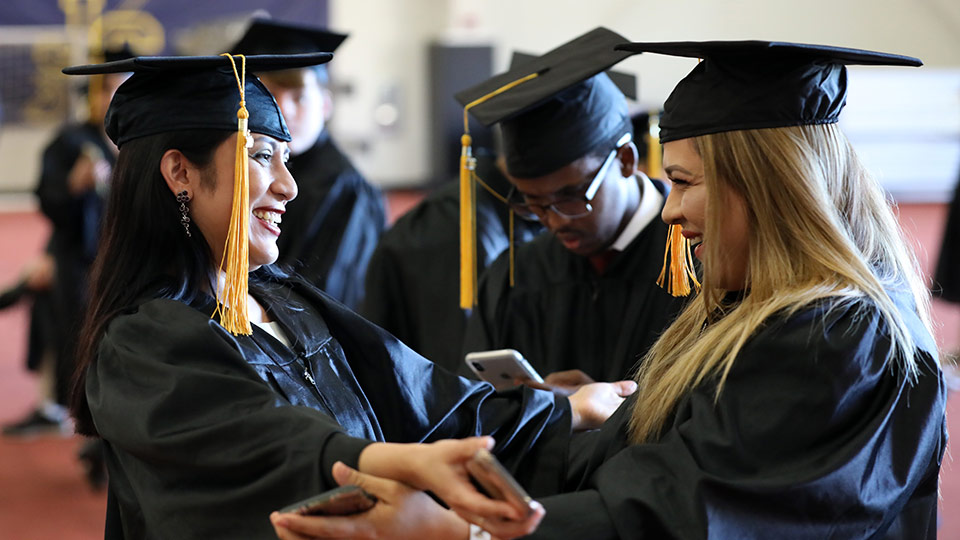 Approximately 1,400 students per year are served at JCAE's six program centers located throughout Johnson County. Students receive instruction in English as a Second Language (ESL), Adult Basic Education, and GED® preparation and high school diploma completion.
JCAE serves significant numbers of special populations. We gladly serve any student who meets federal Adult Education and Family Literacy Act guidelines.
JCAE helps adults improve basic skills, including English language proficiency, reading, writing, math, computer use, problem-solving and other "soft" skills critical in the workforce and for life success.
JCAE connects with individuals who are at pivotal stages and helps them "dream bigger dreams," set specific career and life goals (including plans for overcoming obstacles), and adopt concrete plans to achieve the goals. With significant encouragement from instructors, Transition Coaches and volunteers, our students come to see JCAE as their first step in a long-term plan for a successful career that aligns with their interests and with local employer demands.
Your donation will directly help students overcome the barriers that prevent them from achieving their educational and career goals. This assistance may include academic scholarships to attend JCCC, college textbooks and fees, GED® Official and GED® Ready practice test fees, childcare assistance and other support.
Your donation to JCAE supports the following funds:
JCAE General Scholarship Fund/Definitely Denim — This fund provides a range of assistance to JCAE students, primarily in the form of academic scholarships to JCCC. The fund is used to assist students with tuition costs, but also with other costs associated with a college or training program, such as textbooks, supplies and other course materials.


Emergency/Quick Start — This fund helps Adult Basic Education/GED® preparation students and English language learners overcome barriers that could prevent them from beginning or persisting in their college and career training. This may include covering some tuition or training costs as well as the cost of textbooks, supplies, and materials. This fund also provides emergency assistance to students who encounter life issues that threaten to derail them from pursuing their academic and career goals, such as challenges with transportation and childcare.

While this fund supports all JCAE students, students immigrating to the U.S. from other countries are often in need of this support. These students often enroll in ESL classes to increase their English proficiency, but are highly trained and educated. Because their previous training and education does not always transfer to the U.S., students often need both time and financial resources to reenter their previous career (or train for a new one). In most cases, students are expected to contribute at least 50% of the cost of their program.



JCAE Programs — This fund provides assistance to students in the GED® classrooms by covering fees for GED® Ready practice and GED® Official tests and the GED® course materials fee. This fund also supports English language learners who are enrolling in career training programs.


JCAE Honoring Volunteers Scholarship — Every year, JCAE Volunteers spend approximately 10,000 hours in classrooms to tutor students in reading, writing, math, and English language acquisition. This scholarship recognizes and honors their valuable contributions. This fund provides scholarships to completers of JCAE programs and covers tuition costs at JCCC for one year.