Whether you are just getting started or have extensive experience, our welding and fabrication training programs can take your skills to the next level. If you are from the industry, prepare to transform your welding workforce with training from JCCC.
You'll gain skills and confidence when you are qualified through the American Welding Society. Take this opportunity to learn MIG, STICK and TIG welding from our expert instructors who have years of real-world experience. You'll be glad you did!
How will this enhance my life or career?
Good welders are in demand just about everywhere. For experienced welders, pay is better than average and you'll be able to make choices that fit your lifestyle. If you like to travel, expertise in welding can also open up job possibilities all over the world.
With experience under your belt you can look for jobs in engineering, instructing, inspecting and other welding-related fields.
Courses offered may include:
MIG Welding
TIG Welding
STICK Welding
Intro to Welding
Blueprint Reading for Welders
Why choose JCCC Continuing Education courses?
We're experienced. Our instructors are knowledgeable industry professionals.
We're up-to-date. Our material is relevant and our instructors know industry trends.
We're flexible. We offer face-to-face and online classes.
We're convenient. Get high-quality courses and training close to home.
We're affordable. Costs are reasonable and usually less than other area training centers.
Ready to choose your course?
Search all Continuing Education courses and programs
Search now
Not finding what you need? We also offer Customized Training suited to your situation.
Learn more
Request more information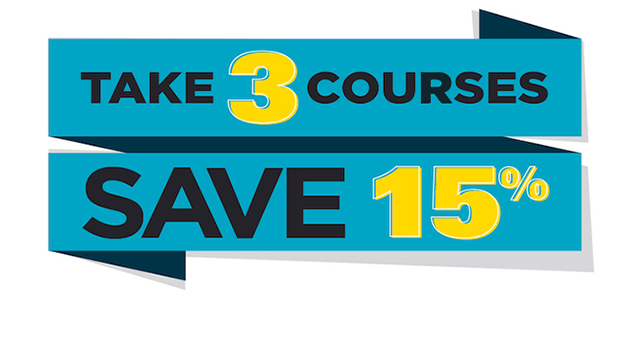 Take 3 and SAVE!
Receive a 15% discount when you register and pay for three qualifying classes in one transaction!