The CoLab fosters a culture of engagement in which students build relationships with their peers and with faculty.
---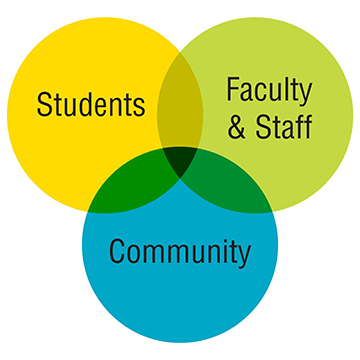 Collaboration increases student engagement in the learning process. Engaged students are successful students.
In The CoLab, JCCC students experience greater civic engagement by making connections between classroom and community. They will experience hands-on active learning by participating in entrepreneurial startups. They will discover the real-world impact of their curriculum on our region's economic development. It's a place where they will expand their critical thinking skills and soft skills for better teamwork.
Collaborative, interdisciplinary projects include:
Entrepreneurial endeavors that allow students to work with start-up businesses in an internship or practicum relationship
Start-up competitions
Student sustainability initiatives
Music and film projects
Mobile app creations
Marketing campaigns
Design projects, whether they be architectural, mechanical, product, or interior
Problem-solving focused on real-world issues, posed by the community, the college, students, or faculty
The CoLab will also present speaker series events with frequent presentations by civic and economic leaders to demonstrate workforce and community needs, create connections between students and community leaders, and inspire creative solutions to real challenges.
Learning Resources
In addition to project support, the CoLab offers active learning resources through tutoring in the following subjects:
Chemistry
Math
Physics
Speech/Public Speaking
Technology
Connect with the CoLab Collaboration Center
Phone: 913-469-2522
Location: OCB 100 (Map)
Spring 2020 Hours:
Monday-Thursday: 8 a.m.-9 p.m.
Friday: 8 a.m.-5 p.m.
Saturday: 10 a.m.-3 p.m.
CoLab Tech Tutor Hours:
Monday: 10 a.m.-9 p.m.
Tuesday-Thursday: 9 a.m.-9 p.m.
Friday: 9 a.m.-1 p.m.
Tech Support Center Representative Hours:
10 a.m.-2 p.m. Jan. 21-28
Math Tutor Hours:
Monday-Friday: 10 a.m.-noon
Faculty Development Hours:
Tuesdays: 1-3 p.m.
Wednesdays: 9-11 a.m.