The CoLab is a hi-tech and flexible space created to encourage students, faculty, staff and community members to innovate, share their knowledge, team and dream. The CoLab is a collaborative space; we do our best to keep noise to a minimum during presentations, but if you are wanting to reserve a quiet space with few interruptions, there may be other options on campus that could better fit your needs.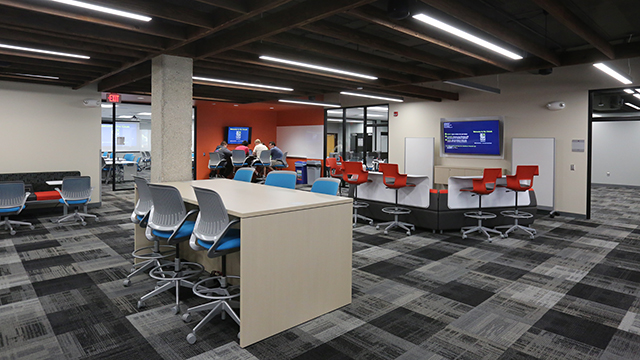 CoLab Commons (OCB 100)
The common area is filled with moveable tables, large desks, individual seating and a large couch for flexible meeting arrangements
High definition monitors can be wirelessly connected to your laptop or other devices
Outlets are built in to desks and seating to provide easy device charging
Cell phone charging station is centrally located, equipped with popular phone charging cables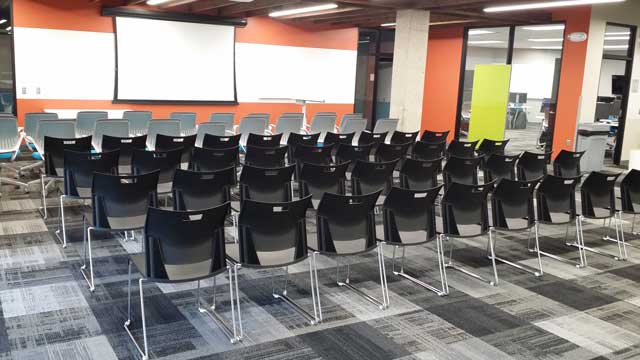 Presentation Area (OCB 100P)
Large open space that accommodates up to 80 people
Fully customizable seating arrangement, but does come pre-set with moveable tables and chairs
Equipped with microphone system, projector and mobile device connectivity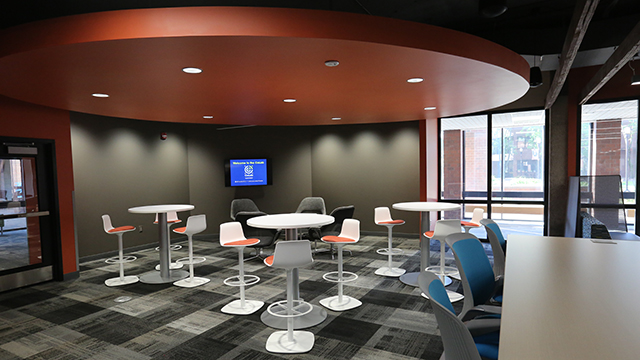 CoLab Corner
Sizeable corner of the CoLab that accommodates up to 50 people
Equipped with high definition touchscreen monitor, with connected computer
Flexible seating arrangements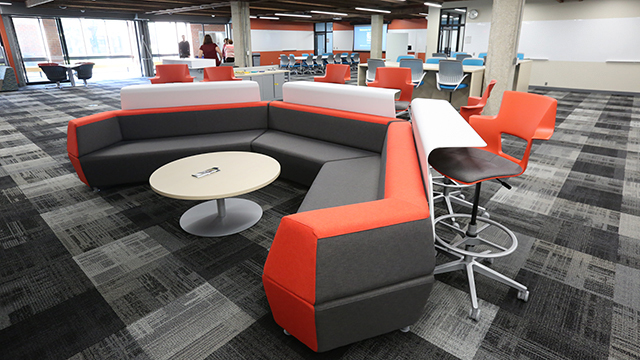 CoLab Couch (CLC)
U-shaped Couch with additional seating behind
Accommodates up to 12 people comfortably
High definition monitor can be wirelessly connected to your laptop or other devices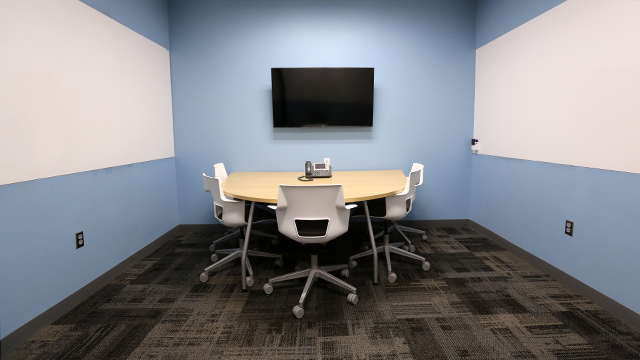 Little 5 CoLab Studio (OCB 104)
Accommodates up to 5 people comfortably
Half table for small group collaboration
Multiple whiteboards for easy communication
High definition monitor with connected PC
In-room telephone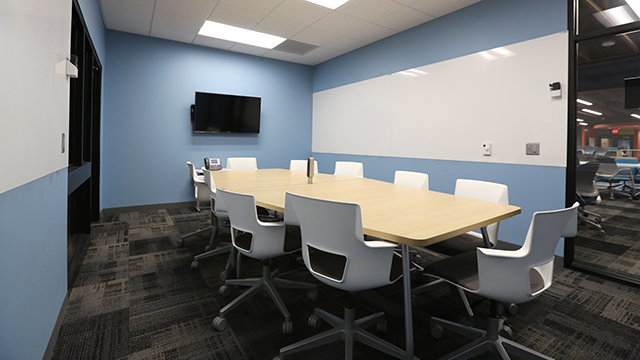 Big 10 CoLab Studio (OCB 102)
Accommodates up to 10 people comfortably
Conference table for medium group collaboration
Two large whiteboards
High definition monitor with connected PC
In-room telephone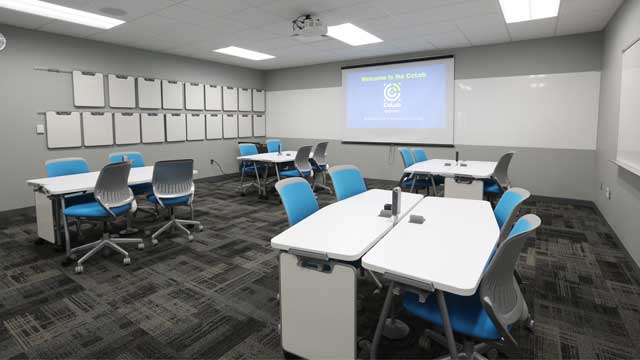 Learning Studio (OCB 107)
Active learning space that accommodates up to 24 people comfortably
Multiple easily-moveable tables for large group collaboration
Large whiteboards around the room, including hand-held whiteboards for group activities
High definition touchscreen monitor
Projector with connected PC
Ceiling microphones
Web cams
In-room telephone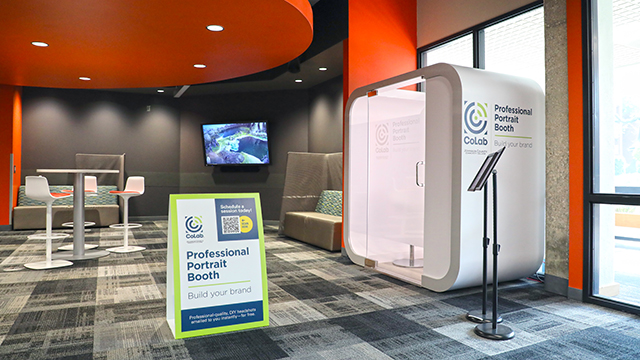 Professional Portrait Booth
Free for students, faculty and staff
Produces studio-quality photos
Photos are sent to your email immediately
SPECIAL COLAB STUDIOS
These spaces feature some of the CoLab's most advanced technologies and tools. Designed for use by students and faculty in the unique academic programs associated with the studios, they are not generally available for direct reservation. If you have a special project or event you would like to partner with the CoLab on using one of these spaces, please contact us to discuss options.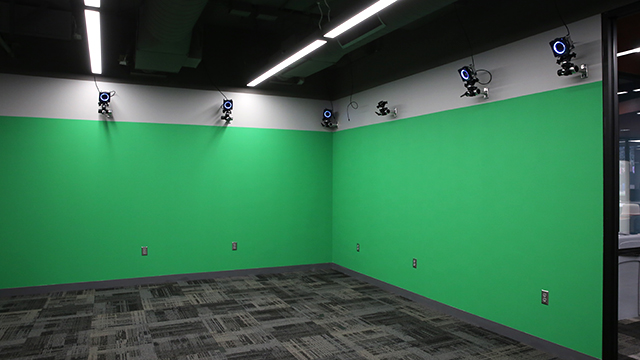 Motion Capture Studio
Motion capture cameras, suits, and high-end computer allow minute body movements to be recorded, providing data to create realistic animations
This room is also fitted with a large green screen for more video production related options
Designed for use by animation and game development students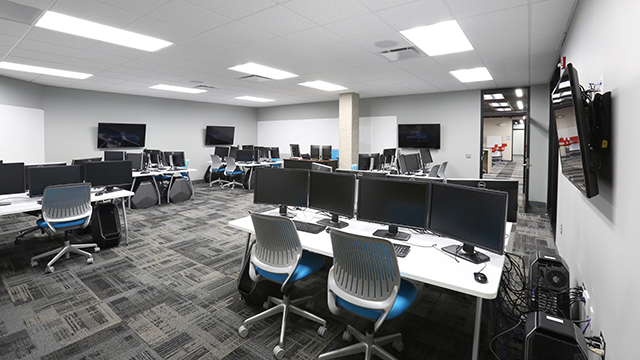 Gaming and Animation Lab
Equipped with the latest high-end computers for the maximum amount of productivity
High definition monitors are connected around the room for easy collaboration
Designed for use by gaming and animation students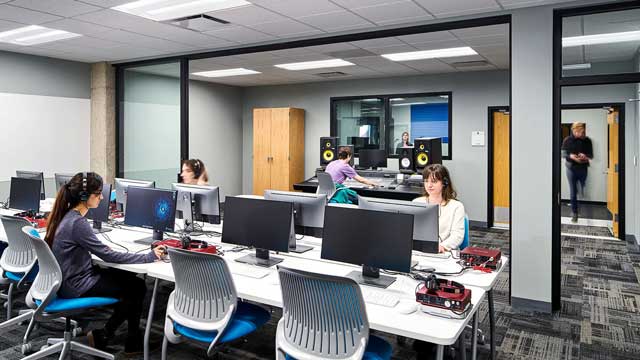 Recording Arts Studio
Features computers and specialized equipment for audio editing
Sound booth with mixing controls for professional-grade audio recording
Designed for music production students