Winter Session Online Credit Classes
Make progress toward your degree over winter break. 1 course. 4 weeks. All online.
---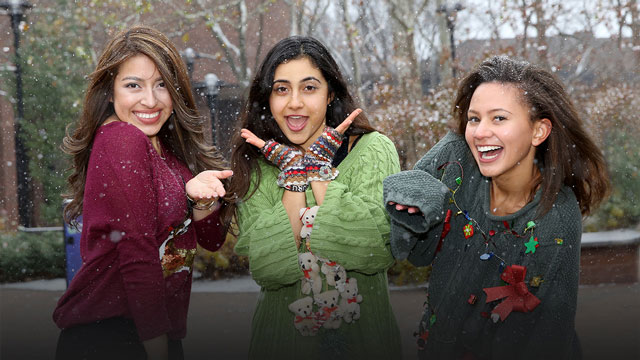 Classes start Dec. 13, 2017 and end Jan. 10, 2018.
Due to the condensed time frame and fast-paced nature of Winter Session classes, you may only register for one course.

If your fall course load exceeds 18 credit hours, you may need to complete an overload form. Contact the Student Success Center for assistance.
Choose from available online courses:
See the Winter Session Class Schedule.
Paying Tuition and Fees
Payment is due at the time you enroll.
Many of our Winter Session courses include DayOne Access course materials, which gives you access to required materials when you enroll in the course. No need to buy physical textbooks or additional access codes.
Costs for DayOne Access materials are much lower than the cost for traditional textbooks, and DayOne Access materials charges will be added to your account upon enrollment. The materials can be accessed through your course in D2L or Canvas.

Check out the FAQ on the JCCC bookstore site for more information.
You are financially responsible for the charges for these courses. A hold will be placed on your account until you take care of this obligation. If you drop the class during the stated refund periods (through December 15, 2017 for the 2017-18 Winter Session), your charges for that course will be reversed.
Winter Session Calendar 2017-18
October 2017
2
Winter session schedule of classes is available on the web.
9
Winter session open enrollment begins. Payment is due at the time of enrollment. Students may enroll in no more than one winter session course.
December 2017
6
Winter session courses become available for students to access online in D2L.
13
First day of winter session. Last day to enroll in a winter session course.
15
Last day to drop a winter session course and receive a 100 percent refund.
20
Last day to drop a winter session course without a withdrawal "W" on the student's permanent record. Deadline is 11 p.m. for drops completed on the web.
Dec. 23-Jan. 2
Winter Break. College offices closed.
January 2018
3
Last day to request a pass/fail grade option or to withdraw with a "W" from a winter session course.
10
Last day of winter session.
11
Grades entered online by professors by 5 p.m.
12
Winter session grades available to students by 5 p.m. on the web.