You Helping You
---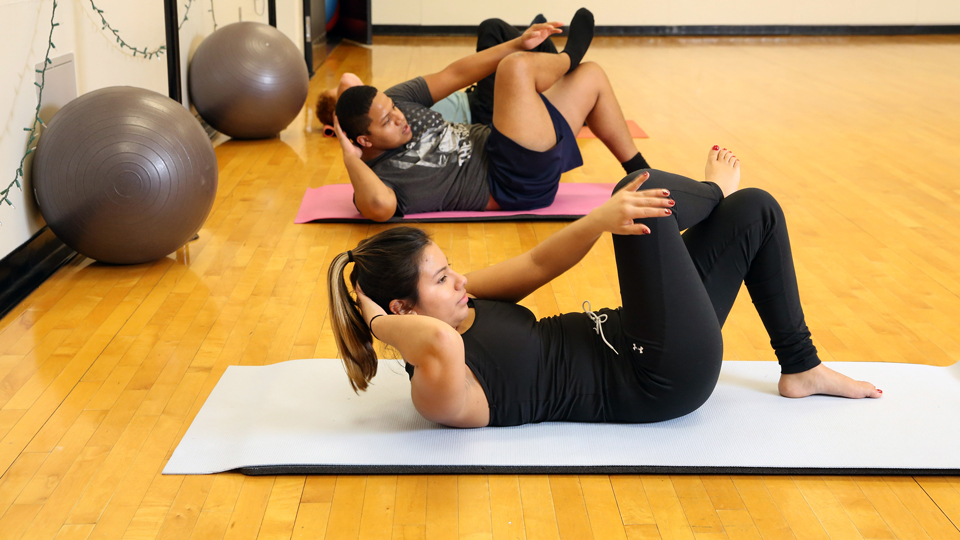 Fall 2020
Student Wellness is looking forward to serving JCCC students to continue living out, sustaining and developing healthy lifestyles.
Group Fitness Classes and Wellness Programs will continue for all JCCC students! Enroll in the JCCC Student Wellness Community - it's free!
Barbara Gill Lifetime Fitness Center
Starting with: FREE access to JCCC's fitness center.
JCCC's Lifetime Fitness Center is open seven days a week and is located on the second floor of the GYM. It includes multiple cardio machines, weight machines, total body weight training and a specialized 20-minute total body circuit training system.
Note: The Barbara Gill Lifetime Fitness Center opens Monday, Aug. 24.
Fall Safety Protocol
The following is a brief outline of what will be happening this fall, for those who want to enroll or use the Lifetime Fitness Center.
A maximum of 20 patrons will be allowed in the facility at any one time.
Social distancing is being enforced by having every other machine placed out of order and removing the steps in the circuit.
Each patron will check themselves in and out of the facility. We will no longer be holding ID Cards.
Each patron is expected to bring their own workout towel, as none will be provided.
Each patron will be expected to bring their own water source, as the water fountains will be shut off.
The restrooms will remain open.
The locker rooms will be closed.
Everyone will be required to wear a face covering the entire time they are in the Fitness Center, including while working out.
Each patron will be expected to wipe down each machine that they use. Wipes will be provided.
The Fitness Center will open at 6 a.m. each morning — this will be a permanent change. The Center will close for cleaning every day, for 30 minutes at a time, at 10:30 a.m., 3:30 p.m. and 9:30 p.m.
As recommended by the CDC, no balls, mats, ropes, cords or similar equipment will be put out for use.
We feel confident in the protocols outlined above and are revisiting them with input from JCCC Administration daily.
If you have any further questions please, do not hesitate to ask. We look forward to seeing you this fall. 
---
Group Fitness
Join us for Yoga, Zumba, Hip Hop Dance, Pilates, Barre, HIIT, Kickboxing, Mindfulness Walks, Abs & Core, Meditation, Resistance Training, Country Line Dance Workouts and other fitness opportunities offered virtually for students. Enjoy new workouts each week all semester! Discover your favorites and work out on your own schedule!
---
Wellness Programs
September
CAVWalk is a desk to 5K walk/jog program to help students develop proper joint action, muscle strength and toning, flexibility, weight loss or to just get up and move. Weekly workouts will be posted in Virtual Student Wellness for you to follow with a variety walk, jog and other activity options to build up to jogging a full 5K (if you want). The program starts September 1, but you can join anytime throughout the semester.
October
Yoga Marathon is a wonderful way to experience all different types, principles and benefits of yoga. This month's goal is for you to engage in 26.2 minutes of yoga per week. The marathon begins October 5 and runs through October 31. Join today!  Namaste.
November
JCCC Student Wellness Weight Loss Challenge (SWWLC) is a 4-week challenge.  Enrollment is free for all JCCC students. SWWLC launches November 2 with a start date of November 9. Each week will include workouts, weigh-ins, wellness coaching, personal training and fun!
For the latest information:
Sign up for the Student Wellness Newsletter
Follow JCCC Student Wellness on Facebook and Twitter
---
Assessments, Personal Training and Wellness Coaching
Send us an email to schedule a 15-minute introductory session.
---
Vision and Purpose
JCCC's Student Wellness vision is to promote health and wellness by building a cohesive campus community for students by furthering their academic success through healthy lifestyle engagement.
For more information or if you have questions, please email Student Wellness.