You Helping You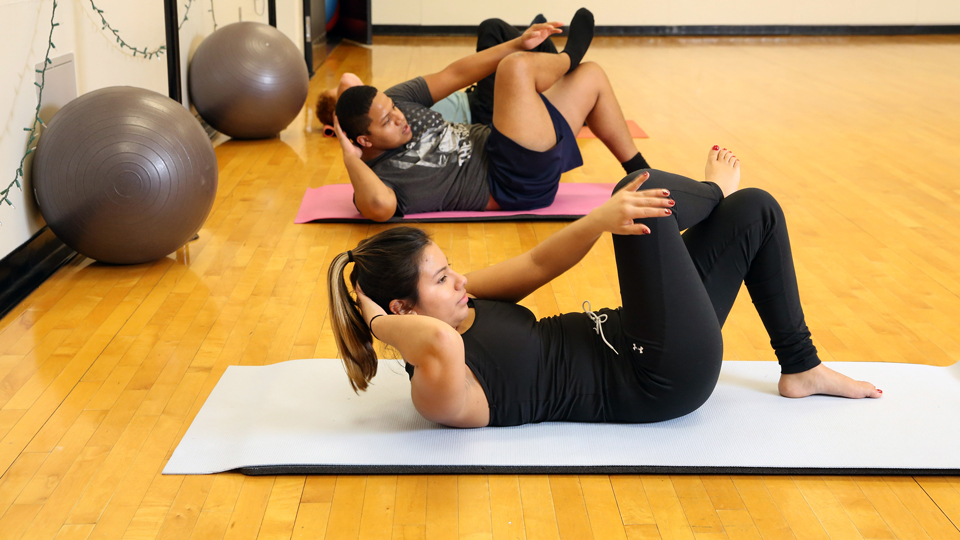 Spring 2021
Student Wellness is looking forward to serving JCCC students to continue living out, sustaining and developing healthy lifestyles.
Group Fitness Classes and Wellness Programs will continue for all JCCC students! Enroll in the JCCC Student Wellness Community - it's free!
---
Group Fitness
Join us for Yoga, Zumba, Hip Hop Dance, Pilates, Barre, HIIT, Kickboxing, Mindfulness Walks, Abs & Core, Meditation, Resistance Training, Country Line Dance Workouts and other fitness opportunities offered virtually for students. Enjoy new workouts each week all semester! Discover your favorites and work out on your own schedule!
---
April 2021 - Get Moving, Get Healthy Together
All activities are free to JCCC students and available by enrolling in the free Student Wellness class!
April 12 - Pilates and Yoga Combo
April 19 - Barre
April 26 - Kickboxing
Trainer Tuesdays - Live Zoom with a certified personal trainer
Ask questions
Workout
Exercise tips
April 14 - Mindfulness Walk and/or Run
April 21 - CavFit
April 28 - Yoga
Take Over Thursday - Prerecorded Series
Sleep Well
Stress Relief
Sustainable Weight Loss
Exercise after COVID
April 16 - Hip Hop Tabata
April 23 - Zumba
April 30 - Tai Chi/ChiGong
May 2021 - Exercise is Medicine Week
Yoga on the Old Soccer Field
Bring a towel, blanket or yoga mat
Masks are required
Yoga flows will run 25 minutes with 5 min breaks
Yoga will begin at the top of every 30 minutes (11, 11:30, 12, 12:30)
1 Mile Walk
Start at the basketball court
Check in at the basketball court
Warmups & Cool Downs will be offered every 30 minutes (11, 11:30, 12, 12:30)
Follow the yard signs to complete your mile
Ultimate Frisbee • Whiffle Ball • Strongest Cav
Check in for games at the basketball court
Each activity will begin every 30 minutes (11, 11:30, 12, 12:30)
Strongest Cav: Deadlift, Tractor Tire Roll, and Sled Push
Whiffle Ball on Old Softball Field
Ultimate Frisbee on Old Soccer Field
Fitness Center Challenge
Bring your Student ID to check into the fitness center
Stop at the table out front for your participation prizes
Pull Up Challenge –most pullups with perfect form
Circuit Challenge – Complete the circuit properly 3 times
Applied Exercise Science
Check in on virtual student wellness and social media for more details
---
Wellness Programs
Fitness Challenges start Jan. 25. More wellness program details to come!
For the latest information:
Sign up for the Student Wellness Newsletter in Canvas
Follow JCCC Student Wellness on Facebook and Twitter
---
Assessments, Personal Training and Wellness Coaching
Send us an email to schedule a 15-minute introductory session.
---
Barbara Gill Lifetime Fitness Center
Starting with: FREE access to JCCC's fitness center.
JCCC's Lifetime Fitness Center is open seven days a week and is located on the second floor of the GYM. It includes multiple cardio machines, weight machines, total body weight training and a specialized 20-minute total body circuit training system.
Spring Safety Protocol
The following is a brief outline of what will be happening this fall, for those who want to enroll or use the Lifetime Fitness Center.
A maximum of 20 patrons will be allowed in the facility at any one time.
Social distancing is being enforced by having every other machine placed out of order and removing the steps in the circuit.
Each patron will check themselves in and out of the facility. We will no longer be holding ID Cards.
Each patron is expected to bring their own workout towel, as none will be provided.
Each patron will be expected to bring their own water source, as the water fountains will be shut off.
The restrooms will remain open.
The locker rooms will be closed.
Everyone will be required to wear a face covering the entire time they are in the Fitness Center, including while working out.
Each patron will be expected to wipe down each machine that they use. Wipes will be provided.
The Fitness Center will open at 6 a.m. each morning — this will be a permanent change. The Center will close for cleaning every day, for 30 minutes at a time, at 10:30 a.m., 3:30 p.m. and 9:30 p.m.
As recommended by the CDC, no balls, mats, ropes, cords or similar equipment will be put out for use.
We feel confident in the protocols outlined above and are revisiting them with input from JCCC Administration daily.
If you have any further questions please, do not hesitate to ask. 
---
Vision and Purpose
JCCC's Student Wellness vision is to promote health and wellness by building a cohesive campus community for students by furthering their academic success through healthy lifestyle engagement.
For more information or if you have questions, please email Student Wellness.