March 16, 2023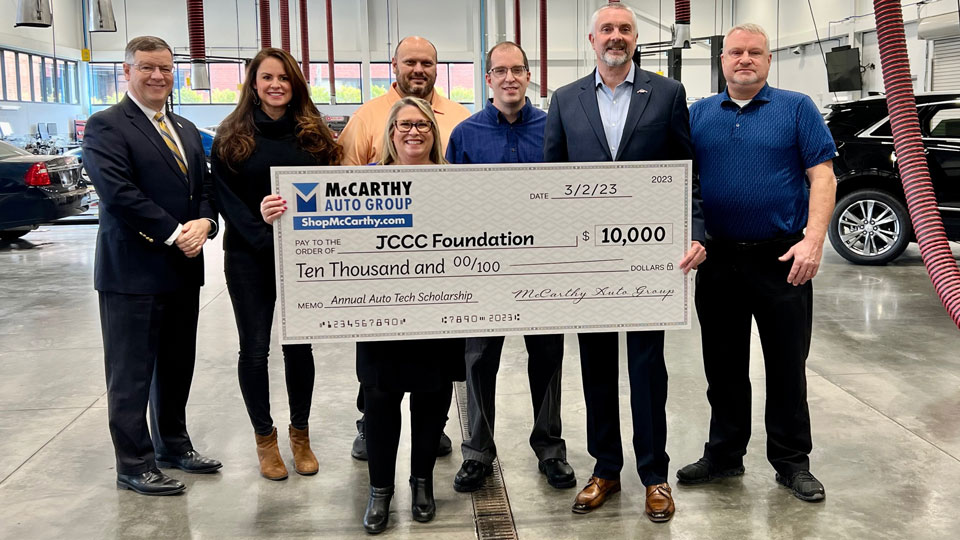 OVERLAND PARK, Kan. – McCarthy Auto Group, one of the largest dealership groups in the Midwest, recently presented the Johnson County Community College (JCCC) Foundation with a $10,000 annual scholarship for students in the Automotive Technology program. This generous donation will support at least 10 qualified students a year as they earn the skills they need for a fulfilling career.
"McCarthy Auto Group is excited to announce our partnership with the Johnson County Community College Foundation," said Karl A. Kramer, Public Relations Officer for McCarthy Auto Group. "Through these scholarships we look to see more students graduate with their certificates or degrees in Automotive Technology from JCCC and work to fill the high need for automotive technicians."
JCCC's Automotive Technology program offers courses in the eight core areas of Automotive Service Excellence (ASE) certification. ASE is an industry-backed national organization that certifies auto technicians. Classes also teach students skills like customer relations, materials and labor cost estimation, and workforce management, which are necessary to advance in a career.
Just like the new partnership with McCarthy Auto Group, the JCCC Foundation works with companies – and individuals – who are looking to support students in need of financial assistance. The Foundation partners with private donors annually to award more than $1.4 million in scholarships to JCCC students.
"Partnerships like this are a win-win. Our students feel supported, and JCCC provides skilled labor in an area of great need," said Joy Ginsburg, Executive Director, Johnson County Community College Foundation.
###