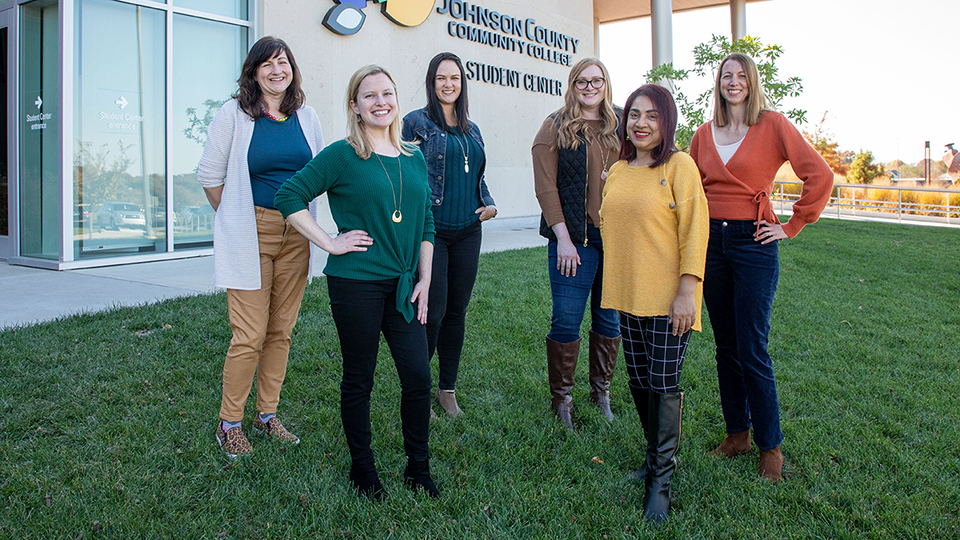 We work with you one-on-one to identify strengths and challenges, balance responsibilities, set achievable goals, develop action plans, increase resiliency, and provide guidance and encouragement along the way.
Our goal is to empower you to take control of your life and achieve success in college and beyond!
Success Coaching Focus Areas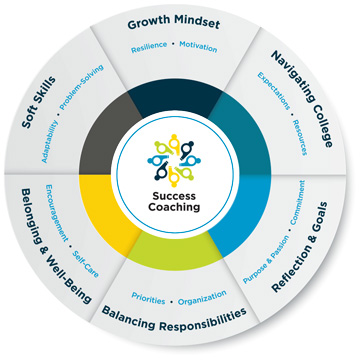 Get support through one-on-one sessions, as well as self-assessments, workshops, pop-up events, communication plans, and referrals to experts and resources within these focus areas: 
Growth Mindset
Learn how to increase discipline and motivation, become more resilient, and accept that setbacks are a normal part of the learning process.
Navigating College
Get help to smoothly transition into college through setting achievable expectations, learning to advocate for yourself, and getting connected with appropriate campus resources.
Balance Responsibilities
Discover ways to prioritize, manage your time and commitments, and overcome procrastination.
Reflection & Goals
Through self-reflection and exploration, uncover your core beliefs and values, establish a connection to your passions and purpose, and discover how to connect these to goal-setting to create a more meaningful and fulfilling journey.
Soft Skills
Gain effective strategies to better communicate, problem-solve, and adapt to changing environments.
Belonging & Well-being
Learn to prioritize self-care, build confidence in your abilities, and discover the value you bring to the JCCC community.
Frequently Asked Questions
Everyone who wants one. You are assigned a Success Coach after completing New Student Orientation, but you can request one at any time throughout your college experience.
Coaching sessions last about 30-60 minutes. Your coaching schedule will be discussed during your first meeting and the frequency is up to you. Sessions can be done on campus or virtually.
Each one-on-one appointment is unique and guided by your needs. Some common components and goals of most meetings include:
Building a relationship: The goal of the first meeting is to establish roles, get acquainted and discuss your goals at JCCC.
Assessing your needs: Coaches use a variety of tools to facilitate productive conversations and discover your needs.
Strategic learning & conversation: Your coach can work with you on a topic within our 6 focus areas. For example, this could be an assessment of your resilience skills or time-management habits. Coaches ask poignant questions to help you learn about yourself and guide learning conversations for skill-building.
Make a game plan: You and your coach will decide together on a plan that facilitates actionable steps for you to take and creates accountability to make progress toward your goals.
Follow up and check-ins: Your coach will schedule a follow-up session to celebrate your achievements and establish new objectives. They will serve as a guide during your college journey, offering encouragement and assistance along the way.
Success Coaches help you set and accomplish goals by asking questions that provide clarity and lead to self-discovery. The coaching relationship is future-focused and helps you identify solutions to overcome barriers to your success. By fostering a collaborative and trusting relationship, coaches empower you to take charge of your academic and personal development.

Counselors provide educational and career planning as well as personal counseling. A counselor can help you choose or change your major, plan and select courses, get help with coursework, get involved on campus, stay on track for graduation and transfer successfully.