"Music has charms to soothe a savage breast." — William Congreve – The Mourning Bride (1697) It's still true today. Open your mind to the power of music.
JCCC has a symphony of classes to help soothe your inner soul, from piano to guitar to vocal.
How Will Music Courses Enhance My Life or Career?
We all know how powerful music is and how important it is to our everyday lives. Now research and science proves what most of us have known all along — music makes us happy. Here's how:
Alleviates your pain – Researchers find that surgery patients who listened to music had significantly less pain and anxiety than a control group who didn't listen to music.
Gives you pleasure – When you listen to music, your brain releases dopamine.
Balances your emotions – That's the No. 1 reason we value it so much.
Improves your mood – It can change your overall happiness in just two weeks, studies suggest.
Makes you see the world differently– Whether happy or sad, music has the power to influence your perception of the world.
Why Choose JCCC Continuing Education Music Courses?
We're experienced. Our instructors are knowledgeable industry professionals.
We're up-to-date. Our material is relevant, our instructors know industry trends and our labs and training equipment are top-notch.
We're flexible. We offer face-to-face and online classes.
We're convenient. Get high-quality courses and training close to home.
We're affordable. Costs are reasonable.
Browse and Choose Your Courses
In-Person courses may not be available in all subjects.
Adjust filters in our online catalog to find Live Online and Online Courses.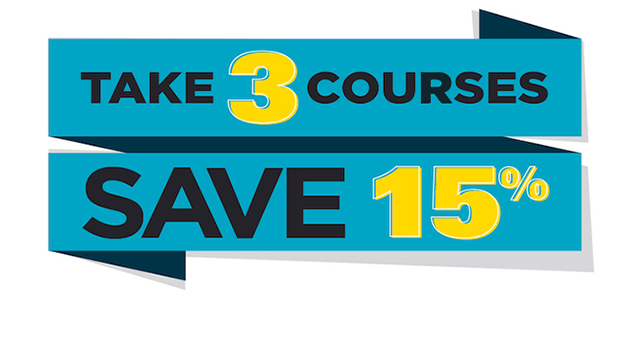 Take 3 and SAVE!
Receive a 15% discount when you register and pay for three qualifying classes in one transaction!