When it comes to money management, mindset plays as much of a role as math. From unlocking the mysteries of medical insurance to understanding your Social Security benefits, we've got courses that will put you on the path to financial stability.
If you need a Money 101 review, we've got the courses you need to:
Create and use a budget
Borrow and invest wisely
Understand and control your credit rating
Make intelligent decisions about insurance
Develop a retirement savings plan
Prepare and plan for taxes
How Will Money Management Courses Enhance My Life or Career?
Whether you're a saver or a spender, organizing and investing your money is beneficial to your financial health and future. We've even got a course that explains the ins and outs of medical insurance.
Our classes will help you improve your financial security by:
Strategizing plans for your future
Giving you options for attacking student loan debt
Showing you ways to make your money make more money
Teaching you how to spend less than you make and stay away from debt
Why Choose JCCC Continuing Education Money Management Courses?
We're experienced. Our instructors are knowledgeable industry professionals.
We're up-to-date. Our material is relevant, our instructors know industry trends and our labs and training equipment are top-notch.
We're flexible. We offer face-to-face and online classes.
We're convenient. Get high-quality courses and training close to home.
We're affordable. Costs are reasonable.
Browse and Choose Your Courses
In-Person courses may not be available in all subjects.
Adjust filters in our online catalog to find Live Online and Online Courses.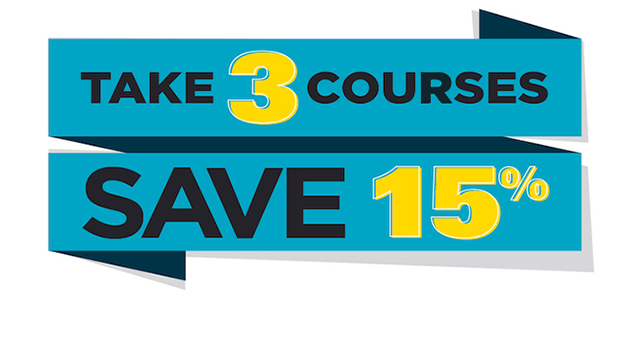 Take 3 and SAVE!
Receive a 15% discount when you register and pay for three qualifying classes in one transaction!