Whether you're a wine lover or king of the grill, we have classes to fit your taste. Roll up your sleeves, put on your close-toed shoes and get ready to learn trade secrets from our award-winning chefs and expert cooks.
How Will Food & Wine Courses Enhance My Life or Career?
Cooking and learning about wine can change your life beyond your stomach. It can:
Be a truly creative process
Introduce you to new social circles
Promote teamwork – eating together can bond relationships
Be a break from life's stressors
Help you switch gears after a day at work
Show you an avenue to explore world cultures
We also offer a broad range of additional courses and experiences that cover entertaining, baking and understanding the world of wine. Browse through all of our current in-person food and wine courses in the Continuing Education course website. We offer live online and online courses in a range of subjects as well.
Why Choose JCCC Continuing Education Food & Wine Courses?
We're experienced. Our instructors are knowledgeable industry professionals.
We're up-to-date. Our material is relevant, our instructors know industry trends and our facilities and training equipment are top-notch.
We're flexible. We offer face-to-face and online classes.
We're convenient. Get high-quality courses and training close to home.
We're affordable. Costs are reasonable.
Browse and Choose Your Courses
In-Person courses may not be available in all subjects.
Adjust filters in our online catalog to find Live Online and Online Courses.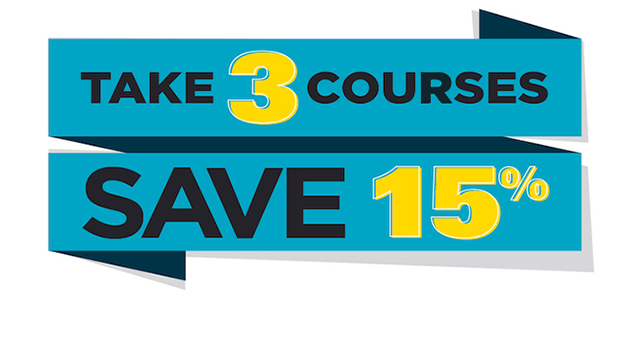 Take 3 and SAVE!
Receive a 15% discount when you register and pay for three qualifying classes in one transaction!