Create your own signature masterpieces, from jewelry to watercolor landscapes to crocheted clothing. Try everything from metals to exotic yarns – the variety of media you can explore is extensive.
Why take an art class? Because creating, designing and even getting messy making art is fun, plus there's a piece of your imagination in the finished product.
How Will Arts & Crafts Courses Enhance My Life or Career?
Art is personally valuable. It helps relieve stress and express emotions. It's a way to calm and center ourselves and is essential for creating. When you register for an Arts and Crafts course, you'll:
Expand your talents and discover new skills
Get to know local artists
Gain a sense of personal achievement
Make your very own piece of one-of-a-kind art
Meet new, like-minded friends
We offer a broad range of courses and experiences — from painting and drawing to metalsmithing, jewelrymaking and sculpture. Browse through all of our current in-person arts and crafts courses in the Continuing Education course website. We offer live online and online courses in many subjects as well.
Why Choose JCCC Continuing Education Arts & Crafts Courses?
We're experienced. Our arts and crafts instructors are knowledgeable industry professionals.
We're up-to-date. Our material is relevant, our instructors know what they're teaching and our spaces and equipment are top-notch.
We're flexible. We offer face-to-face and online classes.
We're convenient. Get high-quality courses and training close to home.
We're affordable. Course registration costs are reasonable.
Browse and Choose Your Courses
In-Person courses may not be available in all subjects.
Adjust filters in our online catalog to find Live Online and Online Courses.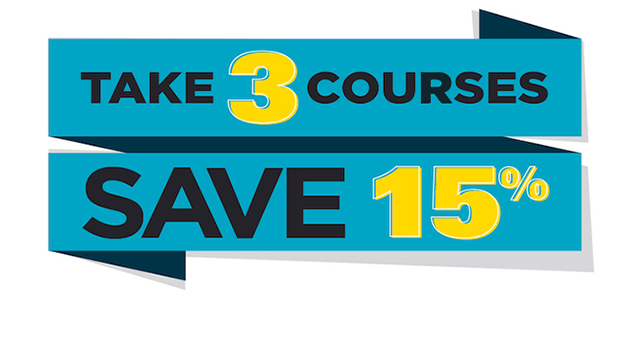 Take 3 and SAVE!
Receive a 15% discount when you register and pay for three qualifying classes in one transaction!