Being in located in the midwest means that inclement weather can disrupt scheduled campus activities and classes.
---
Tornado Watch and Warning
In the event that a Tornado Watch or other severe weather advisory is issued for our area:
A JCCC Alert text message and email will be sent to JCCC faculty, students and staff informing them of inclement weather
Building Emergency Leaders (BELs) are notified
You should continue with your daily routine; however, you should remain alert to the possibility of severe weather and be prepared to act accordingly.
If a Tornado Warning is issued for our area: 
Outdoor external warning sirens are activated and all other notification means — including phones, emergency notification system, the JCCC website and any other communication devices — are used to alert the campus of the warning and to direct them to seek shelter immediately.
Notice are issued to BELs and floor monitors to assist with sheltering.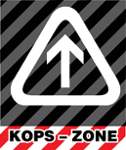 Anyone on campus should promptly move to designated storm security areas. If you do not know where your designated storm security area is, refer to the Building Floor Plans and Emergency Information or reference emergency floor plan posters located throughout each building and classroom.
Remain in your designated storm security area until a warning expiration message is issued or announced.
Note: If a building or facility is damaged, evacuate the area after the storm passes (following direction of emergency building personnel) and stay clear of the damaged area. Be aware of fallen debris, downed power lines and gas leaks. Report any injuries by calling ext. 4111 or 913-469-2500.
Winter Weather and Campus Closings
Under certain weather conditions — winter storms among them — it may become necessary to cancel classes or close the JCCC campus. When campus is closed, all activities at all JCCC locations are cancelled.
The College announces campus closures, cancellations and weather-related delays several ways:
A weather announcement is posted at the top of all pages of the JCCC website 
Students, faculty and staff receive a text message from the JCCC Alert system. All students, faculty and staff are automatically signed up for emergency text messages. Learn more at JCCC Alert
A recorded message replaces the greeting on the College's main switchboard at 913-469-8500.
Several local TV stations receive and announce closing notices:
KMBC-TV 9
KSHB-TV 41
KCTV-TV 5
WDAF-TV 4
It can take a while for an announcement to appear on television, so you are encouraged to use one of the other methods as your primary source of information.
If the decision to cancel classes is made during the day, all students, faculty and staff will receive a text and email message with details regarding closures and cancellations.