August 9, 2023
Johnson County Community College offers students an array of new learning opportunities and updated facilities for fall semester.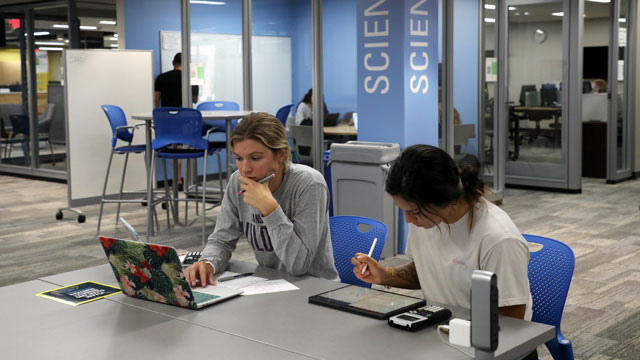 The 2023-24 academic year at JCCC begins August 21, 2023, and new and returning students will find innovative class subjects, new courses of study and updated campus spaces designed to support their learning and success.
Exciting new class subjects explore emerging topics of interest
For the first time this fall, the JCCC English department is offering "ChatGPT and the Future of Writing." This face-to-face special topic course explores how emerging generative AI technologies like ChatGPT will shape written communication today — and literacy in the future. This class meets one evening a week and is a great option for traditional JCCC students and working professionals interested in exploring the subject in depth. This class, along with "Introduction to Grant Writing," is one of several offered by the JCCC English department that directly address topics and skills students may encounter in the workplace.
Other new classes on the roster include "Sports Communication" offered by the Journalism department, "Introduction to Printmaking" from the Fine Arts department, and a Theater class focused on the Meisner Technique for actors.
"Classes like 'ChatGPT and the Future of Writing' reflect JCCC's commitment to providing opportunities for students to engage with topics that interest them while gaining tangible workplace skills," said Brian Shawver, Dean of Communications, English, and Journalism.
New credentials expand possibilities
In addition to offering several new courses this fall, JCCC is also offering new credentials that can help students prepare for employment. These programs offer a great introduction to in-demand career paths and provide a solid foundation for students to build from.
Students interested in Information Technology can complete a 27-hour Cloud Certificate to support cloud computing in the workplace. Students who complete the certificate coursework will gain competencies in networking, security, file storage and more — all within the context of cloud-based computing platforms like Amazon Web Services, VMWare and Google Cloud.
Students wanting to gain foundational skills needed to provide emergency lifesaving care can earn the new Emergency Medical Responder Certificate. This 6-hour certificate trains students to apply simple, non-invasive interventions in acute medical and traumatic emergencies and provide comfort and care before Emergency Medical Services resources arrive. A certified Emergency Medical Responder is part of a tiered response system that provides on-scene interventions and emergency transport. Emergency Medical Responders often work alongside other EMS and health care professionals as a part of an emergency care team.
2023 is the second academic year JCCC is offering an Associate of Fine Arts degree — a 60-hour program designed for students interested in fine arts disciplines like art, animation, film, music and theater. Through their studies, students are exposed to a range of experiences that include 30 hours of general education requirements and 30 hours of electives — all credits that can be transferred into degree programs at four-year colleges or universities.
Updated classrooms and facilities support students and hands-on learning
Fall 2023 also marks the reopening of the JCCC Science building on the main campus, which was undergoing renovations last academic year. The building is now home to new gathering spaces and updated labs and classrooms for biology, human anatomy and physiology, microbiology, zoology and more. The updates include state-of-the-art equipment, and the spaces are configured to support even more hands-on project-based learning.
"The updates to the Science building will open up so many possibilities for innovative instruction," said Dr. Mary Wisgirda, Mathematics and Sciences Dean. "The new and updated classroom and lab facilities will better enable faculty to prepare students for advanced research opportunities at four-year institutions and will give students experience with the kinds of equipment they may encounter in the workplace."
The completion of the Science remodel marks a key milestone in the Campus Transformation plan initiated in 2016. The years-long plan added new facilities to the campus and renovated several original buildings to ensure JCCC could continue to provide the highest quality facilities and instruction to its students. The Campus Transformation Plan will conclude in the 2024 academic year when renovations to the General Education Building's first floor wrap up. This final phase relocates key student services — including the Center for Student Involvement, the Student Basic Needs Center and the Honors Program — onto a first-floor corridor so students can easily access opportunities for help and connection.
"The final pieces of the Campus Transformation should fall into place within the next 12 to 18 months," said Dr. Mickey McCloud, Executive Vice President and Provost. "When the final phase of work is complete, JCCC students will be able to access a complete corridor of student-focused services that begin at our 'front door' at the Student Center, continue through the heart of the campus, and connect to the Academic Resource Centers housed on the first floor of the Billington Library. These renovations put the finishing touches on the Plan's key goal — transforming the campus to support and engage today's students in a way that prepares them for their future endeavors."
Whether an incoming student wants to earn general education transferable credits, expand their career outlook or develop workforce skills, JCCC offers competitive tuition rates and in-person, online and hybrid courses. Our academic counseling services and free tutoring resources are available to help students succeed.
---
Contact Information:
For media inquiries, please contact:
Chris Gray 
VP, Strategic Communications & Marketing
chrisgray@jccc.edu
913-469-7623
###