June 15, 2022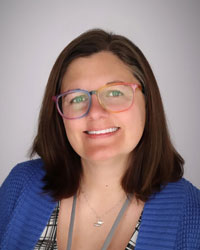 OVERLAND PARK, Kan. – Leslie Hardin, Vice President of Human Resources at Johnson County Community College, is one of six College and University Professional Association for Human Resources (CUPA-HR) members selected to participate in the 2022-23 Emerging CUPA-HR Leaders program.
The year-long program recognizes volunteer leaders from across the country who have demonstrated exemplary HR leadership and initiative within higher education and desire to play an active role in advancing the profession. The unique opportunity provides peer interaction and connection with CUPA-HR leaders as an integral part of the cohort's learning experience. Participants engage in problem-solving work groups and develop deep networks with peers while gaining an inside look at CUPA-HR's operations and structure.
Emerging CUPA-HR leaders are selected based on their knowledge, leadership skills, engagement with CUPA-HR and demonstrated willingness to advance higher ed HR.
"We are excited to welcome this year's Emerging CUPA-HR Leaders cohort," says CUPA-HR President and Chief Executive Officer Andy Brantley. "These individuals are outstanding higher education human resources leaders who will help us lead the association into the future."
The 2022-23 Emerging CUPA-HR Leaders will be led by exceptional current and past CUPA-HR national board leaders and national office staff, and the new cohort will serve July 1, 2022 through June 30, 2023.
---
About CUPA-HR
Headquartered in Knoxville, Tennessee, CUPA-HR serves higher education by providing the knowledge, resources, advocacy and connections to achieve organizational and workforce excellence. With more than 33,000 HR professionals and other campus leaders at nearly 2,000 member institutions and organizations around the world, the association offers learning and professional development programs, higher education salary and benefits data, extensive online resources and just-in-time regulatory and legislative information.
###